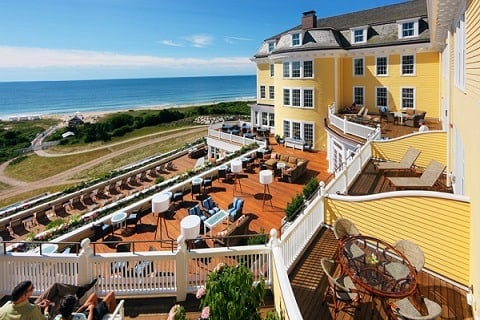 Ipe Decking Featured in Ocean House Reconstruction
Written by
Amy Cornell
on
"The rich tones of Ipe Decking help to warmly welcome Ocean House guests from their wraparound porch and create stunning decks and walkways on multiple levels throughout the five star property."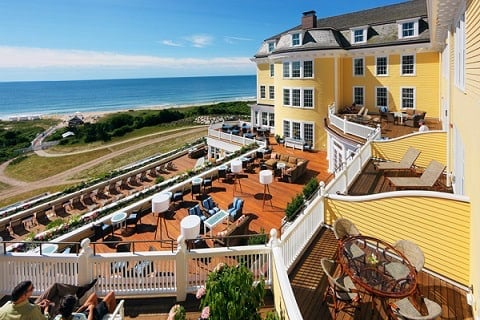 The story of the Ocean House - Watch Hill, Rhode Island's landmark hotel - spans generations. Originally built in 1868, the Victorian Mansion made its debut as a seaside resort for refined travelers three years after the cessation of the Civil War.
Elite patrons and their families embraced the hotel's magnificent yellow façade and wrap-around decks which offered breathtaking ocean views. The majority of guests would agree that one trip was not enough. Generations of families returned to the Ocean House annually to enjoy their gracious amenities, pristine beaches and croquet-strewn lawns.
From its start, the Ocean House was one of America's premiere hotels.
Always a pioneer in first-class service, the original Ocean House was the United State's first hotel to offer guests indoor plumbing and telephone service. Offering stunning good looks and cutting-edge facilities, it is little wonder that it was chosen as the backdrop for American Aristocracy, the 1916 silent film starring Douglas Fairbanks. In its day, the Ocean House was one of America's premiere hotels.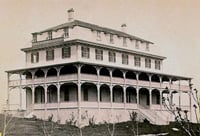 Time took its toll on the New England landmark. Years of neglect and corrosive seaspray led to the Ocean House's demise. By 2003, the infrastructure had deteriorated to a point where renovation was deemed unfeasible and the Ocean House was forced to close its doors. The property was purchased thereafter by Girouard and Associates, a New Canaan, CT development group, who had plans to demolish the 159-room resort and build luxury condominiums in its place.
As one can imagine, the Watch Hill community and legions of nostalgic Ocean House patrons were outraged with the group's plans. A two-year battle of wills (and permits) ensued until 2005, when Charles M. Royce, purchased the property from Girouard and Associates. Royce had been a long-time summer resident of Watch Hill and a successful entrepreneur however, by his own admission, he was not a real estate developer.
Charles Royce promised supporters that if he could not restore the Ocean House in its current state, that he would replicate the building to the best of his ability.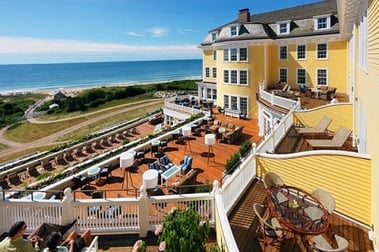 In a 2014 article with Conde Nast Traveler, Royce: "I felt strongly that McMansions being put up in the hotel's place would be so wrong for this community." Royce, who after learning about the deal from a group of concerned citizens, offered to buy out the developer. "It was an emotional decision. It certainly wasn't with knowledge of the hotel business, I can assure you."
When Royce purchased the crumbling hotel he promised supporters that if he could not restore the Ocean House in its current state, that he would replicate the building to the best of his ability.
The recreation of the beloved Ocean House far exceeded expectations.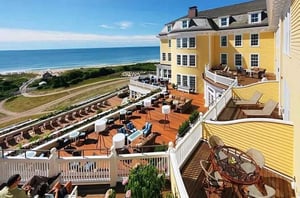 Faced with the impossible task of renovating the hotel's existing shell, Royce built a new edifice from the ground up. His recreation far exceeded expectations. During construction, pieces from the original building were salvaged and reused including a grand reception desk, lobby furniture, Victorian light fixtures, beach stone fireplace and a charming telephone booth. Royce and his team meticulously recreated original details and items including 247 windows. Original unusable windows were removed, artfully reproduced and then returned to their original location within the new blueprint. True to his word, Charles Royce returned the Ocean House to its Great Gatsby, white dinner jacket glory days .
Although framed by its signature yellow and white Victorian inspired façade, not everything about the new Ocean House remains the same. Reconstruction enabled new owners to reconfigure the original floor plan which previously offered 159 rooms. In addition to 23 residences which were carved into the design, hotel guests can enjoy 49 spacious rooms and 16 Signature Suites that will not disappoint even the most seasoned traveler. Additional luxury features include a 12,000 square foot spa, five-star dining, an international croquet court and of course, world-class service.
Centerbrook Architects have succeeded in creating an "architecturally significant" replica of the original Ocean House which offers "panoramic ocean views."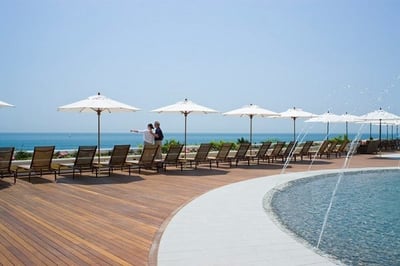 Built atop a rocky slope, the hotel's elevation and multi-tiered design create spectacular views of the Atlantic from all directions. In an effort to capitalize on the property's eleven oceanfront acres, the project's Connecticut architectural firm, Centerbrook Architects, cleverly designed Ipe wood decks, porches and balconies on multiple levels which, from street elevation, are obscured from view.
When Ocean House guests arrive, white Shaker rocking chairs greet them and contrast the rich warm tones of the Ipe hardwood wraparound porch. In the building's rear, hardwood decks of various size create picturesque niches for dining, sunbathing, cocktails and hotel functions. The Brazilian wood surrounding their lap pool offers a smooth surface for bare feet thanks to the eco-friendly hardwood's incredible durability and resistance to splintering. Travel further still and elegant staircases guide you to award-winning outdoor dining and ultimately a sustainable Ipe boardwalk that winds its way leisurely to the shore.
Ipe hardwood decking is the preferred decking material among builders and architects as a result of its incredible durability and strength it lends to any exterior project...and Mataverde Premium Ipe is the best in its class.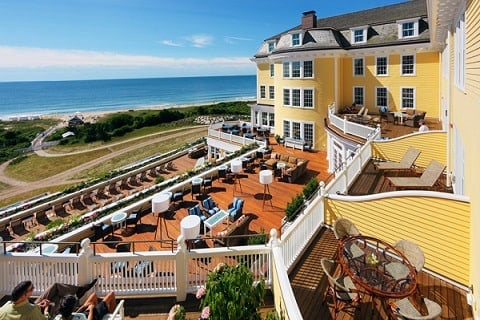 This sustainable Brazilian species will remain beautiful for decades in volatile weather conditions (like only coastal New England can provide) and Mataverde decking requires minimal maintenance in the form of an annual washing. Given the ultimate deterioration of the original structure, the Ocean House architects were forced to put considerable thought into the longevity and strength of their decking material, and other building supplies. Wisely choosing Mataverde Premium Ipe Decking will repay them with many years of beauty and durability.
Despite his lack of experience in the hotel industry, Charles Royce launched himself to the top of the industry when he redesigned the Ocean House. The revitalized hotel has since been awarded a five star rating by Forbes magazine (hotel, spa & restaurant), Coastal Living's 2015 #1 Best Hotel (in the world) and a AAA 5-Diamond ranking. The Ocean House is, of course, luxurious and elegant but more importantly remains ever charming and welcoming. If given the opportunity, everyone should stop by Watch Hill's gem for whatever their budget allows: a weekend, brunch, or a cocktail on one of their many beautiful decks.

Please visit Mataverde.com to learn more about our products.

View Ipe Decking Photo Gallery
More Mataverde Hardwood Decking Options
REQUEST A COMPLIMENTARY DECK QUOTE
The Ocean House Resort, Watch Hill, RI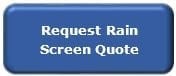 Related Posts