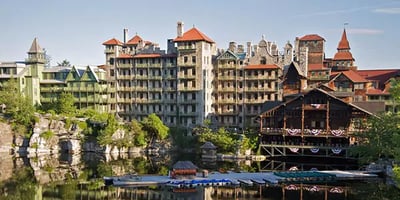 Jatoba Wood Decking for a Historic Landmark Resort
Written by
Liza Sivek
on
Keeping a 19th century historic landmark luxurious "takes a lot of work in terms of maintenance and renovations and restorations" said Matthew Cline, project manager. Then why was Jatoba (aka Brazilian Cherry) wood decking chosen to replace poured concrete on over 100 balconies? See the reasons and the results.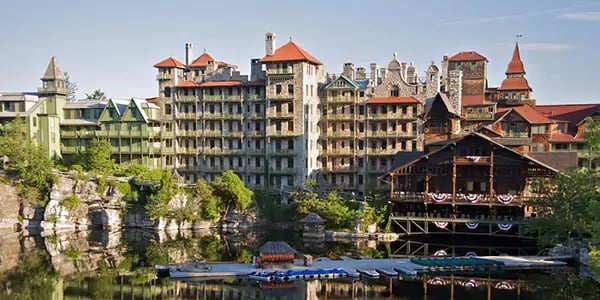 Mohonk Mountain House Stone Building with balconies overlooking the scenic mountain lake. Photo courtesy of @Mohonk.com
RENOVATING A LANDMARK
Mohonk Mountain Resort, found in the Hudson Valley of New York, is a Victorian castle renowned for its splendid architecture, scenic surroundings, and top-notch amenities. The resort's origins date back to 1869 when the Smiley twins, enterprising brothers, purchased the mountain.
Initially, they constructed a small tavern with only a few rooms, which served local travelers "who were willing to either trek or horse up the mountain to get to it" Matthew said, the Project Manager for the resort. But they knew it could be much more.
ON THE NATIONAL HISTORIC REGISTRY
Mohonk Mountain House was awarded the distinction of being a National Historic Landmark in 1986. Given its status, the resort undergoes meticulous maintenance, which is carried out on a rotating schedule every few years.
At present, more than 100 guest rooms located in the two Stone Building towers are undergoing scheduled restoration work, including the room balconies.
These balconies offer guests exclusive views depending on the side of the tower. One side overlooks Hudson Valley, while the other is situated above Lake Mohonk.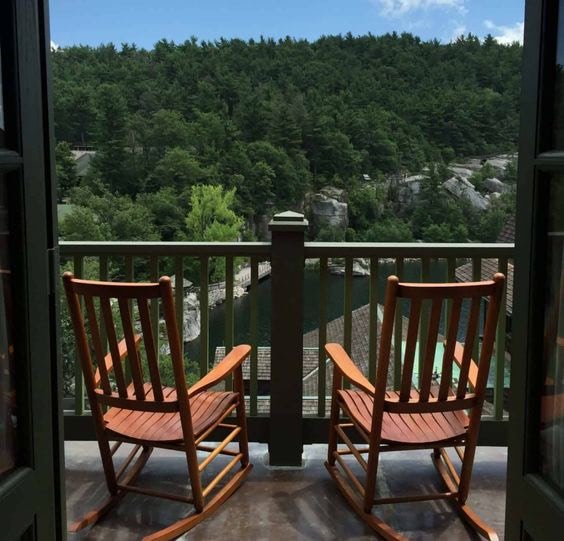 Photo courtesy of Mohonk Mountain Resort Pinterest page @https://www.pinterest.com/mohonk/
BEFORE: A lake view room balcony before the deck remodel. The decades-old poured concrete flooring of these balconies are all being replaced with Jatoba (Brazilian Cherry) wood decking.
Photo courtesy of Matthew Cline and @Mohonk.com
AFTER: Four completed balconies with Jatoba wood decking and Penofin hardwood oil protectant applied.
Note the reddish light brown color of the just installed wood. This color will darken in sunlight quickly, a unique feature of Jatoba (Brazilian Cherry). You can compare the colors in more "after" photos coming up later in the article.
---
Make the right choice for your wood decking project,
download the Ultimate guide to Selecting the Right Wood Decking now
---
BALCONY DECKING RENOVATIONS
The resort opted to replace the decking with Mataverde Jatoba hardwood, also known as Brazilian Cherry wood decking.
We had the opportunity to speak with both Matthew Cline and the installer, Pete Humphrey from Humphrey Construction about this project. Matt provided us with details on the project, while Pete shared his experience with the installation process.
"We demolished 63 balconies" in the first tower so far, said Matt. The four inches thick concrete was "poured probably 35-40 years ago", he said.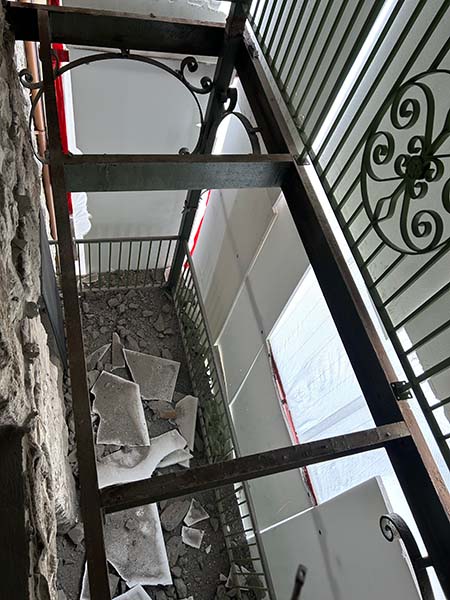 Concrete balconies already demolished and prepped for the wood decking replacement. Photo courtesy of Matthew Cline and @Mohonk.com
WHY CHOOSE JATOBA WOOD DECKING?
The project criteria made it clear that the balcony decking had to be durable, beautiful, meet local fire codes, and be within budget.
Initially, the resort considered two options for the replacement of the decking - reverting to poured concrete, or using Ipe hardwood, which had been utilized in previous resort projects. Then the conversation shifted towards Jatoba wood decking.
So, what factors influenced the ultimate decision to choose Jatoba (Brazilian Cherry)?
"Ah, yeah, that's a great question!", said Matt, "I would say:
1/3 Ease of installation and repair down the road. And just regular maintenance and upkeep.


1/3 Price. The price of the Jatoba wood (Brazilian Cherry) was similar to going back with poured concrete [and more within budget than Ipe].


1/3 Looks." Matt says it is similar to the local "cedar, black locust, mahogany lumber that has historically been used in the Catskills and Adirondacks resorts."
Exterior Jatoba is known for its show stopping red-brown colors ranging from a pink-tinged light brown to darker reddish brown. Its darker, silken looking grain pattern is what makes it in demand for interiors where its better known as Brazilian Cherry.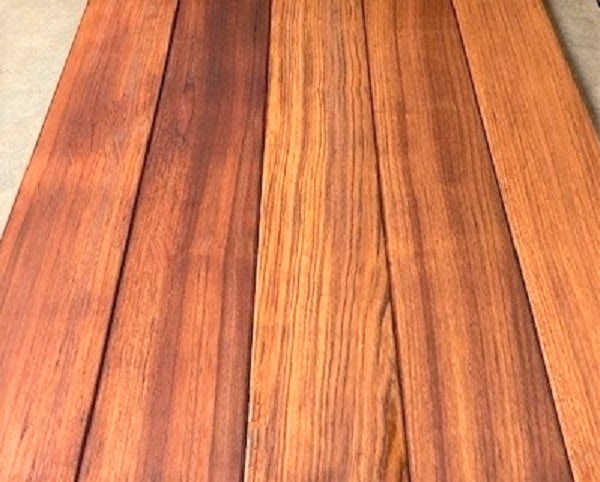 A sample of the Jatoba wood decking color range, after Penofin hardwood oil protectant has been applied.
---
---
Easily met all the project criteria
Jatoba hardwood is a great substitute for Ipe decking when it comes to outdoor use.
"We found the Brazilian Cherry [Jatoba] was as dense [as] Ipe," looked similar to Ipe, "and then we found the [Class A] fire rating on it. And it just all kind of came together.
We submitted it to the design board and the owners, and they all approved it. And so far, everything is wonderful. They love it", said Matthew.
When asked how Jatoba met other project needs, Matt and Pete Humphrey checked them off:
Jatoba Wood versus Ipe Wood Decking

Jatoba wood decking sample compared to an Ipe wood decking sample, both after the oil finish was applied.
The installation team appreciated that Jatoba is a high-density hardwood that is fast and easy to work with. The fiber density is very high, but lower than Ipe wood, the highest density hardwood.
"In 7 business days we have completed 5 full balconies", Matt said. This is about twice as quickly as we hoped for the first few weeks."
According to Matt, they were pleased that Jatoba (Brazilian Cherry) "cuts very easily, copes very easily, it miters very easily. It drills very easily, it doesn't split."
And Matt appreciated how it compares to Ipe. He noted the similar grain and hardness, and the same Class A Fire Rating. "You can tell there's a tremendous amount of natural oils in the wood", just like Ipe.
Since the façade is natural stone, the inner decking board had to fit to the unique shape on each deck. As an experienced builder, Pete Humphrey has worked with a lot of Ipe and compared the two woods.
He noted that it's not complicated but, "When I say it's a fairly basic sort of project, it's just a lot of decks....Scribing to the stone building is pretty much what takes a good portion of the time."
(For our readers who are not contractors, a wood "scribe" tool is used to scratch a shallow line in the wood, in this case along the shape of the natural stone, as a guide for cutting. Then it "coped", a specific way cut along that line to create the matching edge.)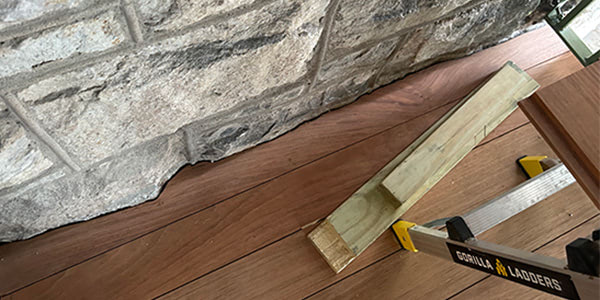 An example of the scribed Jatoba wood in the process of being matched to the exterior stone shape. Photo courtesy of Matthew Cline and @Mohonk.com
The Jatoba (Brazilian Cherry) is "a little easier to work with [than Ipe]. Almost everything is being done on the jigsaw and it hasn't been too bad. Because I'm scribing, pretty much every board needs to be coped."
He was also happy with the performance of the deck boards because, like Ipe, it "all stayed pretty flat" when acclimated properly.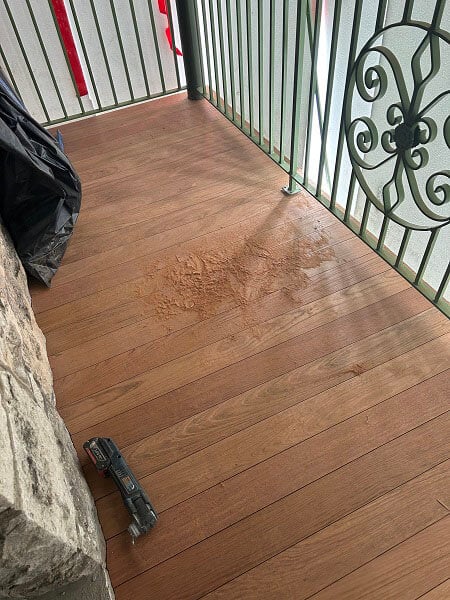 The Jatoba wood decking installed, before the oil finish. Photo courtesy of Matthew Cline and @Mohonk.com
When Pete was asked if he would use Jatoba in the future, his answer was an immediate, "Oh, yes, yes."
"Actually, I have another deck project coming up. I was planning on using Ipe for that but I'm now going to [price] Jatoba."
---
There's more to see in the Ultimate Guide to Selecting the Right Wood Decking
Grab your PDF here
---
Easier Deck Maintenance
With Jatoba (Brazilian Cherry), the resort can expect many years high performance with only minimal maintenance. Since Jatoba is very hard and fiber dense, it does not require painting or staining.
Jatoba high density gives it a naturally high resistance to rot, mold, insect damage, warping, and checking. This saves time and labor in repairs.


A unique characteristic of Brazilian Cherry is that it darkens in sunlight over time. This gives it richer, deeper tones and a luxurious look underfoot.


An oil-based UV protectant made for hardwoods, like Penofin Hardwood Oil with UV Protectant, should be re-applied as needed. This will keep the natural wood tone colors vibrant.


If left unfinished

Brazilian Cherry

will eventually weather to a soft, silvery-gray patina. Choosing to let it gray is a personal choice. No refinishing or sealing is needed again if weathered, something only high-density hardwoods can claim.


Mohonk Mountain prefers the rich, natural wood tones for their balconies. Says Matt, "We plan to finish it with Penofin Oil now" and reapply when needed, regularly.
Now that a few balconies are installed, Peter said he's "looking forward to getting the oil on it… and see the grains pop out, " so he, the Mohonk owners, and the design team can see the final result.
Photo courtesy of Matthew Cline and @Mohonk.com
Brazilian Cherry versus Poured Concrete
Why didn't they choose to re-pour concrete?
Matt explained that the concrete balcony decking eventually showed cracks, chips and nicks from heavy commercial use and harsh New York State weather. As damage occurred, it could not be fixed immediately, and accumulated over time.
As Matt quite accurately observed, "it's a lot easier to cut out and remove a deck board than it is to cut out and remove four inches of concrete and rebar."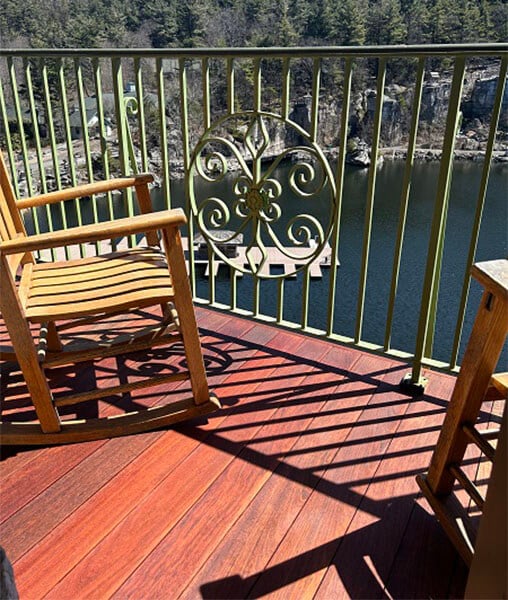 The completed Jatoba wood balcony decks with oil finish and furniture, ready for enjoying the Lake view. Photo courtesy of Matthew Cline and @Mohonk.com
Unlike concrete, Jatoba (Brazilian Cherry) will not chip or crack easily. It is very wear, scratch, and gouge resistant. This had a lot of appeal to the Matt as Project Manager.
If damage does occur to the Jatoba decking from heavy wear and tear or weather, no worries. Scratches can be sanded out. Storm damaged deck boards can be removed individually and replaced right away. This had a lot of appeal to the Matt as Project Manager.
Affordability, Availability, Sustainability
The design team wanted sustainable, responsibly sourced deck material for the project, that is high-quality and performs well for years. It also needed to be available for a time sensitive project plus meet their cost criteria.
Jatoba (Brazilian Cherry) decking was more than budget-friendly for this multiple-deck project, and the material more readily available than Ipe wood. It has similar looks to Cedar but without the high end of price or long waits.
In the most recent price analysis (as of the publish date of this article) Jatoba hardwood falls in the middle range of pricing with hardwood quality and longevity. This assures high value to the resort.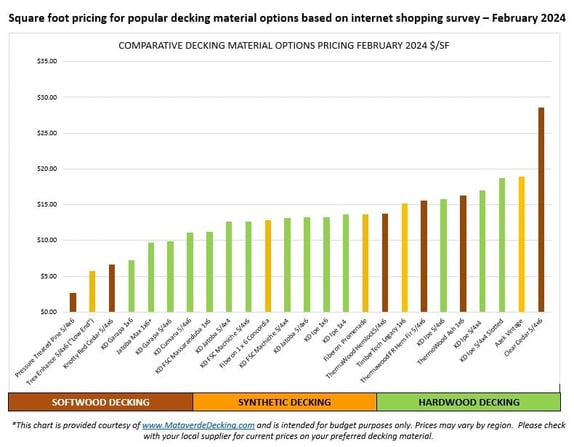 Square foot pricing for popular decking material options based on internet shopping survey - March 2023
Download graph image here for easier viewing
---
---
Very Satisfied With The Result
Overall, the Mohonk Mountain Resort was more than happy with their choice in Jatoba (Brazilian Cherry).
This was due to the ease of installation and repair, lower cost, and similarity to the local lumber used historically. The similar strength of Jatoba versus Ipe, the resistance to water damage and insect damage, and the Class A fire rating were very important factors for the resort team. The project was completed faster than expected, the resort owners and design board are pleased, and everything is looking wonderful.
The use of Jatoba wood decking at Mohonk Mountain is a great example of how modern materials can be used to preserve and maintain historic landmarks.
Comments
Related Posts