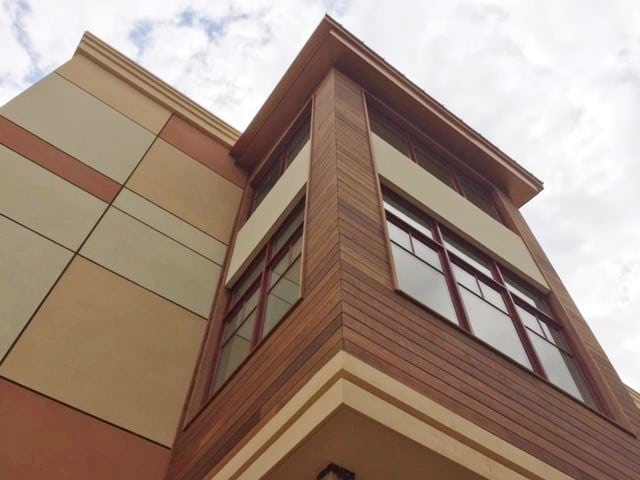 The 7 Best Types of Wood Siding
Written by
Liza Sivek
on
Not all wood siding is created equal. Choosing the right one for your exterior siding project is key. Architects and home designers want a siding material that meets their design needs and creates a beautiful result. Property owners want impressive looks and to keep those looks for years without a lot of work. How can you get the best of both worlds? By selecting the right wood siding material for the job. Here are the top seven types of wood siding that are sustainable, long lasting, and meet design needs.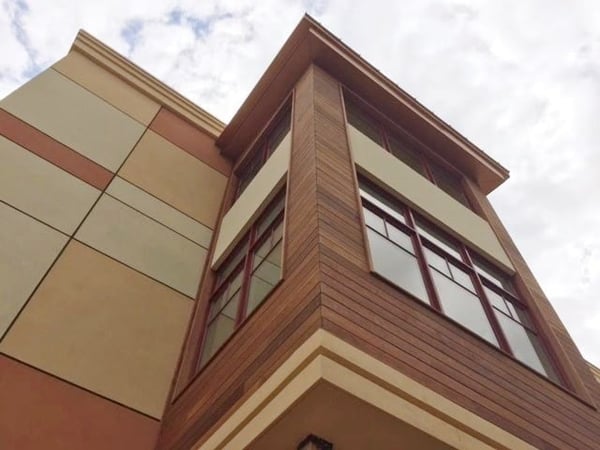 Real hardwood siding shown combined with EIFS stucco on a light commercial building project.
Why Choose Real

Wood Siding?
It's no surprise that real wood is frequently specified in exterior siding design for both residential and commercial projects. The warm look of wood contrasts nicely with other materials or is a brilliant stand alone. Natural wood grain patterns are unique, distinctive, and handsome. They can even be weathered to an iconic, charming gray.
Traditionally, preferred wood species have included Western Red Cedar, Redwood, and Pine for their looks. And they make very attractive sidings, no doubt. But these materials are softwoods and have naturally lower decay resistance and higher maintenance needs, coupled with a shorter lifetime use.
There are other, better options - like exotic hardwoods and thermally modified woods - that can give your project the trifecta of happy customers: longevity, curb appeal and low maintenance.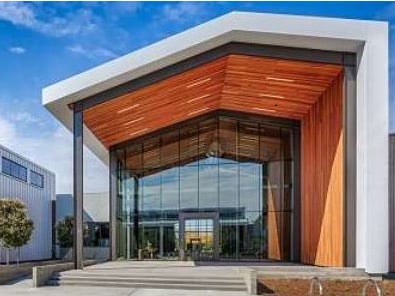 Hardwood siding installed with a rainscreen system was chosen for this Silicon Valley business center including entryways and soffits.
What Are the Best

Types of Wood for Siding?
If you are shopping for the best wood siding species we think you, and your client, might be asking these questions:
Will it meet my project budget?

Is it durable and long lasting?

Does it have an attractive color and grain pattern?

Is it insect resistant?

Is it moisture, mold, and rot resistant?

What will it look like if it weathers?

Is a T&G or Rainscreen system installation better for this project?

If this sounds like your "must have" list, a smart place to start is high-density hardwood species or thermally modified wood. These materials are high performing and will conform to all these criteria. Plus, a price range that covers many exterior project budgets.
RELATED: 23 Wood Siding Ideas for Exterior Designs
---
Click to Download the Ultimate Guide to Wood Rainscreen,
A free guide to everything wood rainscreen siding, including pictures of top wood rainscreen projects.
---
Why Choose Hardwood Siding?
Exotic hardwoods are high density fiber, high performing siding materials. They have naturally high resistance to insect and decay, and do not require paint or stain. Just a UV protectant oil finish will keep the hardwood siding color looking like new. A finish made to penetrate dense hardwoods is necessary, we like and use Penofin Hardwood Formula Penetrating Oil Finish.
Left unfinished, all hardwoods will naturally age to a satiny silvery-gray patina without losing any of its durability and strengths. This is the lowest maintenance choice, only needing cleaning as needed.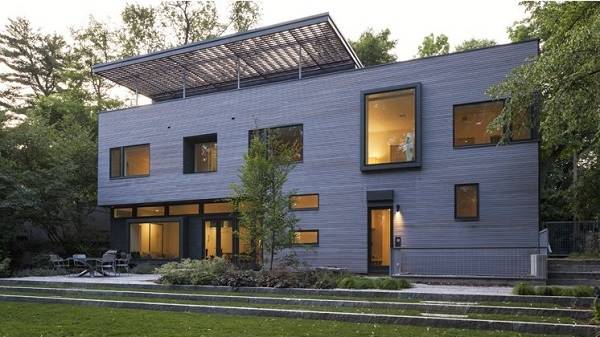 Ipe wood siding treated with Seal Once finish in gray gives an instant weathered look, and now can naturally weather without further treatment.
RELATED: Guide to How Woods Weather
---
Exterior Wood Siding Material Comparison Chart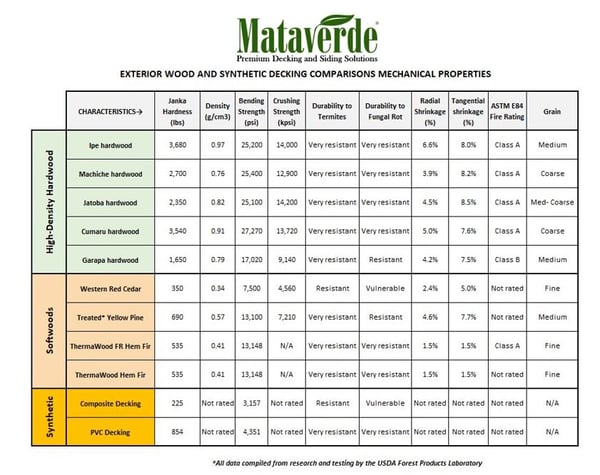 Download a copy of this Exterior Wood Comparison Chart here
---
Ipe

Wood Siding
Ipe wood has the highest fiber density of all exotic hardwoods, and is therefore the highest rated for strength. So, durability is a given, but Ipe is proven to last over 20 years – untreated! – without splitting, cracking, or checking.
Its true that Ipe is a higher upfront investment but, on balance, has an incredibly long lifecycle return on investment (ROI), because of its amazing characteristics. Ipe boasts a range of warm brown tones and exotic graining.
WATCH: 15-year real time outdoor test of Ipe vs. other wood materials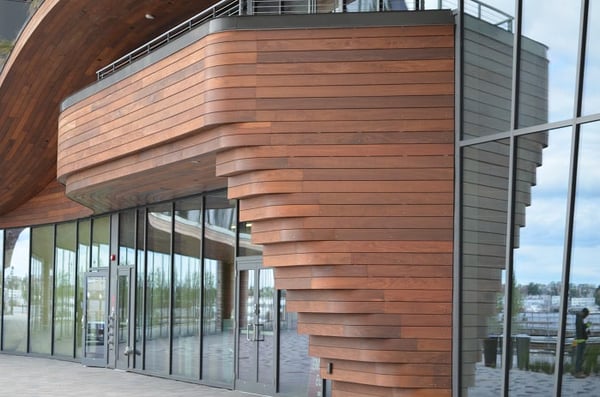 Architectural details using Ipe will look as designed and intended for many years with little upkeep.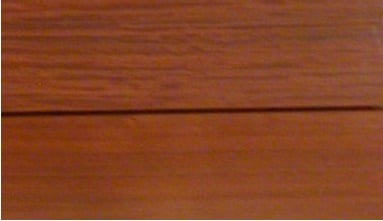 Ipe hardwood finished with Penofin Hardwood Formula Penetrating Oil Finish shows off the grain and color.
---
---
Get inspired. Download the Ultimate Guide to Wood Rainscreen, Click Here.
---
FSC Certified Machiche

Wood Siding
Mataverde Machiche wood siding is FSC Certified making it a smart choice for LEED projects. Machiche wood is a lower upfront cost than Ipe, with a high lifecycle ROI.
Machiche has a range of rich, chocolate brown tones and exotic grain patterns.
RELATED: Learn More About FSC Certification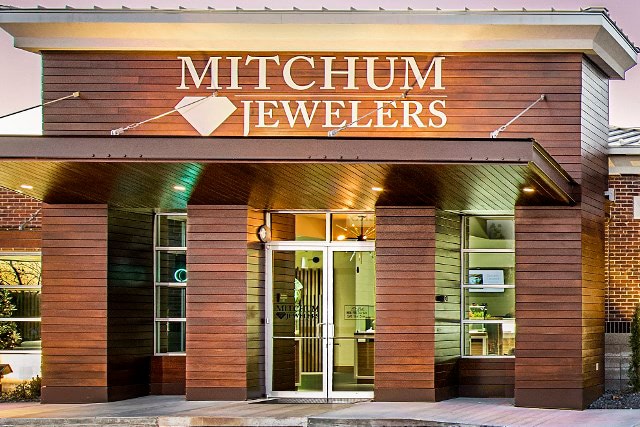 A warm welcome awaits into this retail store with Machiche rainscreen siding.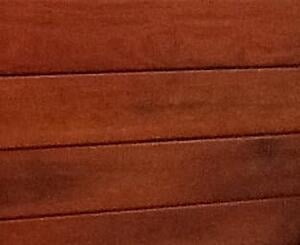 Cumaru

Wood Siding
Cumaru wood siding material is extremely hard and dense, with an upfront cost lower than Ipe or FSC Machiche.
Cumaru wood features a warm, reddish-brown range of colors and gorgeous exotic graining.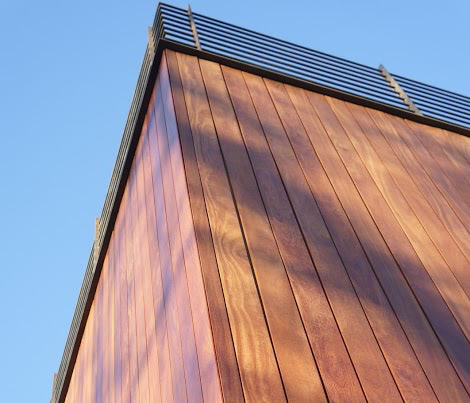 Take advantage of the beautiful grain and color variations in Cumaru wood using random lengths like this rainscreen siding project.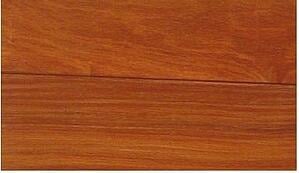 ---
---
Ready for more? Download the FREE Ultimate Guide to Rainscreen Siding here.
---
Garapa

Wood Siding
Garapa is a more affordable hardwood siding material. Garapa has the lowest fiber density of the hardwoods, and still has a hardness rating 2 times that of Oak.
Garapa has natural light to medium golden-brown tones and interesting figuring.
RELATED: Garapa Rainscreen Siding Photo Gallery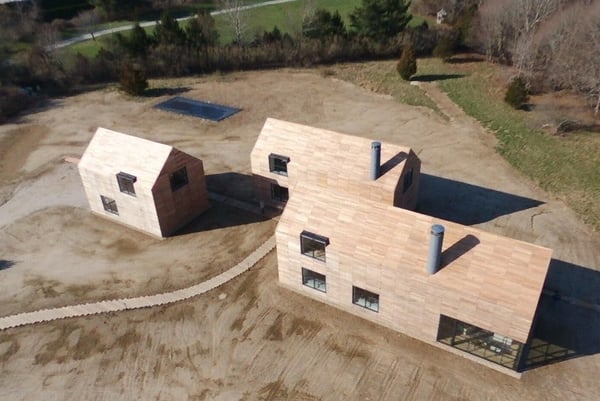 Hardwoods are naturally sturdy and longer lasting, so the stunning use of Garapa wood on a rainscreen siding project in Long Island that wraps the exterior and the roof is not only amazing, it's possible.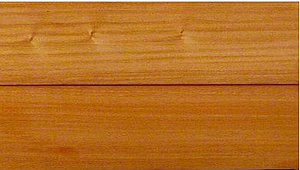 Jatoba

Wood Siding
Jatoba is an exceptional hardwood siding that is a lower cost alternative to Ipe. You have probably seen Jatoba in the flooring section, where it is called "Brazilian Cherry".
Jatoba has a beautiful color range of cherry red-brown tones with a coarser grain and exotic patterns.
RELATED: Ipe Wood Alternative: Jatoba Rainscreen Siding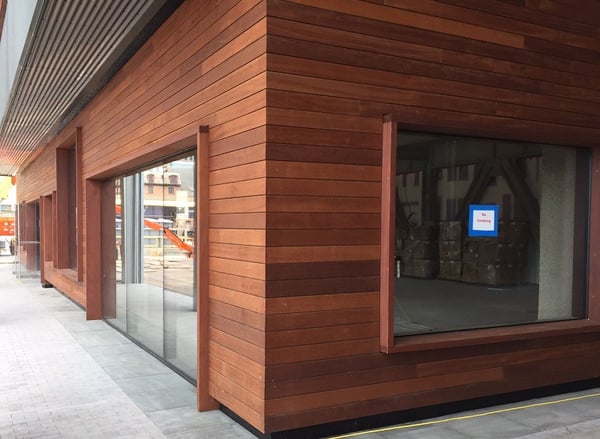 Climate-Shield Rainscreen wraps corners, windows and doors for impressive design details.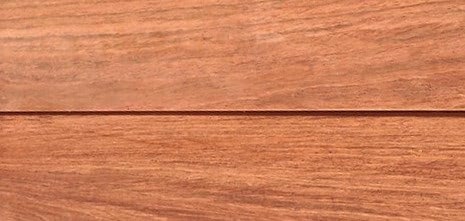 ---
Exterior Wood Siding Price Comparison Chart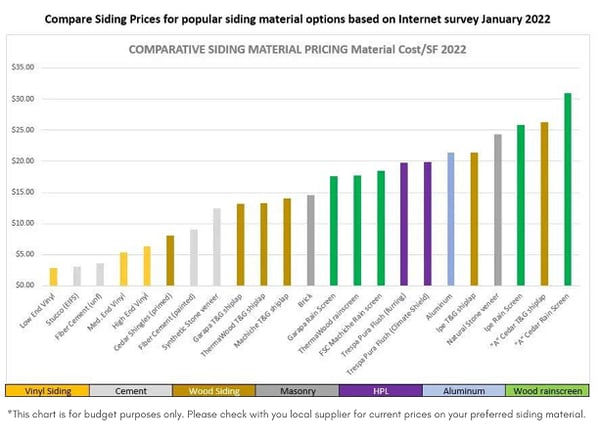 Download a copy of the Siding Material Pricing Comparison Chart here
---
What About Thermally Modified Wood Siding?
Thermally modified wood is an affordable alternative to exotic hardwoods. It may be the answer to your project budget needs, without giving up quality and real wood material.
Mataverde thermally modified wood has been treated with heat and steam in a high-pressure vacuum kiln, cooking out the sugars (that insects find so tasty) and the high moisture content (creating a harder, longer lasting wood material).
This singular thermal process uses lower temperatures, avoiding the brittleness of traditional kiln dried wood. It is easier to work with on site and lasts longer than kiln dried siding.
Therma Wood® Hem Fir

Wood Siding
Thermally modified Hemlock is often chosen by home designers as a more cost-conscious substitute for Western Red Cedar since it looks remarkably similar. It also is more readily and consistently available than Cedar.
Thermally modified hemlock siding and decking is naturally beautiful
The thermal process gives Hemlock a darker range of tones from light to medium browns. Therma Wood Hem Fir is always made from A+, C+, or better grades of Hemlock for the highest performance.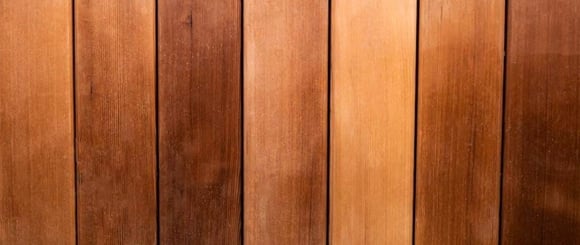 With thermally modified Hemlock you get the grain of a softwood with darker tones from the modification, and increased durability.
RELATED: Four Things You Should Know About Thermally Modified Wood Siding
Thermowood® American Ash

Wood Siding
American Ash is a lower density hardwood species that gets even better with thermal modification. With lovely graining that is darkened by the modification process, and chocolate-y brown tones, it's a smart choice for a budget-friendly wood siding.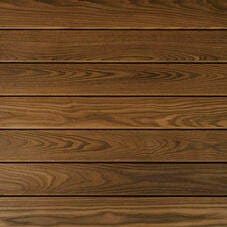 ---
---
Traditional or Rainscreen
Wood Siding?
Once you decide on your wood siding material, how will you decide to install it? All Mataverde's premium hardwoods and thermally modified woods can be delivered with traditional tongue and groove (T&G) profile or in a rainscreen profile.
Tongue and Groove Closed Joint Installation
T&G profiles of premium hardwoods and thermally modified woods will perform very well in traditional siding installs. T&G profiles are a lower upfront investment in materials, using furring strips for installation. However, there are pros and cons to using T&G siding installation. T&G is a more labor-intensive installation and has a lower lifecycle ROI. T&G also limits your design options.
Plus, most traditional T&G installations are a closed joint system that will not leave a gap between siding boards. This creates pockets of trapped moisture and opportunities for insects. Both can damage the building envelope if not addressed.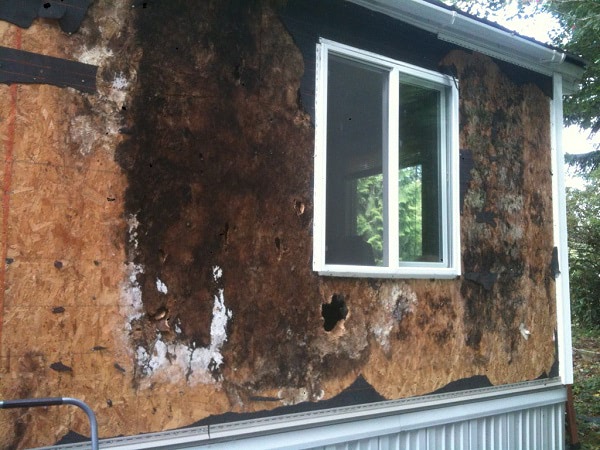 When proper ventilation isn't added in to a closed joint system, you could be dealing with mold and callbacks down the line.
---
For more information on selecting the right wood siding, download your free guide:

---
Open Joint Rainscreen Installation
A quality rainscreen system installation can save you labor and improve the performance of your siding project long term.
A well designed rainscreen system, like the Mataverde Climate-Shield® Rainscreen System is designed with evenly spaced gaps between the boards to allow water and humidity to freely escape. This eliminates pockets of trapped moisture behind the siding and reduces energy use by keeping warm air ventilated and from the walls.
RELATED: What Is Rainscreen Siding?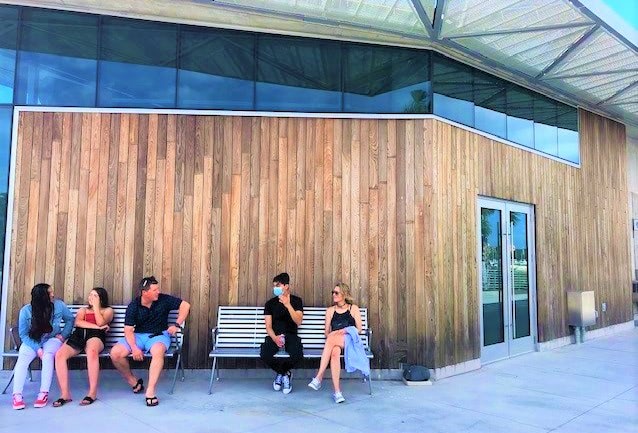 Rainscreen wood siding is chosen for commercial buildings for its durability and low maintenance when allowed to weather naturally.
Mataverde Climate-Shield is the leading rainscreen installation system in North America because it has a patented aluminum profile with no furring strips needed.
The Climate-Shield rainscreen has a higher initial investment than T&G, but its lighter weight and goes up on the wall faster, saving you labor time. Climate-Shield also lets you install siding horizontally and vertically for infinite design options.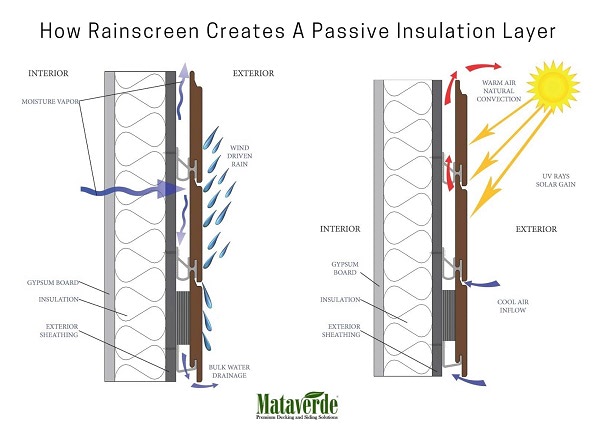 RELATED: View Project Pictures in the Rainscreen Wood Siding Gallery
Did this information help you find the best wood siding type for your project? We hope we helped you navigate the options. Ready to check prices, or want to see a sample? Please contact our team, they can answer your questions and get you what you need.
Related Posts