Why Hardwood Decking is a Great Option for Boardwalks
Written by Chris Nolan on
Boardwalks have been part of the coastal American experience since they first arrived in the late 19th century. They have allowed millions of Americans free access to the ocean. Boardwalks have helped define personal experiences and created memories for so many, for so long. Originally, softwood boards were the only available option. Nowadays, hardwood decking provides a long-lasting natural wood solution for boardwalks and other decking projects.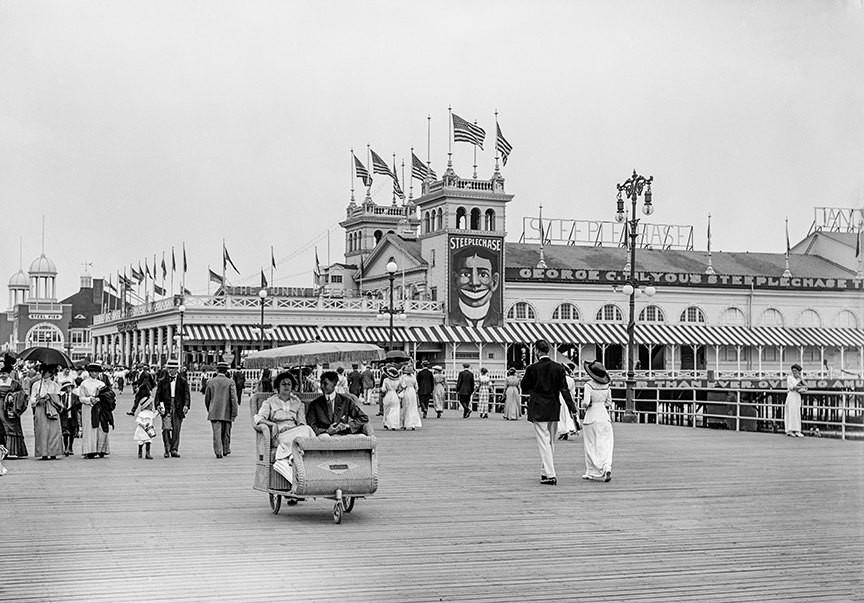 Coney Island Boardwalk in the glory days. Photo courtesy of HistoricalPix.com
In the late 1800's through early 1900's, the golden era of boardwalks was born. The mixture of the ocean, beaches and natural wood created a beautiful blend of nature It was a great way for visitors to view the beach, sand and ocean without getting sandy. The warm natural beauty of real wood created a comfortable experience for visitors and strollers. Atlantic City's wooden boardwalk started the trend in America.
Many other boardwalks soon followed. Historically, nearly all the original boardwalks used actual wooden boards. Many types of wood decking boards have been tried over the decades, with varying results. Depending on which wood species were available at the time, softwood decking is usually less expensive, up front, but doesn't hold up as well as higher density hardwood species.

To provide natural beauty, local wood species were often used. The original boards on the Atlantic City boardwalk were Atlantic White Cedar (a subspecies of cypress). The boards were naturally rot-resistant and held up well to foot traffic. Over time and unregulated logging, that species became over-harvested.
So, when it came time to replace those boardwalk deck boards, they tested Western Red Cedar. This cedar species was more expensive than its eastern cousin, and it too, was relatively rot-resistant. Western Red Cedar is a beautiful domestic softwood. It is softer and less resistant to foot traffic than Atlantic White Cedar. Softwood decking (Southern Pine, Cedar) are natural wood species, but are softer, wear faster and not as durable or long-lasting as hardwood decking species.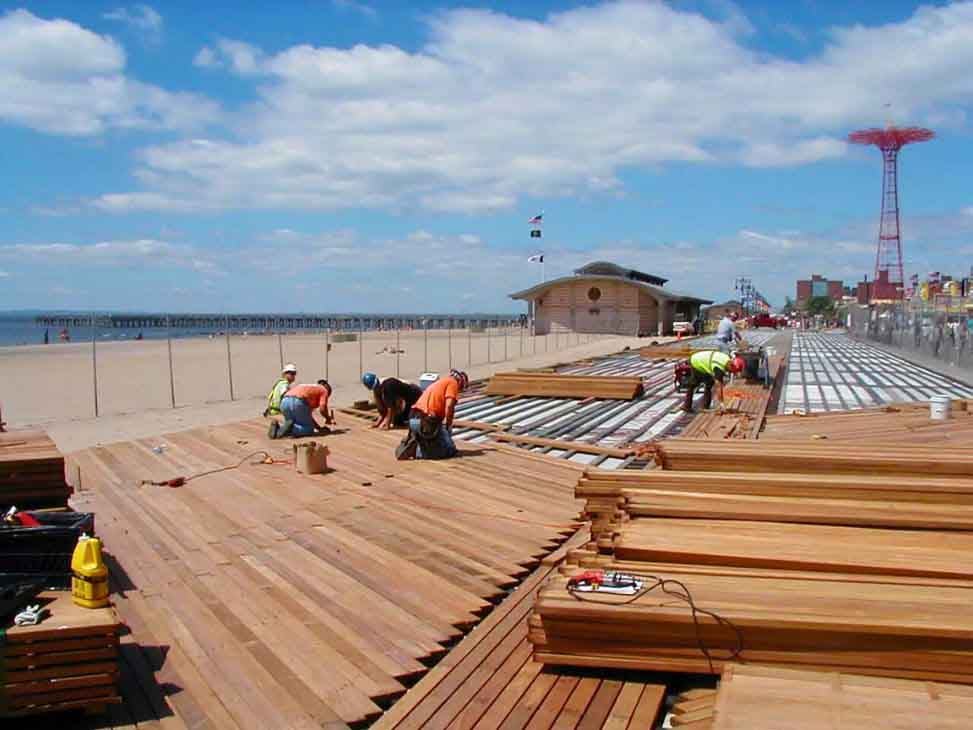 FSC Certified Cumaru hardwood decking installation at Coney Island boardwalk
The Coney Island boardwalk is often considered America's top 10 boardwalks. Douglas fir softwood was reportedly used for decking when this iconic boardwalk was first opened in 1923. The boardwalk became so popular; they extended it several blocks soon after. When the deck boards wore out over time, they were routinely replaced.
They built many other wooden boardwalks in the early 20th century. Ocean City, Maryland; Asbury Park, New Jersey; Rockaway Beach, New York; Rehoboth Beach, Delaware to name a few. Each boardwalk had its own identity and local flavor. The one thing all these boardwalks had in common, was they gave the public access to enjoy the view of the ocean at no charge, without the need to get sandy.
People of all economic and social backgrounds could pay a nickel and take the subway from anywhere in New York City to enjoy the Coney Island boardwalk and see the ocean. When train tracks were built to reach many of these boardwalks, they became accessible destinations for many Americans. The smell of popcorn, candy, food and the salt air were all part of the charm and attraction.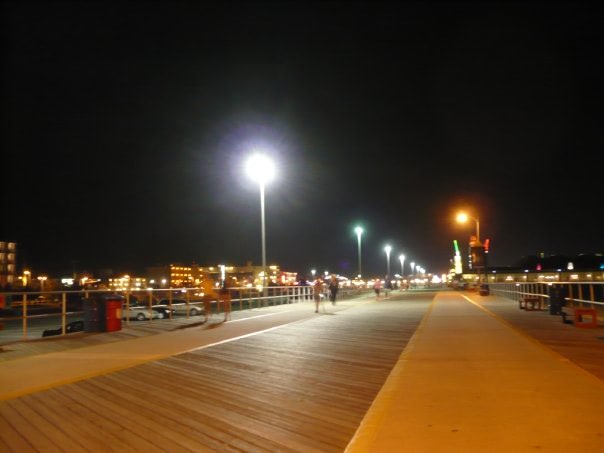 Wildwood, New Jersey Boardwalk at night
Many other boardwalks allowed visitors comfortable, vehicle-free access to stroll and enjoy the ocean, amusement parks, thrill rides, performers, nightlife, music, shows and lots more. The Wildwood, NJ boardwalk is sometimes considered the birthplace of rock and roll by locals, because that's where Bill Haley and the Comets first performed "Rock Around the Clock", and Chubby Checker later unveiled "The Twist".
Every boardwalk has its own unique sensations, smells, sights, sounds, feel and vibe. They are all part of the American experience and a nostalgic reminder of days gone by. When the boardwalks need renovation, lots of different decking materials are being considered now. The harsh weather and punishment of coastal climates requires durable materials for boardwalks.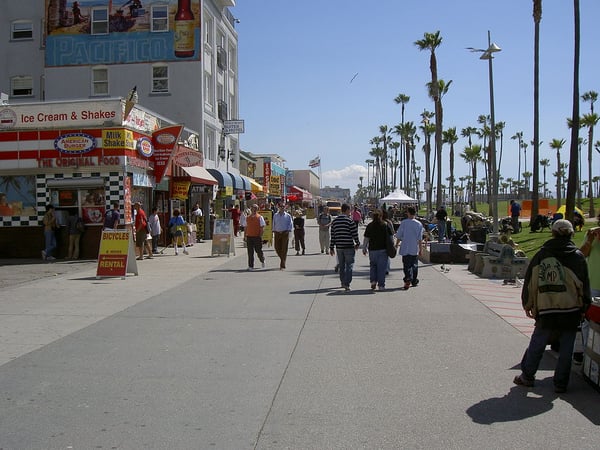 Visit the boardwalk at Venice Beach, California
Concrete is sometimes used as a replacement material for wood decking on boardwalks. Concrete has the benefit of toughness and moderate cost during construction. It doesn't have a natural look and some pedestrians complain about concrete being "tough to walk on" and "hard on the knees and joints". Concrete is durable, and gets the job done.
Recently, they replaced some sections of the Coney Island boardwalk with plastic decking. Unfortunately, these synthetics don't have the same look, feel or performance of other options, including real wood decking boards. Plastic deck boards have a low span-rating, scratch easily and are no match for the strength and durability of real hardwoods.
High Density Exterior Hardwoods
Let's explore the benefits of high-density hardwood decking. When the US Army Corps of Engineers first tested Ipe hardwood to build the Panama Canal in the early 1900's, they learned that Ipe hardwood had amazing performance characteristics. Compared to domestic North American wood species, the strength of many South American hardwood species is "off the charts". The strength, durability and rot-resistance of Ipe is vastly superior to any wood species grown in the Northern hemisphere.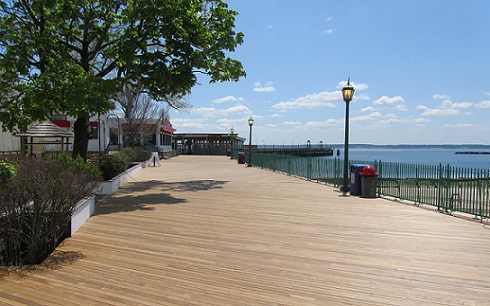 Ipe decking at Playland Park boardwalk in Rye, New York
Ipe Hardwood Decking for Boardwalks
Why is Ipe hardwood a good option for boardwalks? Ipe hardwood is the high standard by which all other decking materials are measured. Ipe decking offers high strength, excellent durability, rot resistance, insect resistance and it great looks. Ipe boards can span great distances with minimal deflection. Ipe wood is known as a long-lasting, high-performance decking material on many boardwalk projects throughout the US and beyond. Ipe has natural slip resistance and is a low-splinter decking material option.
Mataverde Ipe is harvested in sustainably managed forests and carries a 25-year limited warranty against rot and insects. It ranges in color from light browns to olive-browns to dark browns. Ipe wood has lots of tropical graining variations.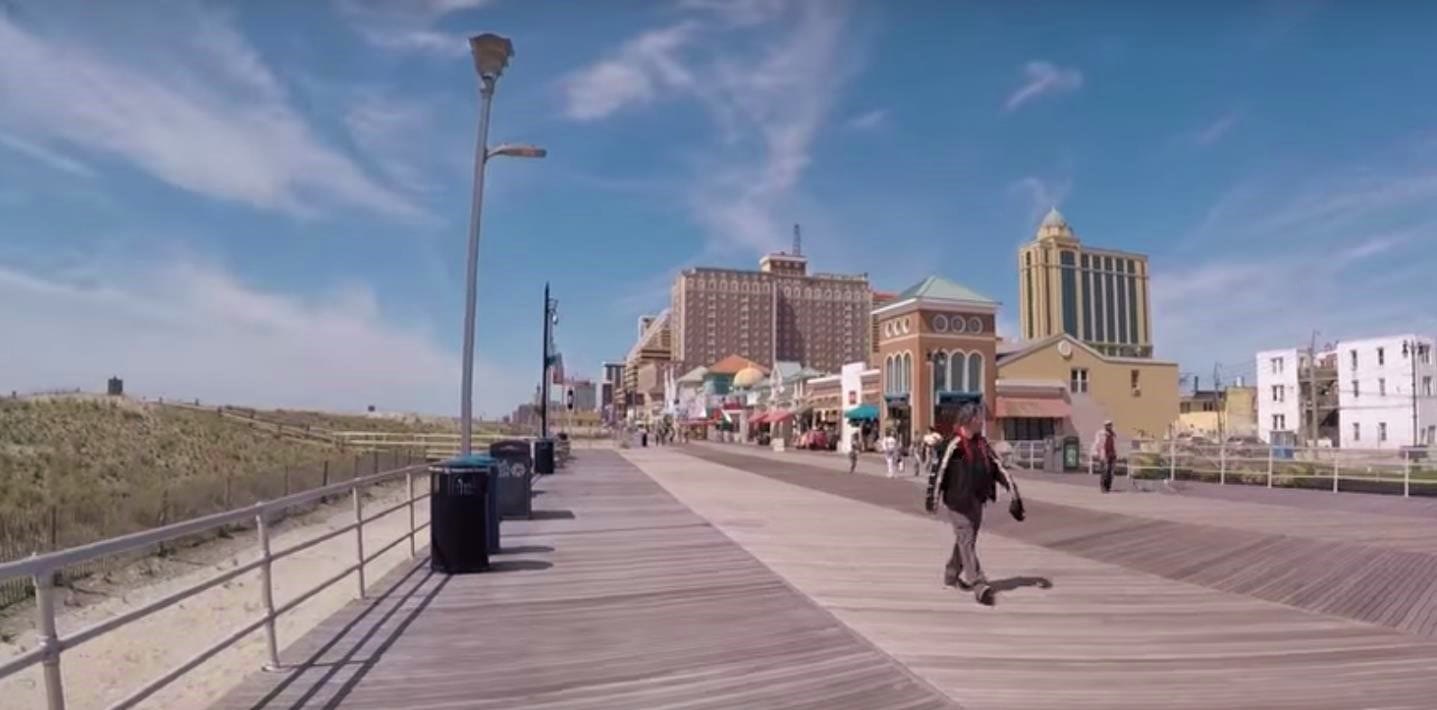 Cumaru decking at Atlantic City boardwalk
Cumaru Hardwood Decking for Boardwalks
Cumaru hardwood is as strong as Ipe and is often considered as a cost saving alternative. Cumaru decking has high strength, high resistance to rot and insects. Cumaru hardwood has coarser graining than Ipe and has slight splinters that wear off quickly under foot traffic. Cumaru decking is as strong as Ipe and quite durable.
Mataverde Cumaru is sustainably harvested and protected by a 25 Year limited warranty, too. Cumaru rages in color from lighter and medium browns to reddish browns and has lively exotic grain variations.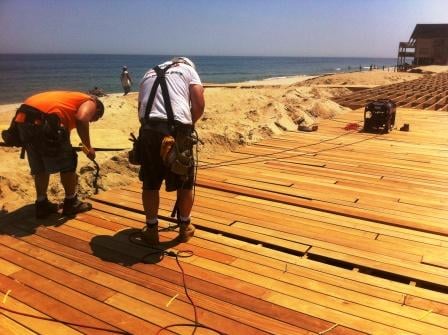 Garapa decking installation at Ortley Beach boardwalk, Toms River, New Jersey
Garapa Hardwood Decking for Boardwalks
Garapa hardwood decking is a budget friendly decking species that is suitable for many lower-traffic boardwalk decks. Garapa decking has blondish to amber colors and a moderate amount of grain variations. Although Garapa is considerably softer with a lower span than Ipe or Cumaru hardwood options, it is significantly harder and stronger than oak.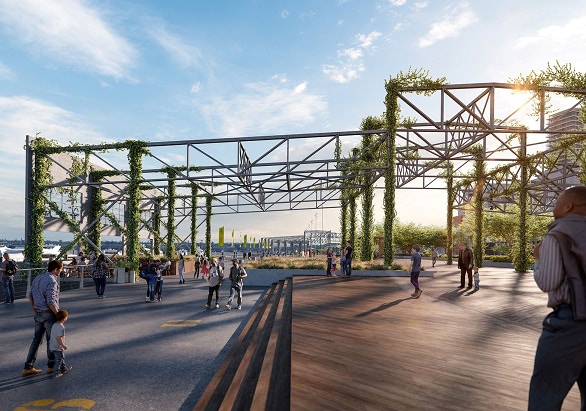 FSC Certified Machiche hardwood decking at boardwalk on Oakland California
Machiche Hardwood Decking for Boardwalks
Machiche hardwood is an FSC® Certified decking material that is a great option for boardwalks. Its chocolate brown tones and tropical graining add beauty. Its density, rot resistance and superior strength make Machiche a great decking material to consider. Mataverde Machiche decking is sustainably harvested in Guatemala and is covered by a 25 Year limited warranty against decay and insects.
---
---
RELATED:
Comments
Related Posts