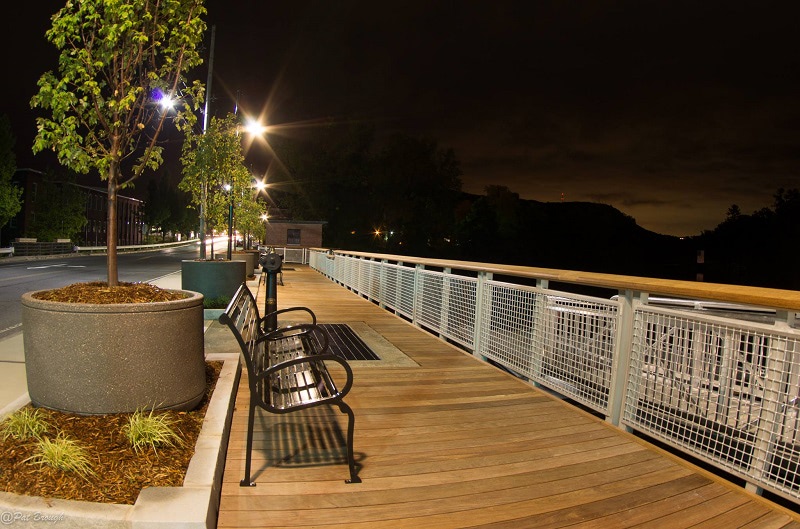 Technical Information and Mechanical Characteristics
Hardwood Decking, Wood Decking and Synthetic Decking
Mataverde® Premium Ipe, Premium Cumaru and Premium Garapa Decking are all long-lasting, strong and durable high-density hardwood options that clearly outperform other commonly used decking materials. On virtually every technical measurement of strength and durability (see chart below), Mataverde® Premium Decking products are far and away superior to softwood decking, pressure treated lumber, composite decking products, and PVC (plastic) decking.
---
WHICH DECKING MATERIAL IS BEST?
Technical Differences Between Decking Materials
To help you make an informed buying decision we have created the following chart which showing the mechanical properties of various decking material options from research by the USDA Forest Products Laboratory. Check out the differences between premium hardwood decking materials, softwood decking, thermally modified decking, and synthetic decking species like composite decking and plastic decking.
High Density Hardwood Decking
High-density hardwood decking includes high performing wood species like Ipe, Machiche, Jatoba, Cumaru and Garapa wood. As a rule, high-density hardwood decking materials outperform other decking material options in nearly every measurable characteristic, including strength, hardness, durability, fire resistance and more.
Softwood Decking Materials
Softwood decking options include Western Red Cedar, Pressure Treated Pine and thermally modified Western hemlock. All three of these softwood decking materials have some benefits. Western Red Cedar is beautiful, but very expensive. Pressure treated pine decking is low cost. Thermally modified Hemlock decking is beautiful, affordable and very durable.
THERMALLY MODIFIED HEMLOCK DECKING
Synthetic Decking Materials
Synthetic decking materials include many brands, in three basic formats; composite decking, capped composite decking, and plastic decking. Each different synthetic decking material options has some strengths and weaknesses.
Mechanical Properties of Real Wood Decking Species and Synthetic Decking Materials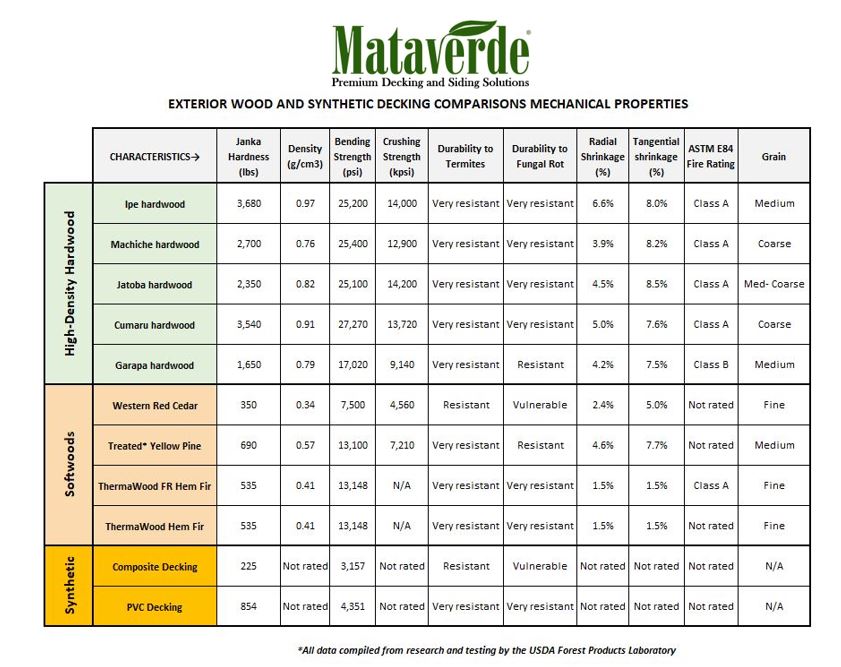 DOWNLOAD EXTERIOR WOOD AND SYNTHETIC DECKING MECHANICAL PROPERTIES CHART
---
The mechanical properties of decking materials are a great way to learn about how various decking materials are likely to perform - before you invest your money in a major decking project. There are other factors to consider, too.
For a more comprehensive overview of decking materials options, please feel free to DOWNLOAD the "Ultimate Guide to Selecting the Right Decking" today.
Please contact us if we may be of assistance.