Premium Cladding and Decking Solutions for Construction Professionals
WOOD RAIN SCREEN SIDING OPTIONS WOOD RAIN SCREEN SIDING OPTIONS
For over 60 years, we have helped contractors, builders and construction professionals complete projects they can be proud of, with a stunning array of high-quality building materials to enhance their residential and commercial projects.
Our long-lasting sustainable hardwood decking and rain screen siding options include a wide variety of eco-friendly wood species such as Mataverde® Ipe, Cumaru, FSC® Certified Machiche and Garapa hardwoods. Mataverde is your premiere source for all-natural, durable and attractive rain screen siding and decking materials to complement your projects.
CONTRACTOR SERVICES
INSTALLATION GUIDES, DRAWINGS AND ASSEMBLY DETAILS
To help save you time, we have created a library of installation guidelines, details and drawings for Mataverde® Premium Decking, the Climate-Shield® Rain Screen System and Trespa Pura NFC® cladding. The files are available to download for your use in commercial or residential project designs. Many of the assembly details show examples of labor-saving tips and best installation practices.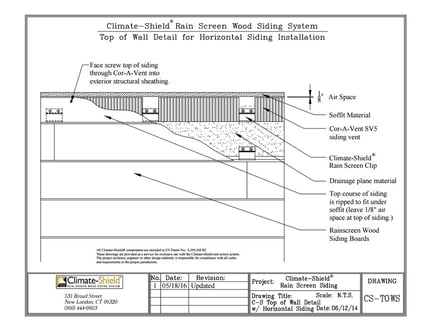 LINKS TO KEY CONTRACTOR PAGES:
Trespa Pura NFC® Siding Installation
Exterior Wood Care and Maintenance
ADDITIONAL CONTRACTOR SERVICES
We love the opportunity to work with contractors and construction professionals to help offer ideas and potential solutions that can save you time and money with products that perform great. We care about your short term (installation) success and your long term success (product performance and customer satisfaction) of your decking, siding and exterior projects.
• PLAN REVIEWS
• TECHNICAL TEAM
• INSTALLATION GUIDELINES
• CUSTOM ARCHITECTURAL PROFILES
Please feel free to contact our Technical Team at (860) 444-7524 Monday through Friday from 8 am -5 pm Eastern Time or Contact Us any time of your choosing.
---
PREMIUM SIDING AND DECKING PRODUCTS
CLIMATE-SHIELD® RAIN SCREEN WOOD SIDING SYSTEM



Because of its design flexibility, easy installation and reliable long-term performance, the patented Climate-Shield Wood Rain Screen System has earned its reputation as the best wood rain screen system available.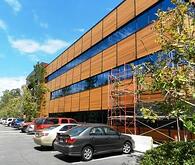 • Climate-Shield is the most efficient, versatile and installation friendly wood rain screen siding system on the market.
• Give your clients an all-natural, high performance, long lasting, cladding solution for residential, commercial and public project designs. While you save time and labor.
• Climate-Shield's patented technology allows you to install rain screen wood siding horizontally, vertically or even diagonally, efficiently and quickly.
WOOD RAIN SCREEN SIDING OPTIONS
Mataverde® Premium hardwoods have earned a solid reputation for durability, sustainability and performance on many award winning projects. These same exterior hardwood species are available as architectural siding for use with the Climate-Shield Rain Screen System.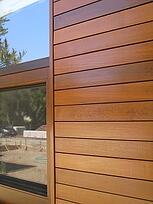 • HIGH PERFORMANCE - The Climate-Shield System is designed to meet the load requirements for 200 MPH winds. Highly durable Mataverde siding species such as Ipe, Machiche, Cumaru, Garapa, Santa Maria and more are readily available for your project needs.
• SUSTAINABLE WOOD - All the wood siding species are sustainably harvested and many are also available FSC® certified. Learn more about these durable and beautiful wood rain screen siding species options here.
• SEE PICTURES OF AWARD WINNING PROJECTS - Choose from a wide variety of wood cladding color and grain ranges. To view these wood species in actual project settings, visit the various rain screen galleries.
TRESPA PURA NFC® SIDING



The same reliability you have come to expect with other Trespa products is now available in an affordable premium siding option. Trespa Pura NFC® sidings are a great product to consider for residential and light commercial projects.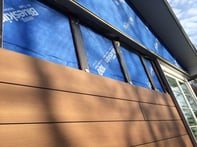 • Trespa Pura NFC® Sidings are an engineered cladding product offering the warm look of wood... without the usual maintenance requirements.
• Low Life-Cycle Cost, Low Maintenance. Requires no pre-finishing or re-finishing over the lifetime of the product.
• 16 Decors. Choose from sixteen color options including two styles (Eight wood decors and Uni Colors) that create a great look for your exterior facades.
• Assembly Details and Drawings Library
• Trespa Installation Guidelines
MATAVERDE PREMIUM HARDWOOD DECKING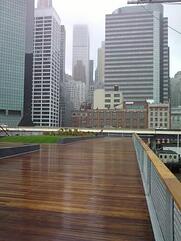 • NATURAL HIGH PERFORMANCE. Naturally beautiful and long lasting Mataverde® Premium Hardwood Decking options include: Ipe, Cumaru, Garapa and FSC Machiche. You can check them all out here.
• Mataverde Premium Hardwood decking can be used for residential, commercial and public projects... anywhere natural beauty and durability are your goal.
• Decking Installation Guidelines
• Decking Care and Maintenance Guidelines
MATAVERDE® EUROTEC® ROOFTOP DECK SYSTEM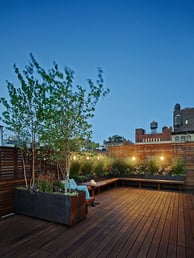 • European technology makes it quick and easy for you to build rooftop decks, balcony decks, patio-top decks and terraces with the high performance Mataverde Eurotec Deck System.
• High strength, yet lightweight aluminum framing and adjustable pedestals allow for a consistent deck and ease of installation, using full length deck boards.
• Choose from any of the Mataverde Premium Hardwood Decking species for your patio-top, balcony or rooftop deck design needs.