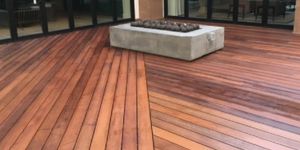 10 Problems With Ipe Decking You Should Know About
Written by
Liza Sivek
on
Premium Ipe wood is often regarded as the best wood decking on Earth. However, there is a lot of conflicting information surrounding Ipe, which can make it difficult to determine the truth. In this article, we will examine the most significant concerns to help you make an informed decision.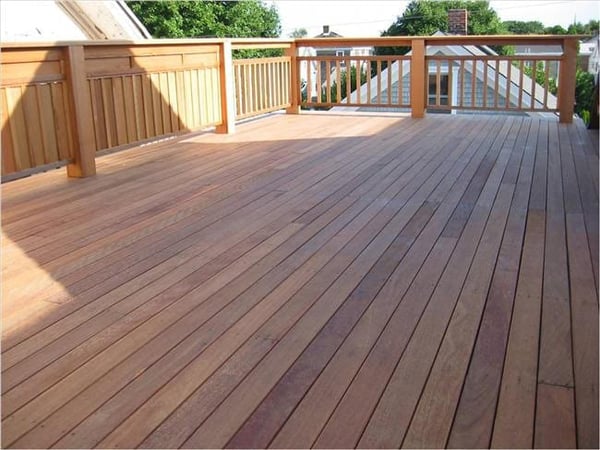 A newly installed Ipe wood rooftop deck and banister. Ipe is frequently chosen for rooftop deck since it performs so well under conditions like full sun and UV, and other weather exposure.
The top 10 possible drawbacks of Ipe that customers frequently ask us about are:
But are these true? Are they avoidable? Are there advantages that outweigh these drawbacks?
1. "

Ipe is too expensive!"
One common concern about Ipe decking is its cost. While Ipe wood may have a higher initial price compared to other decking materials, it offers superior quality and performance. In fact, real Ipe wood is currently priced lower than synthetic decking options and outperforms them! Additionally, the return on investment for an Ipe deck over its lifetime is remarkable.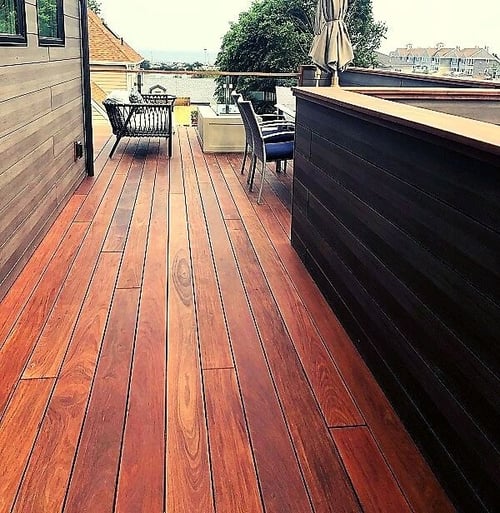 An Ipe second-floor deck on the Rhode Island shoreline was chosen for its beautiful colors and its durability. This deck can easily handle salt air and storms.
---
"This year, the decking market is very different. Softwood decking prices are going up, hardwood decking is coming down, synthetic decking is rising, and clear western red cedar is way, way up there."
RELATED: Read more in "Decking Costs: Decking Price Alert 2023"
---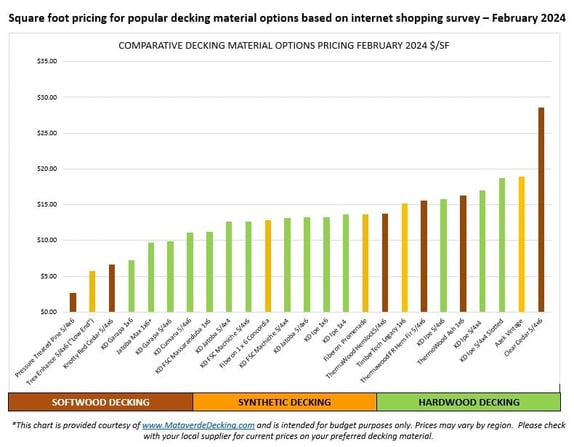 When considering the costs associated with Ipe versus other decking, it's essential to look at the entire lifecycle from beginning to end. This lifecycle can be thought of as "cradle to grave" costs. This includes the initial purchase, installation, cleaning, maintenance, and disposal or recycling.
Ipe wood requires less cleaning and maintenance, thanks to its natural resistance to rot, mold, insects, and damage. It can be easily cleaned with soapy water and a stiff broom, and any scratches or gouges can be sanded out.

Unlike other decking materials, Ipe does not need regular staining or painting, although applying an oil-based UV protectant periodically can prevent graying if you choose.

Moreover, Ipe wood can be recycled at the end of its useful life as a deck.



If Ipe decks can last for 25 years or more, do the math! When you consider the longevity of Ipe decks, their average lifecycle cost per year decreases with each additional year of use, making them more affordable in the long run compared to other options.
---
Want to see premium Ipe wood decking for yourself? Request a sample now!
---
2. "Ipe wood is hard to find."
Premium wood decking materials are often preferred by discerning homeowners and designers, but may not be readily available on the shelves of retail chain lumberyards.
However, this doesn't mean Ipe is difficult to find. You can easily obtain premium Ipe from Mataverde and other reputable lumber suppliers.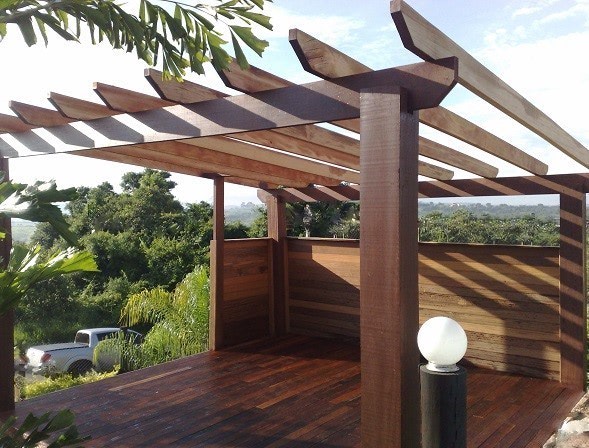 Ipe is not just for decking. Using Ipe for a pergola too gives you a luxurious designer look plus the same strength and advantages as your decking.
RELATED: Download the Ultimate Guide to Selecting the Right Wood Decking for more!
3. "I'm concerned about the

sustainability and environmental impact."
Our customers share a strong interest in using responsibly sourced exotic wood decking materials, and we fully support that priority.
At Mataverde, we ensure that our Ipe wood is harvested in a responsible manner that promotes the health of forests. Only the tallest Ipe trees in the canopy are selected for harvesting, allowing the younger trees beneath to continue growing.
This sustainable approach ensures the long-term well-being of the forest ecosystem. Additionally, Ipe wood can be recycled. It feels good to know your decking won't end up in a landfill when its useful life is over.
---
"All of the wood used for Mataverde hardwood decking … is collected in a well-documented method which takes only what is needed and ensures that the trees will grow back. … In addition, sustainable decking is strictly harvested under at least one of three Sustained Yield Forestry Programs."
RELATED: Read more about how we take action on Environmental Preservation.
---
4. "Wood decking needs way too much maintenance"
Deck maintenance is a concern for many homeowners, but Ipe decking requires less upkeep compared to pressure-treated pine and other softwoods like Cedar and Fir. Ipe's high fiber density provides natural resistance to damage, mold, rot, and insects, reducing the need for extensive maintenance.
While regular cleaning is necessary, the inherent durability of Ipe makes it a good choice for those seeking a decking material with less upkeep needed.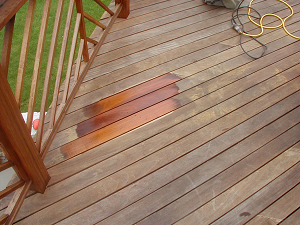 Ipe decking after a light sanding and then a re-application of Penofin Hardwood Rosewood Oil UV Protectant.

To protect Ipe decking from the elements and maintain its appearance, using the right finish is crucial. Mataverde recommends oil-based finishes, particularly Penofin Hardwood Oil, for the best results. These finishes are made to penetrate the high-density hardwoods, provide exceptional UV protection, and enhance the natural beauty of the wood.
---
"When you are building a deck, dock or walkway it is important to have wood that can withstand the harsh test of time, weather and UV rays. Ipe has the highest hardwood resistance to mold and pests as well as being extremely resistant to scratches. Ipe is one of the most rot resistant woods on the planet and can withstand the power of nature for over 40 years."
- Read "What Is Ipe Wood?" to learn more
---
5. "Not all Ipe boards are the same color."
This is a valid point that you should consider based on your preferences. Many people choose real wood for natural beauty in the colors and patterns. But if you desire a consistent, solid color or plan to paint your deck to get that look, real hardwood may not be for you.
Ipe's high fiber density, which contributes to its low maintenance and high resistance, also makes it less porous and difficult to stain or paint. If you opt for a softwood like Cedar or Redwood, you can easily stain or paint it in a single color but at the cost of increased maintenance and regular refinishing. Ultimately, the decision depends on your priorities.
Ipe decking offers a range of medium to deep brown wood tones, providing variety and a unique, custom look. The exotic grain patterns of Ipe wood itself add to its distinctive design appeal. Expect people to notice and ask where you found this beautiful decking!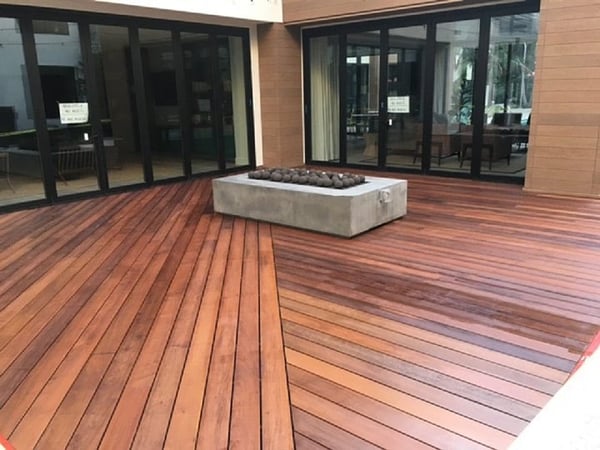 The exotic grain patterns of Ipe wood itself add to its distinctive design appeal that can't be matched with paint.
The advantage of choosing a hardwood decking material is that you not only enjoy its numerous benefits but also the aesthetic value of beautiful, warm, natural wood.

Detail of a the exotic figuring in one example of an Ipe wood decking board example, with Penofin oil finish applied. You can see the beautiful wood graining throughout this piece. Amount of graining and color will vary from board to board.
---
Want to see what Ipe color and grain looks like for yourself? Request a sample here.
---
6. "What will Ipe look like when it weathers?"
Whether to weather your wooden deck is a personal preference.
If you prefer to keep the natural, new wood colors, good news! You can keep Ipe looking like new. Only the UV oil protectant will need to be re-applied as needed. You can download Ipe finishing options here.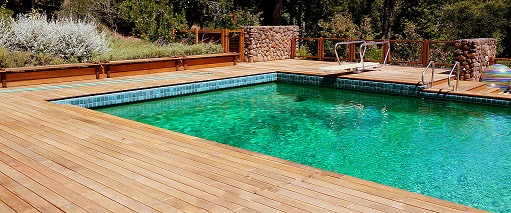 An Ipe wood pool deck is warmer and softer looking, and feeling, than cement or tile and lasts much longer than pressure-treated decking. Keep it the original color with a finish made for hardwoods, or let it weather to silvery gray over time.
---
"We have learned that all durable Mataverde hardwood decking and siding species will eventually mellow out to a silvery 'driftwood' color if allowed to fully weather. Ipe is no exception, and because it has natural strength, and other remarkable performance properties, Ipe hardwood will still last exceptionally well, even without additional maintenance coats over time."
- "How Does Ipe Hardwood Decking Weather?"
---
On the other hand, maybe you like the weathered gray look. It's a very popular option. With hardwoods like Ipe, weathered decks do not require any UV protectant or refinishing, just cleaning as needed.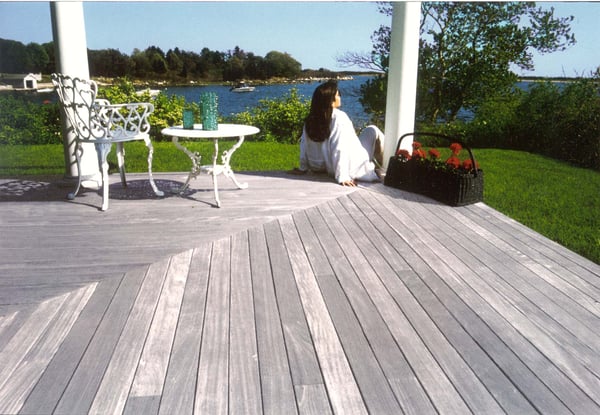 Ipe wood weathered gray is the most low maintenance option you can choose, and looks fantastic.
RELATED: Download your Guide to How Exterior Woods Weather
7. "Ipe is too hard to cut."
Yes, Ipe is hard to cut, but not excessively difficult. The trade off to this is that Ipe has the highest hardness rating among wood decking options, serving as the benchmark for comparison to all other decking..
When installing Ipe decking, it's best to use carbide tipped blades, although you may go through more blades. While it may take slightly longer compared to softwood, the durability of Ipe decking makes it worthwhile. The extra effort might be rewarding, and with proper preparation, Ipe shouldn't be considered 'too' hard.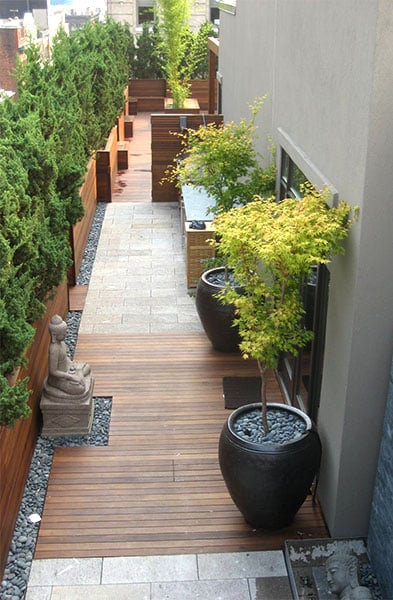 Ipe rooftop deck walkway and planters and privacy screen
Ipe decking is not only beautiful but also long-lasting. Despite the challenges during installation, the end result is stunning. To make the process easier, choose the right installation system and let your equipment do most of the work.
RELATED: Hardwood Is, Well, Hard: Pro Tips For Cutting Ipe Decking
8. "I've heard that installing Ipe can be difficult.
"
Like cutting your Ipe, the right tools and planning make all the difference. Choose the appropriate installation system to simplify the process.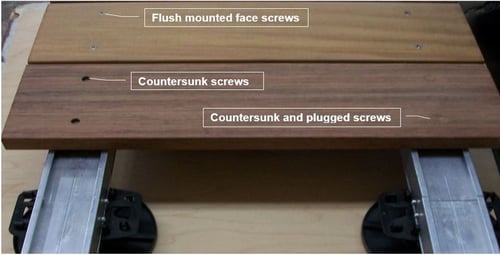 Three examples of deck screw methods
Predrilling Ipe decking requires significant time and effort, but screwing down the deck boards is the strongest method of fastening. If you prefer to avoid the extra work, there are alternative options such as Ejector screws. If you don't like the look of face screws, there are deck fasteners that are hidden, like the Mataverde 100% Stainless Steel Concealed Deck Clip.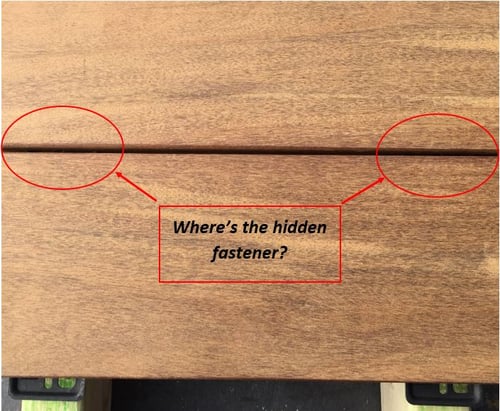 The Mataverde Concealed Deck Clip (Partially seen at the bottom of this photo) is made of all steel for strength, and black for low visibility between your boards.
RELATED: Read "Ipe Decking: Installation Tips"
9. "Do I need to worry about Ipe cupping?"
Cupping of decking boards can be prevented by following proper acclimatization steps on-site before installation. Ensuring adequate spacing, fastening, and ventilation below and around the deck allows for the escape of humid air, preventing cupping and other issues like water damage, rot, and mold.
Wood cups for two basic reasons: improper fastening and lack of ventilation. The best way to prevent this is to plan ahead. An experienced deck designer or builder can help you get this right.

Hardwood decking cupping- trapped moisture below and heat from sunlight above creates imbalance causing wood to move. Cupping can be avoided with proper installation and ventilation.
Video: The best way to acclimate your Ipe hardwood decking to avoid checking, cupping and other damage.
---
"The two most powerful conflicting external weather forces; solar rays and moisture, are at war with your decking. The heat on the top of the deck draws up the moisture from below the deck. And then there is the poor deck board, caught in the middle of this epic struggle, literally pinned down in place. The top of the board is shrinking, and the bottom of the board is expanding. Help!!"
RELATED: Learn more in "What Makes Hardwood Decking Boards Cup?"
---
It is recommended to construct your deck at a height above the ground as much as possible, with a minimum of 30 inches (unless circumstances require a low clearance deck). Ensure that there is proper grading and drainage beneath your deck, sloped in a way that allows water to drain away from your home.
Additionally, make sure your decking boards are appropriately spaced, fastened, and ventilated both below and around the deck. This enables the escape of humid air.
By implementing these measures, you not only prevent cupping but also avoid water damage, rot, and mold beneath the deck, which can potentially lead to more significant issues within your home.
10. "Will Ipe boards check over time?"
Checking, which refers to cracks that can develop at the ends of the boards due to UV exposure, can be minimized by applying a UV coating before installation and implementing regular maintenance practices.
While hardwoods like Ipe are less prone to checking, they still require some care to prevent it. Ensuring proper acclimation of your Ipe decking boards before installation and implementing regular maintenance practices can help minimize the occurrence of checking.
A brief video overview explaining the best way to acclimate your Ipe hardwood decking to avoid cupping and other damage. Or download the PDF here:
RELATED: How to Finish Ipe Decking
Are there any drawbacks to using Ipe decking? Well, there might be, but not as many as you might have initially believed. Some concerns may not be relevant to your specific needs, while others might be.
However, it's worth considering that the advantages of using a premium, high-density, and long-lasting decking material like Ipe may outweigh any potential issues.
If Ipe doesn't meet your requirements or project criteria, remember that there are other high quality wood decking options available for you to explore.
---
Ready for pricing on Ipe decking for your project? We're ready to help.
---
Related Posts