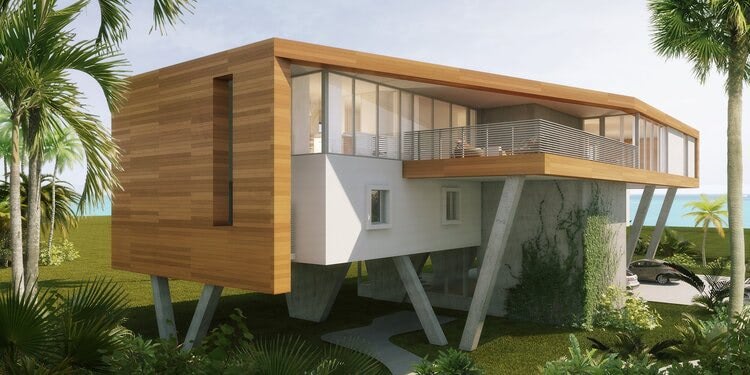 7 Critical Things to Know Before Building a Rooftop Deck
Written by
Liza Sivek
on
Are you planning on building a rooftop deck over your garage or a room? Thinking of adding a balcony to your house or apartment? Balconies and rooftop patios are great additions to any home. But they also have special planning considerations for safety, labor, and budget. These 7 tips can get your project started off on the right foot.

Architect rendering of an award-winning home with a Garapa hardwood balcony deck with pool
Why Invest In A Rooftop Deck or Balcony To Your Home?
If you're already dreaming of an above ground deck, balcony, or rooftop patio, you probably know some of these advantages. But if you are still deciding, here are several good reasons to build one:
Expand your living space

Use otherwise unused space, like a rooftop deck over your garage

Take advantage of a great view

I

ncrease the value of your home

by 5-8%
RELATED: Choosing a Rooftop Deck System for an Award Winning Home
Designing your Rooftop Deck or Balcony
Before starting any rooftop or above ground deck project, it's important to take into account several factors about your deck design:
Safety

- the collapse of incorrectly built above ground decks account for many injuries every year.
Weight - rooftops and exteriors will have a maximum weight limit, know yours first by speaking to a civil engineer. The decking system and material you choose will be important weight factors.
Cost - upfront investment versus return on investment, including your maintenance costs and labor.
Size - this will depend on your space available, how you will use it, and zoning regulations.
Use - how much useful square footage you will need for your dream design.


---
Click here to download the "Rooftop Deck Design Portfolio" with more inspiration and information.
---
1. Accessibility of a Rooftop Deck or Balcony
For any rooftop or balcony deck, a door and access point must be safely added from a conveniently located space within the interior room. Since this effects the structural integrity of your home consulting your architect or a civil engineer is especially important. This will save you a lot of time, money, do-overs, and building inspection issues from an incorrectly placed doorway.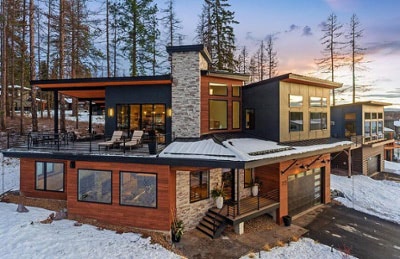 Thermally modified wood rooftop deck shines in the snow on a ski lodge
RELATED: An Example of Code Regulations for a Rooftop Deck or Exterior Balcony in New York City
2. Choose Decking Materials for a Rooftop Deck or Balcony
An excellent choice for rooftop decking or balcony flooring is real wood. Real wood is preferred over composites because rooftop and balcony decks get high UV and weather exposure, which can cause issues with synthetic decking. Wood decking material is also naturally beautiful and comfortable underfoot.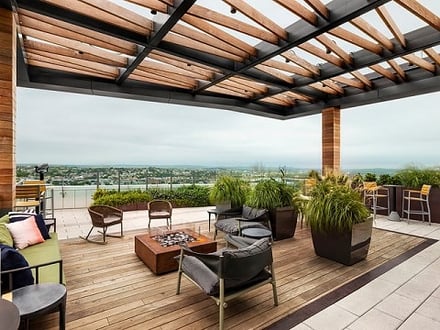 A wood pergola makes a a great architectural element and provides shade
---
"Before selecting the decking material for a rooftop deck, a whole different set of rules apply up here. The weather extremes on a rooftop deck can be brutal. Decking materials that work well on a backyard deck may not work on a rooftop. Extreme UV exposure from all day sun can ruin many decking materials. Synthetic decking materials like plastic decking and capped composite decking often perform poorly in this harsh environment. " - Best Decking Materials for a Rooftop Deck
---
However, the large selection of wood decking options can be overwhelming to the consumer. How to choose? Ask yourself these questions:
How you will use your deck or balcony?

How much maintenance do you want to do?
How much do you want to spend on maintenance?
How long do you want your decking to last?
---

---
Let's compare some of the most popular types of wood decking material:

Pine, Redwood, or Western Red Cedar Wood Decking Material
Pressure treated pine or softwoods like cedar and redwood are typically the first wood species people consider for a deck. They are affordable, can be stained and painted, or weathered.
But for a rooftop deck or balcony, these softwoods are not appropriate. "Softwoods" are low fiber density lumber, and not ideal for the increased UV and weather exposure a rooftop deck will be exposed to compared to a traditional deck.
Softwoods, by nature, will not hold up well under these conditions. Even with frequent refinishing they can split, check, and splinter faster than harder, high density wood decking boards.
RELATED: IPE DECKING vs WESTERN RED CEDAR DECKING
Thermally Modified Wood Decking Material
ThermoWood and Thermawood are two types of thermally modified wood decking that are appropriate for rooftop decks and balconies. The advantages of thermally modified decking lumber are:
Budget friendly, with a mid-range upfront cost and higher return on investment than softwoods,

Beautiful colors and grain patterns darkened and enhanced by the exposure to heat

Can be stained

Lower maintenance needs than its non-modified counterparts

Very high durability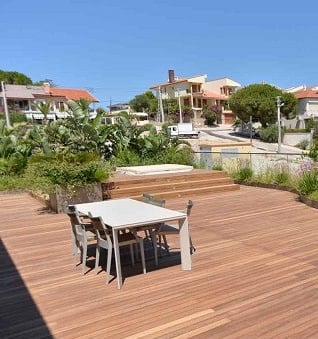 This Thermowood elevated deck expands living space and even incorporates a hot tub.
---
"Thermally modified woods start out as a standard wood species, and through various different scientific heating and steaming processes, are transformed into a thermally modified wood. In general, thermally modified wood become a more stable, and better performing version of the original wood species. The processes also 'cook' the sugars out of the wood. This makes thermally modified wood decking, less appetizing to insects, and much more rot resistant." - Thermally Modified Wood Decking, MataveverdeDecking.com
---
Hardwood Wood Decking Material
Hardwood decking performs incredibly well on a rooftop or balcony deck. The range of hardwood decking choices includes Ipe, Cumaru, Machiche, Jatoba, and Garapa. These options not only give you a range of price points for your project budget; they also provide a gorgeous range of natural colors and patterns from golden blonde to deep chocolate-y browns.
Exotic hardwood decking is the highest fiber density wood decking material you can choose. On the opposite end of the strength spectrum from softwoods, these hardwood options do not require staining, painting, or refinishing. Cleaning and UV protectant oil finish reapplied as needed are the only necessary maintenance for hardwood decking.
Or you can let all of these hardwood choices weather to a silver gray patina that won't take away the strength and durability, and requires no sealing.
RELATED: How Exterior Woods Weather
Hardwood decking choices have a higher upfront investment. But that's paired with the highest return on investment and the lowest maintenance of wood decking materials. For example, Ipe wood is proven to last up to 20 years without any maintenance and still maintain it's strength.
Garapa wood decking material has comparable characteristics to Ipe, with the most affordable upfront investment of the hardwoods. This cost is in the same range as durable decking materials, making it an easy choice for your budget.
Check out all the features and colors, and request samples, in the full range of Hardwood and Thermally Modified decking lumber:

---
Questions? Contact us for answers.
---
3.

Best Decking System for a Rooftop Deck or Balcony
For rooftop deck installation, including balconies, the weight and material used is important. Let's compare two of the leading installation methods.
Wood Furring Strip Rooftop Decking System

Rotted decking is dangerous. Trapped moisture can cause unseen damage below the planks, too.
Many rooftop deck systems are attached to the rooftop with a matrix of wood furring strips, and the decking is then attached on top. The furring strips are placed in a grid, which can trap moisture against the wood and the rooftop.
Placing the furring strips for proper rooftop drainage, and leaving space between the decking board to allow moisture and humidity to escape is essential. This includes accommodating the pitch of the roof, a level deck, and around any rooftop or exterior features that are in the way.
The furring strip method, therefore, adds time, labor, material costs, and weight to your decking that should be included in your planning from the beginning.
Eurotec Aluminum Rooftop Decking System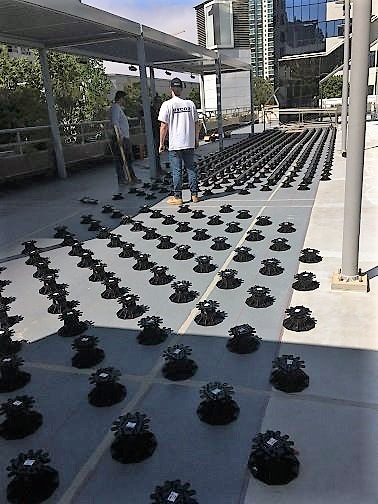 Eurotec pedestals placed on the rooftop and adjusted easily for pitch, ready for rails
The patented Eurotec rooftop decking installation method is made of aluminum marine grade aluminum components and adjustable pedestals that are lighter on your rooftop, do not need to be drilled into the rooftop. The pedestals easily accommodate drainage, changes in roof pitch, and exterior features while saving additional time, labor or weight.
The Eurotec aluminum rails are not placed in a grid and will not rot, so provides a strong yet lightweight framing system that runs straight and true.

Eurotec rooftop aluminum system profile with rails on a rooftop deck in progress
---
Design a beautiful rooftop deck that is strong from the start with a free idea portfolio.
---
4. Deck Railing for A Rooftop Deck or Balcony
A railing or balustrade is an architectural element consisting of vertical balusters, glass panels, or bars around your rooftop deck or balcony. Railings are also a safety measure, usually specified by your local building department, so be sure to research what height and style of railing is required before you plan your deck.
Designing your rooftop deck or balcony will include the railings, which should take the style of you home exterior into account. Railings can be made of the same durable wood decking material for a custom look, and can be combined with other materials like metal and glass that can contrast nicely with the natural wood and not obstruct the view.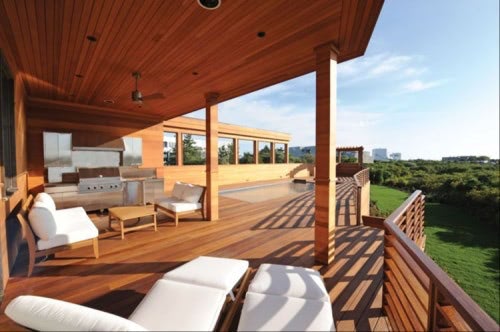 Custom Cumaru hardwood balcony deck with Cumaru rails and overhang, designed to support an outdoor kitchen
5. Size Of Rooftop Deck or Balcony
When choosing the right sized rooftop patio for your outdoor living spaces, homeowners must take into consideration what the patio will be utilized for. A professional architect or home designer can assist you in determining the proper sizing for your project.
Your house's square footage and proximity to neighboring properties will dictate the type of patio you can build and install. Smaller houses may only allow for small Juliet style balconies, whereas larger homes may accommodate large outdoor areas such as a rooftop deck over a garage or first floor room.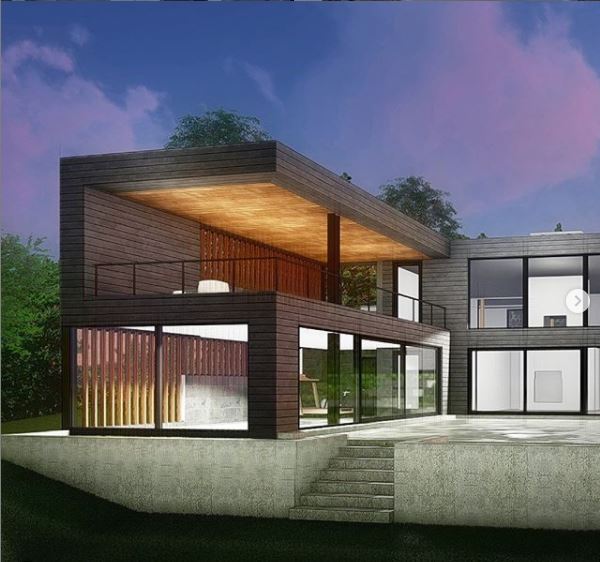 Artist rendering of a historic Louisville, Kentucky mid century home renovated to include an Ipe rooftop balcony deck over a flat first floor roof. See more details on this project here: Historic Kentucky Home Gets Custom Ipe Rooftop Deck
Note: Before building your balcony, you must consult your local authority to obtain approval and proper permits. This will ensure that the balcony is designed per code and maintains the integrity of your home. A licensed contractor and your local building department will be able to guide you through the permitting process before you plan your project.
---
---
Take advantage of a view with an Ipe wood rooftop deck on a flat roof
6. Cost of Building a Balcony
The costs associated with building a new patio vary depending on the type of material used, the size of the project, and the skill level of the contractor. A small balcony and French doors off a master bedroom may cost less in supplies and labor versus a large rooftop patio over your garage.
In addition to the initial construction costs, homeowners must consider ongoing maintenance expenses, such as replacing damaged parts or refinishing the decking every few years.
By choosing materials that will be more durable over time, and need less maintenance and repairs, these costs can be minimized.
7. Use Licensed Professionals for Building a Rooftop Deck or Balcony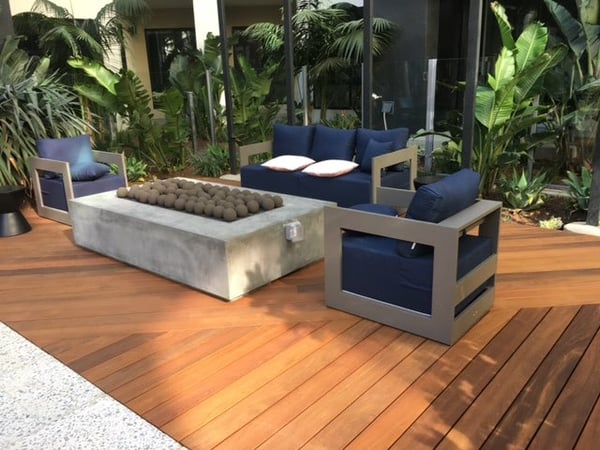 Ipe hardwood Deck using Eurotec rooftop deck system
It's always important to hire a licensed professional when designing and building your own dream rooftop deck or balcony. This includes architects or home designers, civil engineers if needed, and experienced rooftop deck contractors. They will help you streamline the planning and design process, and they can often make suggestions that save you money and headaches down the road.
The consequences of not employing a professional can be devastating to your home and wellbeing. Rooftop and balcony deck safety is extremely important. By keeping the right materials, sturdy construction, and local requirements in mind from the start, you will create a dream deck that is not only relaxing but also safe, long lasting, and easy to care for.
We hope this article helped you feel confident in confident designing the rooftop deck or balcony of your dreams while increasing your home value come resale time. Or, just knowing you can enjoy your deck for years and years to come without worry.
Related Posts