Ipe Decking Compared to Pressure Treated Pine Decking
Ipe hardwood decking and pressure treated pine decking are at opposite ends of the spectrum in terms of quality, durability, performance and price. Pressure treated lumber is a well known structural deck framing material that can span great distances, affordably. As a deck framing material, pressure treated makes a lot of sense. Pressure treated decking, on the other hand, does not perform very well as a decking material for very long in most decking installations. Don't get me wrong; if decking cost is the most important criteria, pressure treated decking is the cheapest decking material available in terms of up-front decking material cost. With an annual coat of paint or stain, pressure treated decking can perform reasonably well in many decking applications.
While Ipe decking and pressure treated decking are both wood materials, appearance-wise, they are as different as night and day. Ipe decking has a full range of light brown, olive brown and dark brown tones with beautiful figured graining, earning Ipe the nickname, "Brazilian Walnut". Pressure treated decking is greenish in color and typically shows a lot of flat-graining, which may tend to splinter after continued exposure to sunlight. Depending on the price, pressure treated may also have lots of knots and sapwood. If allowing your deck to silver out over time is the look you are trying to achieve, Ipe decking can be allowed to weather naturally to a silver gray patina without sacrificing any of its famous strength and resistance to the elements.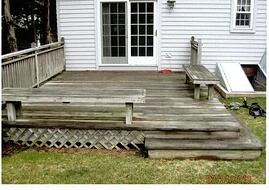 PHOTOS: It's not too late to fix a bad decking material decision. The pressure treated decking material shown above was replaced quickly with new Ipe decking. The pressure treated framing material was still in great condition.
From a wood species performance standpoint, Ipe wood decking has some terrific characteristics including; stability, resistance to insects, resistance to moulds and rotting, low splintering and more. When left laying flat and exposed to the sun, pressure treated decking has a lot of flaws that may become problematic; splitting, checking, cupping, warping and splintering to name a few.
Ipe hardwood decking lasts significantly longer and performs far better than pressure treated decking. It's not even a fair fight. Every measurable performance criteria of Ipe decking, including; strength, durability, hardness, resistance to scratching, density and span capacity is far better than pressure treated decking. Also, Ipe decking's natural Class A fire rating and natural slip resistance is achieved without any additives or chemicals. The one and only point where pressure treated decking earns the nod over Ipe decking is initial decking costs. Life cycle cost analyses, however, quickly show that Ipe is the lower cost decking material over the lifetime of the decking project.
Watch this Amazing Video
Check out the amazing performance of Ipe decking versus pressure treated decking, and other common decking materials, after 15 years of exposure in actual conditions.
For additional information about Ipe decking and other decking material options, please follow any of the links below:
Ipe Decking compared to other Wood Decking materials
Mechanical Properties of Ipe Decking and Pressure Treated Decking
Decking Material Price Comparison
Care and Maintenance Options OF Ipe Decking
REQUEST A FREE QUOTE FOR IPE DECKING TODAY
Download a FREE Decking Guide today by clicking the button below: