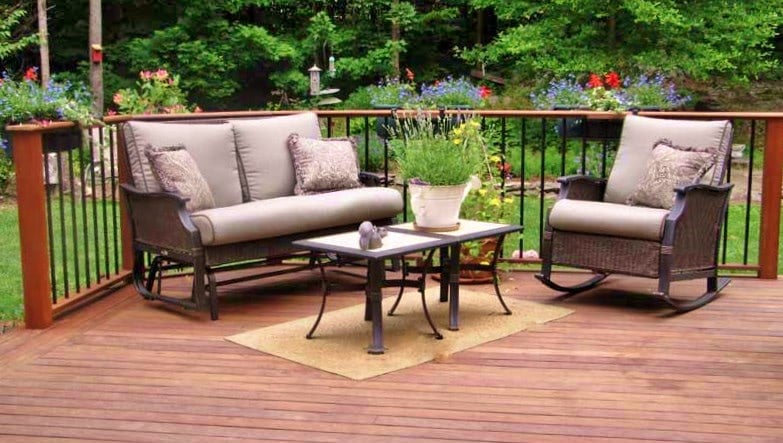 How Does Ipe Hardwood Decking Compare to Garapa Hardwood?
Written by
Chris Nolan
on
Architects, builders and homeowners often ask, "Which is better - Ipe wood or Garapa?" Tough question, but tasty. It's almost like asking which is the better ice cream, Ben and Jerry's Chocolate Chip Cookie Dough or Haagen-Dazs Rocky Road. While they are both incredible in their own right, it ultimately comes down to what is important to you and what you like.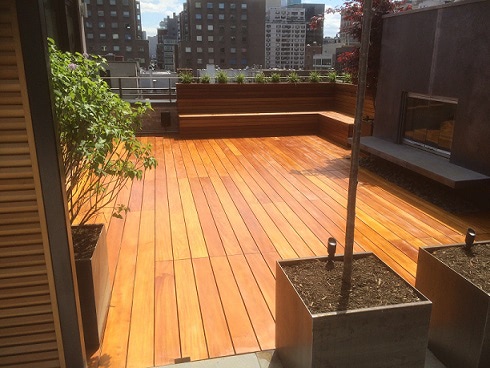 Garapa rooftop deck in New York City is light, bright and airy
When you compare Ipe hardwood to Garapa hardwood there are a lot of measurable performance (and appearance) characteristics to consider. Hardness? Ipe wins. Lighter color? Garapa wins. Higher density? Ipe wins. Lower initial cost? Garapa wins? Once you get beyond the measurable results, however, you should probably look at what the important characteristics are to you.
For example, Ipe is harder than Garapa, but how hard is the right hardness for you? If you plan to drive vehicles over your deck, like they do on the Coney Island boardwalk, Ipe or Cumaru are harder and clearly would be a better material to minimize the wear and tear. If however, you are building a low traffic deck in your backyard or installing wood siding, how much hardness do you need for your project?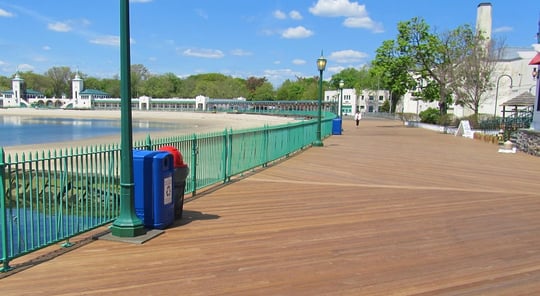 Ipe decking is extremely tough, durable and scratch resistant
---
Looking for the right decking material for your project?
Download the "Ultimate Guide to Selecting the Right Decking" today
---
Performance Differences between Ipe and Garapa Wood (and Red Cedar)
Let's take a look at the performance measurement criteria of each species.(We have added red cedar to help put the comparisons into better perspective for you):
Ipe Hardwood

Garapa Hardwood

Red Cedar

Janka hardness is 3,680

Janka hardness is 1,650

Janka hardness is 480

Density is 1.04 g/cm³

Density is .79 g/cm³

Density is .38 g/cm³

Fiber strength

23,360 psi

Fiber strength

18,530 psi

Fiber strength

7,900 psi

Class A fire rating


Class B fire rating


Class C fire rating


Highest durability rating


High durability rating


Moderate durability rating

If you asked me straight up, what's a better wood, Ipe or Garapa, I would say Ipe. This is because Ipe is stronger, harder and more durable than Garapa. But that's not a fair question to answer without knowing exactly what you might be using the wood for. What if you are using this wood for siding? How much does the strength and hardness difference between Ipe and Garapa matter to you? Probably not as important as it is for decking.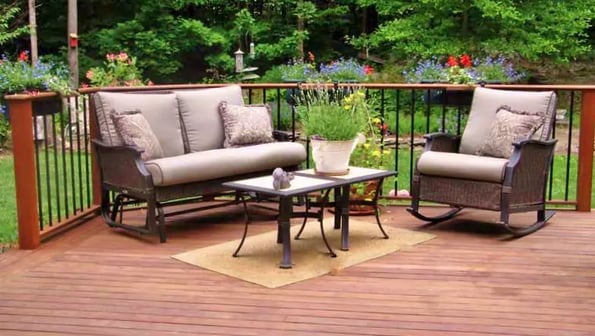 Ipe hardwood decking is a rich brown color
You can also see that Ipe is more than twice as hard as Garapa, but Garapa is almost three times harder than red cedar. So, if you are using the wood for a residential deck with little foot traffic how much does this matter to you? A lot? A little? It depends on your project needs.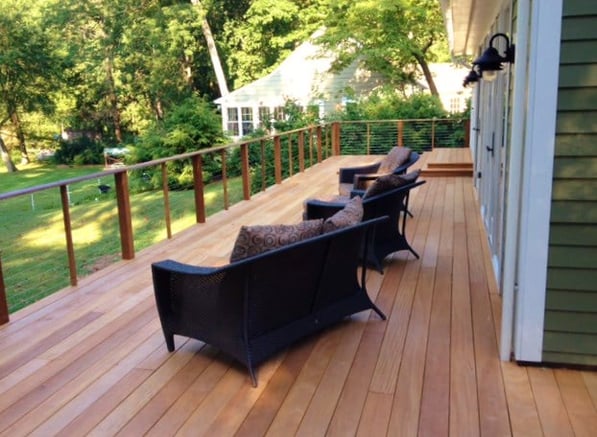 Garapa wood decking has lighter amber colored tones
Garapa hardwood decking has some budget advantages, too. Garapa costs a lot less than Ipe decking. And Garapa is usually the same price or less than higher grades of red cedar.
---
More information on Garapa compared to other popular decking.
Download your FREE Ultimate Guide to Selecting the Right Decking now.
---
Appearance Differences between Ipe and Garapa Wood
| | |
| --- | --- |
| Ipe Hardwood | Garapa Hardwood |
| Color: lots of shades of light brown to dark brown with olive browns | Color: many shades of light yellows to medium amber and bronze tones |
| Graining: fairly tight grained with a high amount of striped graining, quarter sawn appearance and tropical figuring | Graining: fine grained with a less pronounced, moderate amount of exotic striped graining and tropical figuring |
Similarities Between Ipe and Garapa Woods
Even though there are major differences in the color and appearance of Ipe and Garapa woods, the similarities far outweigh the differences. Check out the similarities between these two remarkable wood decking and siding species.
Both species are considered high density hardwoods

Both species have a considerably higher hardness and wear rating than any softwood decking species

Both species are durable and stable hardwoods well suited for outdoor use

Both species show some tropical graining and exotic figuring

Both species show significant color variations

Both species will darken in appearance as they are exposed to UV rays

Both Ipe and Garapa will age naturally to a silver gray patina if allowed to do so.

---
RELATED: SEE HOW EXTERIOR WOODS WEATHER
---
Ready for more? Downloiad the Ultimate Guide to Selecting The Right Decking FREE now.
---
In summary, there are a fair amount of similarities and differences between the two hardwood decking species. Other than the difference in appearance, the performance characteristics are more a matter of degree rather than major differences. Choosing the decking species that works best for you and your specific project is your ultimate decision. We are here to answer any questions you may have along the way.
---
---
Looking for some deck design ideas?
Download the "Deck Design Ideas eBook" today
61 pages featuring over 150 real deck projects and deck ideas
Related Posts