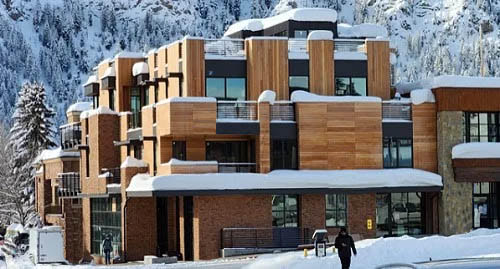 Creating a Captivating Commercial Facade with Garapa Wood Siding
Written by
Liza Sivek
on
It is always exciting to share remarkable architectural designs that use premium hardwood siding with all the natural benefits it offers. In this article we are happy to showcase a Garapa exterior design that that highlights its beauty and strength, and created with an eye for aesthetics. The end result is a custom commercial façade made to stand out in the downtown crowd.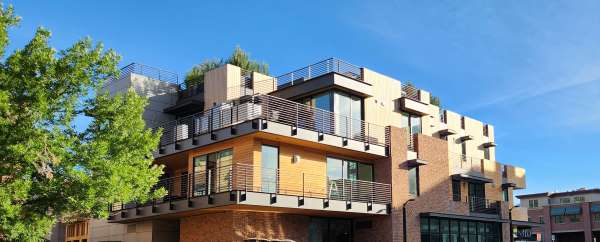 An inspired architectural design uses vertical and horizontal Garapa rainscreen siding to create interest in this multi-use building
In This Article:
Meet the Architects: Turning Vision into Reality
Michael Doty Architects were approached by a local appliance showroom in Sun Valley, Idaho that was hidden in the more industrial side of the city. Eager to make their business stand out and attract more customers they relocated to the downtown area.
With that move they envisioned a striking building that would maximize their new location's potential. We spoke to Mike Allaire, Senior Architect at Michael Doty Architects, about this endeavor.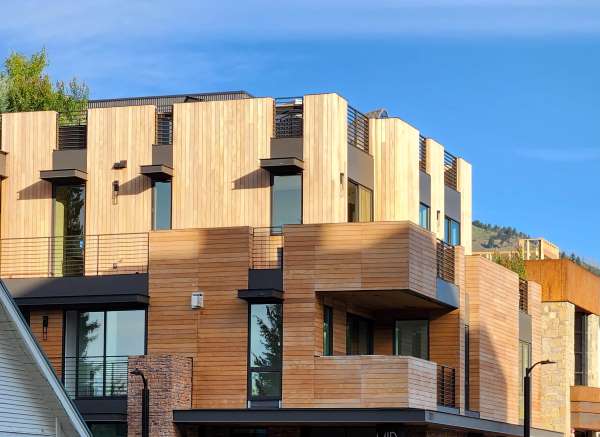 A side view of the Garapa horizontal and vertical rainscreen siding design on the upper floors
Besides wanting a visually captivating exterior, explained Mike, the clients "wanted to get to the highest and best use of the land." Mike went on, "they wanted us to max out the building size and the height".
Beyond the retail space, the clients also asked for living space "because they love coming to the area and want a place to stay at when they're here." Two residential units were added atop the showroom for the owners, creating a truly multifunctional space that would also serve as a retreat.
Discovering the Power of Garapa Wood Siding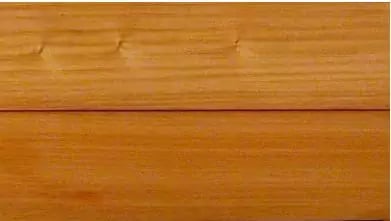 A detail of Garapa hardwood siding with Penofin Hardwood Penetrating Oil-Based UV protectant finish
When it comes to enhancing the warmth and charm of a building, nothing compares to the timeless appeal of wood. And the golden blonde to light brown natural hues of Garapa were exactly what they were looking for.
However, in this project, the architects faced a challenge: the harsh local climate at a high altitude that experiences drastic temperature fluctuations and intense UV exposure.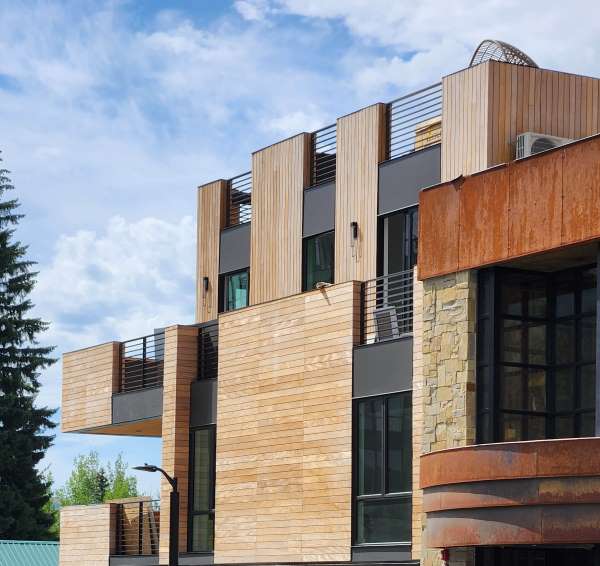 Beyond vertical and horizontal rainscreen siding, Garapa's golden tones contrast and warms with the black panel accent. the rust orange metal details, and complement the stone accents for a striking look
"Well, you know, everyone likes wood, right? It looks really nice; it warms things up. But our climate is pretty difficult. It's pretty harsh with the freeze/thaw, as we get even just from day to day in the mornings. And then winter, it can be negative [degrees]", Mike explained.
"And the sun's really strong because we're at a high altitude. By the time you get to the afternoon and the sun's beating on it, the surface of the material could be up in the 80's. And it started at below zero. It's just a difficult swing for any material to be able to withstand."
---
Check out the Commercial Wood Rainscreen Siding Project Portfolio, grab a copy:
---
Mike went on to say that most wood siding does not do well in local conditions. But when they came across Garapa wood siding, renowned for its remarkable resilience, the architects were impressed with the wood's exceptional durability and stunning golden hues and
Since traditional siding materials, like cedar and redwood softwoods, would not do well in that climate. "we oftentimes end up in composites and such. But we were looking at an online architectural magazine at a project that featured Garapa, and we really liked the look of it. "said Mike.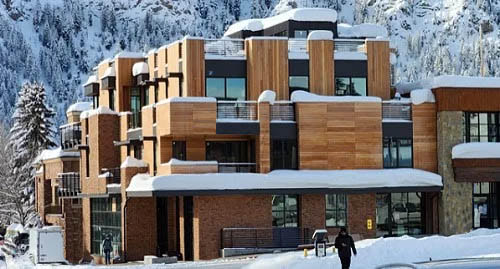 Garapa wood is durable in all types of weather and climates
He went on, "We read about how Garapa is in the realm of the South American hardwoods that are really resilient, and we thought it might be a good fit. The more we looked into it, it seemed like it will last."
As they continued to research Garapa, to their surprise they found that inspirational project was originally from the Mataverde Garapa Rainscreen Siding project gallery! They contacted Mataverde to start the process of acquiring materials.
RELATED: Learn More About Your Garapa Wood Siding Options
Designing with Garapa: A Unique Approach
Why Garapa Wood?
Mataverde Garapa hardwood was an attractive option for both architects and clients since it has a 25-year limited warranty against insects and decay; it is Class B fire rated, and is Sustainably harvested. Of course, the high fiber density of Brazilian hardwoods like Garapa gives it a naturally high durability and low maintenance needs. Plus, the gorgeous natural color range and graining.
All of those features met the project criteria but Mike shared that "it was more of the aesthetic. Other South American hardwoods are a lot darker, darker brown. Garapa seemed to be one of the one of the few that had the look we were going for.
RELATED: See it for yourself! Request a Sample of Garapa Wood Rainscreen Siding Here
And then we thought it paired well with the brick on the ground floor. We have an orangish-red brick on the ground floor, and we've also got some stone and black steel elements" that all came together with the lighter Garapa siding.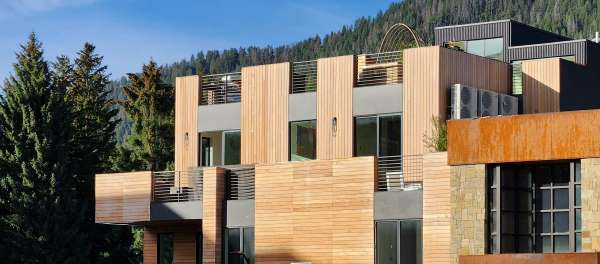 A view of the two upper residential floors, taking advantage of the property by adding height and the view
"It was just the color that kept us going on that path as opposed to taking a tangent to one of the other types of hardwood," he explained. "It's unique", said Mike, and a "nice difference" from the traditionally dark brown wood siding designs.
A Unique Multi-Use Design
Empowered by the natural beauty of Garapa wood, the architects devised a creative design that would definitively set the showroom apart. The ground floor houses the shop's showroom, while two exquisite residential units grace the second and third floors.
For the second floor façade, "We took cues from that that inspiration project and where we could we did segmented joints." They opted for horizontal rainscreen siding with carefully articulated joints, creating an inviting and dynamic appearance.
Vertical Siding Gives Visual Height
"On the third floor," Mike went on, "we thought we'd change it up a little bit and make it vertical." Vertical siding design is easier with the Climate-Shield system since it eliminates the need for furring strips.
RELATED: VERTICAL RAINSCREEN SIDING PICTURE GALLERY
Climate-Shield Rainscreen Siding System: a Perfect Match
To ensure the long-lasting beauty and performance of Garapa wood siding, the architects needed a reliable installation system that could withstand the harsh climate. That's when they discovered the Climate-Shield Wood Rainscreen Siding System – a perfect match for their project.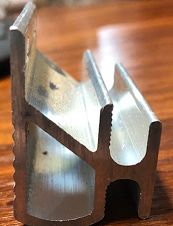 The CS2 Climate-Shield Rainscreen clip is mighty, making vertical wood rainscreen design and installation easier and secure
RELATED: Get The Ultimate Guide to Wood Rainscreen Siding
"I hadn't worked with Climate-Shield before, the installation and the clip system. We got a couple of samples, played around with it a little bit, It seemed like it worked pretty well! "said Mike. He continued, "We were comfortable with how it came together. So, we decided to go for it."
The architects were happy with the efficient rainscreen clip installation and practicality. The system not only provided the necessary support for the siding but also enhanced the overall aesthetics of the building.
---
Create a better wood siding design that lasts with a patented open joint rainscreen. Grab your copy of the Commercial Wood Rainscreen Project Portfolio now.
---
Why Rainscreen Siding?
When it comes to harsh climates, The Climate-Shield rainscreen system has several advantages. It's patented open-joint rainscreen design allows heat and humid air, rain, and snowfall, to escape up, out and away from the building's envelope.
With ventilation throughout the siding, and no furring strip grid, it prevents moisture and heat from becoming trapped against the building.
RELATED: Discover Easier Rainscreen Siding Installation
The Climate-Shield 100% steel rainscreen clips are strong and fasten the siding boards automatically at the correct width for proper ventilation. Other benefits include easier vertical installation, help with keeping the interior cool, and preventing mold, mildew, and rot from developing behind the siding.
Weathered Wood Siding As A Design Element?
"The idea is right now; the building is still all kind of golden hues. But our thought is that we would let the third floor vertical siding weather and then keep the second floor maintained to keep the golden blonde wood tones, "said Mike.
RELATED: How Does Exterior Hardwood Siding Weather?
This can be done simply by maintaining the areas that they want to keep the golden browns with application of Penofin UV protectant as needed. Weathering the second floor, because Garapa is a high density hardwood, is as easy as doing almost nothing. Just let the siding weather naturally to a silver patina gray, no further UV protectant needed, even in these harsh climate conditions. Regular cleaning of the siding is the only other upkeep.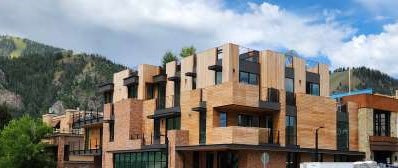 The custom building is in the heart of downtown as a showcase for the property owner's brand
A Showroom Like No Other
With Garapa wood siding and the Climate-Shield Rainscreen System, the architects successfully crafted the new, custom building into a stunning showcase of both design and resilience. The unique blend of horizontal and vertical siding, coupled with the warmth of Garapa wood, has undoubtedly made this project one of a kind.
We're delighted to have been a part of this remarkable journey and take pride in providing the architects with our premium wood products to bring their vision to life. If you're seeking unparalleled beauty and durability for your next project, explore our Garapa siding and Climate-Shield Rainscreen System today!
---
---
Related Posts