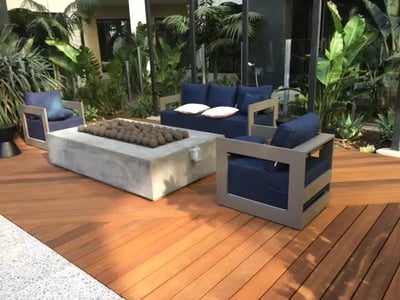 How to Buy a Wood Rooftop Deck You Will Love
Written by
Chris Nolan
on
A rooftop deck adds enjoyment to your life and value to your home or property. If you are dreaming of adding a rooftop deck to your home, do your homework first. Avoid regrets by planning properly. A well-built and long-lasting roof deck can pay for itself. See how.
If you have a flat roof, and you are currently wasting the space, a rooftop deck can give you a brand-new room. An outdoor penthouse amenity. Great views, great fun, great memories. The only other way to add more square footage of living space to your home is to build an addition. And they can be very pricey.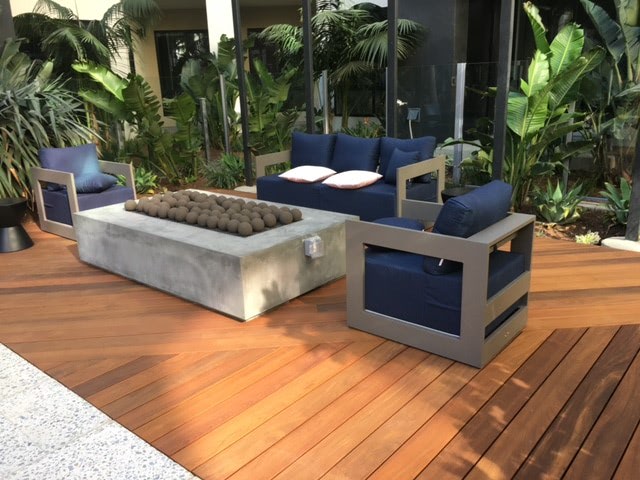 A rooftop deck provides a cozy nook for relaxation
The Financial Case for a Rooftop Deck
Every year real estate studies report that kitchens and outdoor decks are the top two improvement projects with the best return. A new kitchen or a backyard deck typically return about 80% of their costs to the added value of the home. Even better, a rooftop deck often returns up to 150% of the initial investment cost.
Now that's a very nice return on your investment! You get to use your rooftop deck the entire time until you eventually sell your home. Then, when you sell your home, you can cash in on your investment. If you have the cash or funding available to invest in a rooftop deck, you get a double benefit.
Look at a high-quality rooftop deck with a Eurotec aluminum joist and pedestal frame system with hardwood decking. Depending on your size, materials and other factors, this type of long lasting and durable roof deck will cost in the vicinity of $25 to $35 per square foot for materials.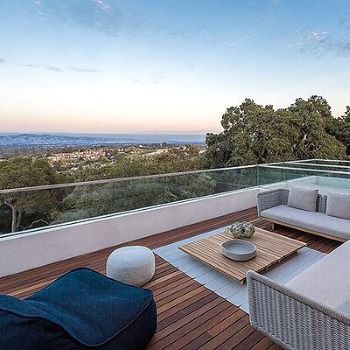 Machiche hardwood decking with Eurotec aluminum joist deck frame
Compare the initial cost and return on investment of a home addition to a rooftop deck. A typical addition project runs in the $200 to $250 per square foot range. Often even higher. When you compare the cost of an addition to a roof deck, it's not even close. You could buy 5 to ten rooftop decks for the price of one addition.
And here's the kicker. The return on invest for a new home addition is usually in the 70% range. I'm not saying an addition is a bad investment. Home additions are wonderful. They provide lots more living space, more functionality for your home, you get most of your investment back when you sell, etc. But compared to the likely 150% return on investment of a roof deck, the deck provides a much better return on your investment.
---
Making Your Rooftop Deck Budget Work
First, establish a budget for your deck. Take your budget and divide it by the square footage of deck you'd like to build. That is your cost per square foot for your deck.
Here's one example of a preliminary budget for a rooftop deck:
Let's say you have a budget of $20,000 for materials and you'd like to build a 20 foot by 20-foot roof deck (400 square feet).
$20,000 divided by 400 equals $50 per square foot available for your roof deck materials. You can buy a lot of deck for $50 per square foot. And if you don't need the full $50 per square foot, you can buy some furniture, planters or maybe add a pergola.
| | |
| --- | --- |
| Rooftop Deck Materials Budget | $20,000 |
| Square Footage of Deck | 400 SF |
| Materials Cost per Square foot | $50 |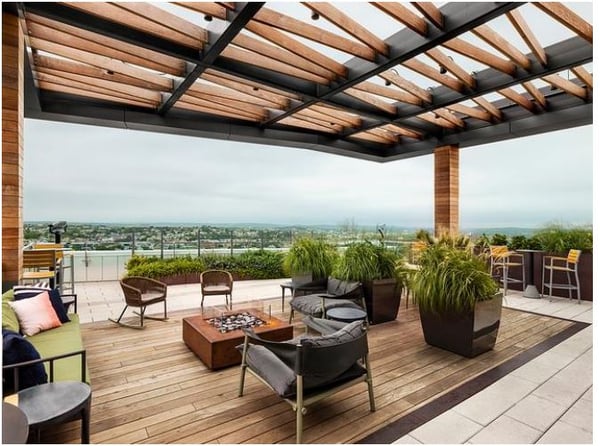 Ipe hardwood rooftop deck with seating, firepit and pergola
Here's another rooftop deck budget example:
Let's say you have a budget of $20,000 for deck materials. If you take your budget and divide it by $35 per square foot, you end up with 571 square feet. That's roughly a 20 foot by 28-foot deck. So, if you need additional space, you could build an even larger deck with more space for various activities. And still stay on budget.
| | |
| --- | --- |
| Rooftop Deck Materials Budget | $20,000 |
| Materials Cost per Square Foot | $35 |
| Square Footage of Deck | 571 SF |
If you have a different rooftop deck budget and different square footages, calculate your numbers the same way. Don't forget to budget for your labor costs and furnishings, too. See what works best for your budget and your project.
---
Rooftop Deck Proper Prior Planning
There are a lot of steps when you're planning a rooftop deck project. The basic steps are checking with your local building inspectors and code officials to see if roof decks are allowed in your area. Then you will want an engineer to evaluate you existing roof to see if it can hold the additional weight of a deck. There are a few more, too. Don't skip these important steps.
Check out this excellent article best ways to plan your roof deck.
---
Need a little design inspiration? Looking for some great rooftop deck ideas?
DOWNLOAD the Rooftop Deck Design Ideas Portfolio today.
---
What You Need to Know Before You Buy
There are some gorgeous and long-lasting hardwood decking options available for rooftop decks. There are other decking materials that are sure to disappoint you when they fade or fail. The weather extremes on a rooftop are punishing. Scalding sun. No Shade. Rain. Snow.
If you'd like your deck to last, and last beautifully, choose your rooftop decking material wisely. You truly need high quality decking up there. Don't skimp on your decking. It's the only part of the deck everyone sees.
Check out this article for excellent wood rooftop decking material options.
---
---
How We Can Help You With Your Rooftop Deck
If you know what size rooftop deck you are planning to build, we can help you. With your measurements and a few other helpful pieces of information, we can create a framing layout plan. Our technical team may have a few questions for you. After you look at the layout, you may have a few questions for our technical team. Once this is complete, we can provide a materials quote for your roof deck project.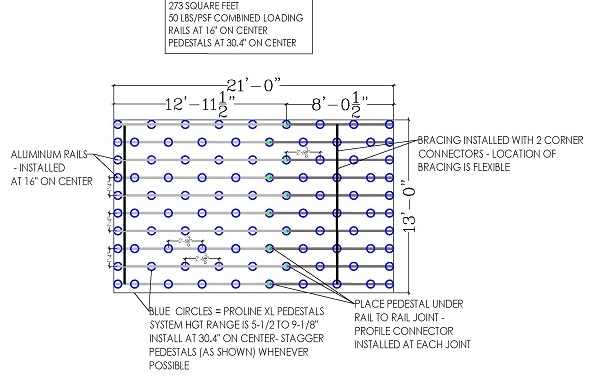 Here is the basic information we'll need from you:
The length and width of the roof deck
How far apart you'd like to space your aluminum joists
The height from the top of your roof to the top of where your decking will be
Size of your deck boards
Species of decking
If you have this information available now, please request your rooftop deck quote here.
Have additional questions we can help you with?
Comments
Related Posts