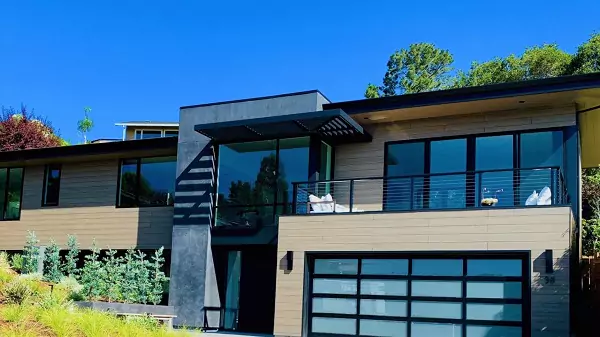 Is High Pressure Laminate House Siding a Smarter Choice?
Written by
Liza Sivek
on
When deciding on exterior siding, the smart homeowner is looking for durable, long-lasting finishes. Especially for wood-look siding. If you haven't compared High Pressure Laminate (HPL) siding to other popular sidings, you might be missing out. HPL can help check off your home exterior wish list.
The most popular sidings for quality home exteriors are high end vinyl, high pressure laminate (HPL), and masonry like fiber cement, stone and stucco.
Vinyl siding – High end vinyl is popular for price, availability and a big color range to choose from. It is made with plastics like PVC. It also behaves like plastic in UV, heat, humidity, and high winds so quality should be chosen carefully.
Vinyl has lots of color finishes to choose from. These finishes are usually made to look like painted wood. Vinyl often has a repeated wood grain embossed into the planks. It has low durability and colorfastness compared to many other sidings on the market.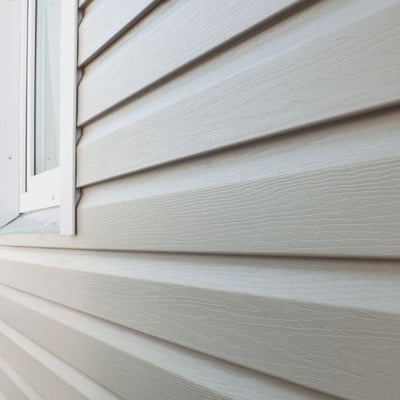 Vinyl siding has an embossed, repeated grain pattern and a painted look. Vinyl is not known for looking like real wood, or for keeping its looks.

HPL siding - HPL is readily available and popular for looks, durability, and the very realistic wood look colors. High Pressure Laminate is made by pressing layers of resin together under, you guessed it, high pressure. This creates a very durable siding plank that resists UV and weather damage better than other materials.
The highest quality HPL siding is Pura NFC ® Siding by Trespa. Trespa adds a final step to their Pura sidings with Electron Beam Curing (EBC) that creates a closed cell surface. This is important because it locks dirt out of the finish so it stays looking new much longer than other siding.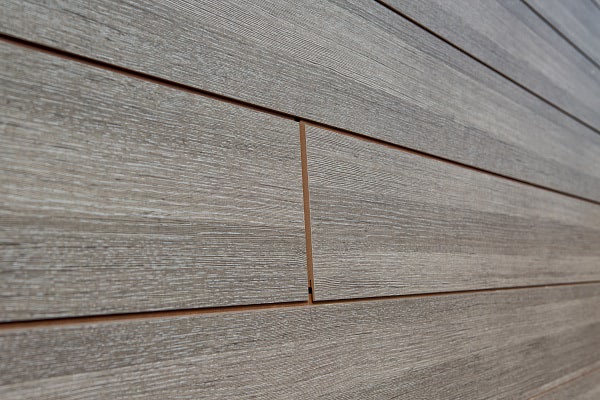 Pura NFC HPL siding (shown above in Mystic Cedar) has uber-realistic wood décor color and grain, even close up.
Fiber Cement Siding - Fiber cement siding is chosen for the availability, the pre-finished colors, and refinishing options. It is more durable and looks more like painted wood than vinyl siding, but it much less resistant to damage than HPL.
If damaged, fiber cement can be repaired. fiber cement boards must be removed and replaced in sections to replace damaged planks, even if it is only one plank. Then the new boards must be finished to match the existing siding.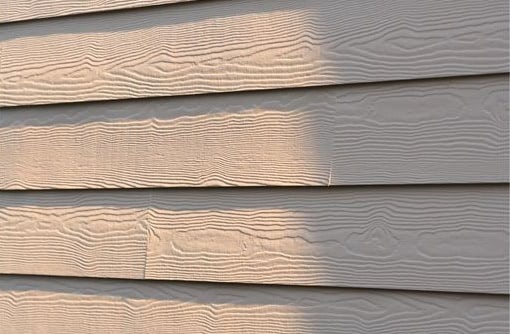 Fiber cement siding can have a smooth or embossed grain surface, with a repeated pattern, and painted in the color of your choice. It does not have a realistic wood grain or color.
Masonry siding- Masonry material is usually cement, stone or stucco. These materials are naturally strong and UV resistant, if unfinished. The resistance to damage ranges depending on the type of masonry you choose, for instance stone veneer compared to stucco.
Stone veneer can be repaired. Refinishing the faux stone look is costly.
Stucco can be repaired, refinished, and painted.
Masonry sidings give you a natural look and make an impressive wall, entryway, or accent. If you want to warm the look up, one option is to mix wood look siding into your design. This will soften the look of stucco, cement or stone exteriors and make it more welcoming.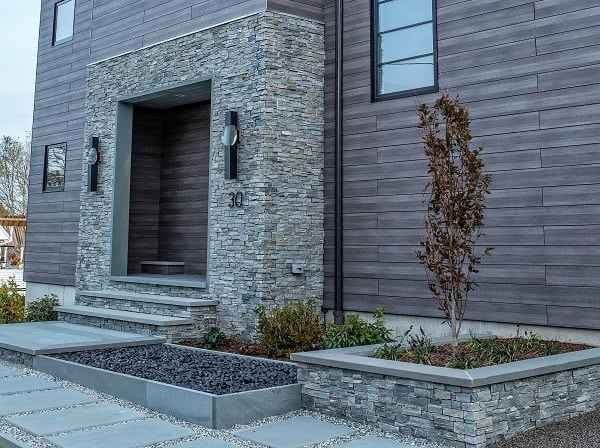 A stone veneer entryway with the look of natural fieldstone blends the hardscape landscaping beautifully with the Pura NFC siding on this custom home.
---
Download your free copy of the Pura NFC Residential Project Portfolio for more design ideas using HPL siding.
---
How Much Maintenance Will Your Siding Need?
Before we look at the amount of resistance to the many threats your home exterior must endure, let's talk maintenance needs. Pre-finishing, refinishing, frequency and types of repairs, and cleaning are the top concerns for most homeowners.
Vinyl siding comes prefinished with a color on the surface, or throughout the material. Vinyl cannot be refinished.
The quality vinyl you choose will make a big difference in how long it keeps its looks. All vinyl has a much lower resistance to breakage and fading than most other siding materials on the market including HPL.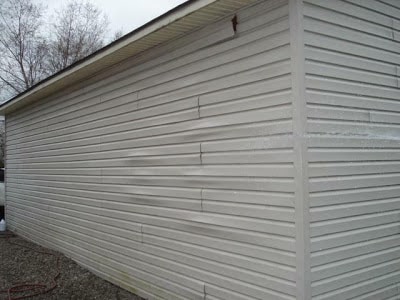 Vinyl siding has low resistance to damage and debris, as shown here. Repairs and cleaning are frequently needed to keep it looking its best.
Vinyl siding repairs require the removal of a section of planks to repair even one individual damaged plank. Expect that the new areas will have a newer look than the existing planks which may have started to fade from sun exposure.
Plan to clean your vinyl siding regularly, since it does not have a sealed surface. This means dirt can be trapped and dull your color. To clean vinyl siding, gentle cleaning or commercial vinyl siding cleaners are best.
RELATED: What Is Pura NFC HPL Siding by Trespa?
Pura NFC HPL Laminate siding comes prefinished with a long lasting, consistent wood look color and grain pattern.
It cannot be refinished, but Pura NFC is extremely fade and damage resistant. It will look "like new" for many years without any additional maintenance.
Because of the high durability designed into Pura NFC, this HPL Laminate siding is unlikely to need repair except in extreme conditions. However, if damage does occur, Pura NFC can be replaced as one plank or many. No need to remove and replace sections of the siding for one damaged board. This saves time and money!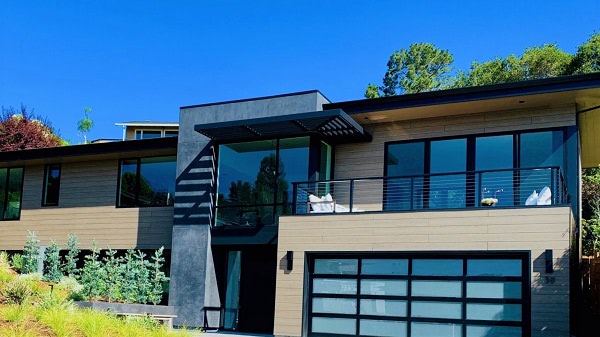 This Pura NFC Aged Ash contrasted with a masonry entryway requires little maintenance.
RELATED: See all the Pura NFC Siding Colors available
Another benefit of Pura NFC repairs is the colorfastness. Existing boards will look the same as replacement boards so repairs blend in seamlessly.
Pura NFC HPL only requires soap and water to clean as needed. Since Pura NFC has a closed cell surface, dirt and grit are blocked and won't dull the finish, a big bonus.
Masonry like fiber cement comes pre-finished or unfinished. Refinishing, painting, and sealing is needed regularly to keep the color bright and finish looking good.
To repair damaged fiber cement siding, you will need to remove and replace the section where the damage occurred. Then finish the siding to match the existing boards.
Cleaning is as needed, per manufacturer instructions.
RELATED: Pura NFC Siding Ideas Photo Gallery
Exterior Siding That Resists Fading
As a homeowner, one of your biggest concerns might be how much your siding could fade from UV exposure, and how quickly. Depending on how much direct sunlight hits your exterior and where, your siding could fade unevenly.
To avoid this, of course you will want the most colorfast siding option.
Look for siding material that is fade resistant and has the color applied more than just on the surface and with a protective layer.
Better vinyl siding will have the color on more than just the top surface. However, vinyl has low UV resistance and fades faster. Unfortunately, your only option with vinyl is to replace the entire faded section and the planks around it. (Which can leave you with "like new" color and and "slightly less like new" color sections anyway.)

Pura NFC siding in Romantic Walnut was chosen for this beautiful home.

The HPL sidings on the market come in differing levels of quality. Pura NFC by Trespa has the highest quality, with a 10 year colorfastness warranty and is the standard for durable wood look siding.
Pura NFC siding finishes have been tested for UV resistance with the equivalent of long exposure to direct Florida sunshine. It passed with flying colors, (pun intended). Pura NFC reliably keeps both the color and gloss of its finish, like new.
UV Fade resistance testing on Pura NFC siding by Trespa:
RELATED: Trespa Artificial Weathering Test Shows Resistance to Fading and Damage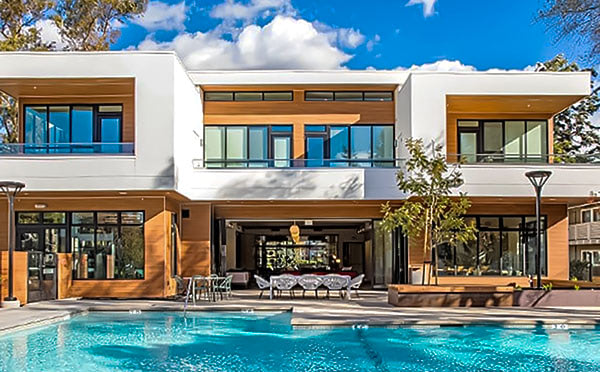 Pura NFC Romantic Walnut wood décor is the star of this façade.
---
Get a free look at tons of real world siding projects that chose Pura NFC for their home. Get inspired!
---
The idea of "stone" and "fading" aren't usually an issue. But when it comes to stone veneer or painted masonry finishes, it has to be considered. Stone veneer is "faux stone" and is a combination of cement and other natural materials. Since it is colored and sealed, it has a finish that can fade. Stone veneer's faux stone look can be professionally refinished, which is costly, or primed and painted, losing that natural look.
High end fiber cement can be prefinished or finished when installed. But that color will still fade and need to be refinished and repainted as needed. Resealing is very important.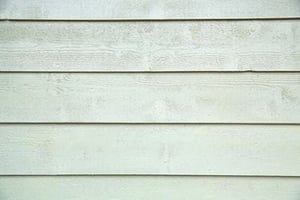 Fiber cement siding can trap dirt in the texture, dull and discolor over time. Thorough cleaning, repainting and resealing are needed regularly.
RELATED: Request a free sample of Pura NFC siding to compare for yourself
But what about other types of damage? How strong and resistant to damage are these siding materials?
Will The Siding Resists Breakage and Bending?
When high winds occur with storms, split and bent siding is a real concern. As strong winds pulls on plank ends, the siding material is pulled against the fasteners. Split, bent siding will allow water and insects into your exterior wall, and that can create havoc behind your siding. Siding that resists splitting and bending is imperative to avoid breaking.
Pura NFC Siding in a dark Slate Ebony wood décor will not fade any faster than the lighter colors from Trespa!
Depending on the thickness of the vinyl siding, the splitting and bending resistance are very low. Even higher end vinyl siding, which is thicker, is more prone to bent plank ends and cracks. Most vinyl is rated for a little over 100 mile per hour winds, which is a category 2 hurricane.
Pura NFC HPL siding has extremely high resistance to these threats. Pura NFC is made to resist splitting at the fasteners and stands up to high winds without bending even in hurricane force winds, protecting your home exterior. Pura NFC is rated for up to 178 mph winds, which is up to a category 5 hurricane.
Pura NFC is tested for resistance to splitting and bending:
RELATED: How Pura NFC resists bending and warping from elevated heat and humidity
If lifted by strong winds, Masonry siding like stucco or stone veneer have very low resistance to splitting and cracking and breaking.
Fiber cement generally has low resistance to splitting and breaking in high wind conditions. Fiber cement planks split and crack much more easily than most other siding materials here.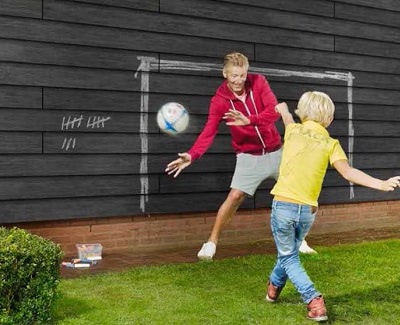 Pura NFC can handle what life throws at it better than most sidings
What about storm damage to your siding?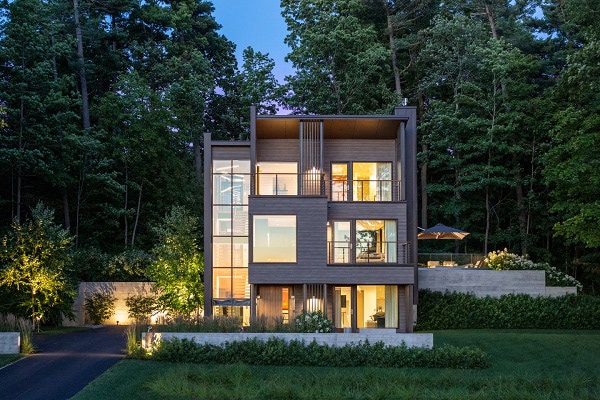 Aged Ash décor gives a weathered gray look from the start, and is warrantied to stay this beautiful and vibrant for a decade.
To avoid siding that "uglies out" long before its useful lifetime, impact and scratch resistance will be extremely important.
Your choice in siding materials should be able to resist unavoidable impacts over time. Things like hail, falling tree limbs, flying debris, and a badly aimed baseball are all part of life. Even patio furniture or outdoor toys repeatedly backed into your siding can cause wear and tear.
Repeated rubbing from tree branches, small cracks and dents from impacts over time, all these little insults to your exterior combine to dull the good looks of your home. Large holes our gouges deeper than your finish are can be time consuming and pricey to repair.
The largest threat to siding is a hole or crack from an impact, such as a soccer ball or a flying debris. That small hole can allow moisture and humid air to become trapped behind your siding where it can't be seen or escape.
This creates the perfect environment for black mold on your house exterior wall. Planks with holes and cracks should be replaced immediately to avoid this damage.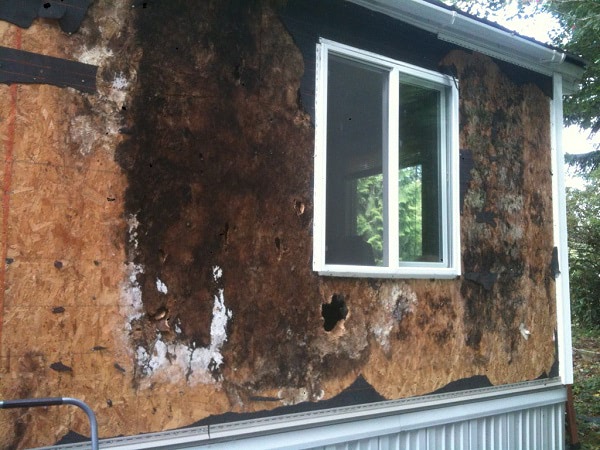 Vinyl siding with damage was removed from this exterior by the contractor during a renovation, only to find black mold and rot covering the exterior building wall. This is an expensive nightmare.
Higher thickness vinyl siding has medium resistance to light scratching but much lower resistance to deep gouging.
Anywhere something like a tree limb rubs against the siding will cause lots of small scratches. This quickly results in a loss of color and shine in that spot.
Vinyl can also suffer deep scratches and gouges. Flying storm debris or other objects can cut into the finish and leave an ugly mark.
Impacts on vinyl can leave small and large holes, cracks, and split areas that allow environment threats like bugs and water behind the siding. Not to mention bugs.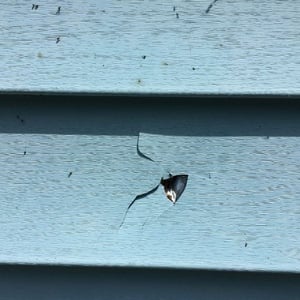 Cracks and holes in vinyl siding, like this one, are common and often overlooked. But these holes leave your exterior open to decay and insect invasion.
Pura NFC HPL siding has an extremely high scratch and impact resistance. Trespa tests Pura NFC plank strength under large diameter impacts without breaking or cracking, and the results are stupendous. Pura NFC resists impacts, splitting and breakage more than any other siding discussed here, by a mile.
Pura NFC siding subjected in the lab to impact by a large diameter steel ball:
Pura NFC subjected in the lab to scratching and gouging:
Masonry siding like stucco and veneer can crack or chip on impact. All masonry can dull and gouge from repeated scratching.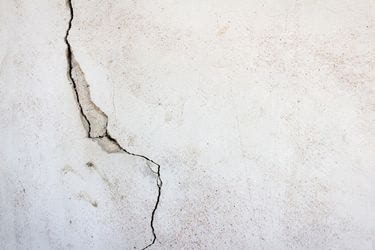 Stucco will crack when impacted by storm debris. Cracks should be repaired ASAP to keep water from seeping in and making the damage worse or getting behind the siding.
Fiber Cement siding has lower resistance to impact than all the sidings here except vinyl. Fiber cement planks break, crack, and chip from any size impact. This can let rain and humidity behind the siding to create the prefect environment for decay and damage.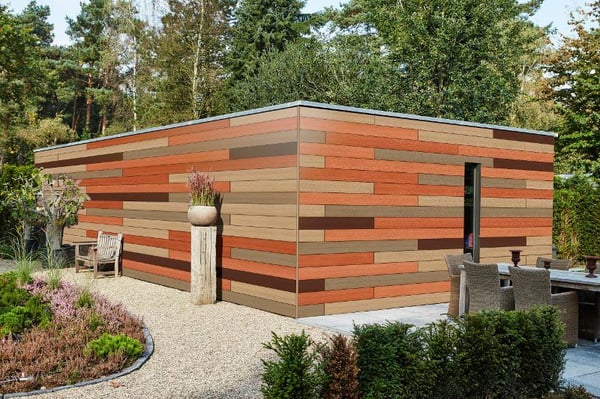 Pura NFC wood décors can be mixed and matched for whatever designer look you are going for.
Is a premium HPL siding the smart choice for your home? Does Pura NFC siding checks all the things on your long lasting, low maintenance siding wish list? Check out more about Pura NFC here and don't hesitate to contact us with questions on your project or pricing. We are here to answer your questions.
Related Posts