Trespa has developed high performance claddings for buildings and design projects worldwide for over 50 years. Trespa Pura NFC® sidings hit the mark for residential and light commercial projects of all types, shapes and sizes. From a free standing storage building to a multi-family housing project, the Trespa Pura Smart Siding System offers the colors and siding profiles to meet your project needs, durably and affordably.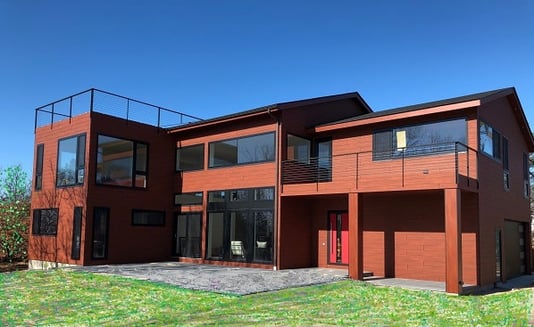 Trespa Pura siding wood decor used on an entire home
Trespa takes extraordinary steps to ensure their products meet or exceed customer's needs and requirements. We have been working with Trespa Pura NFC® sidings for some time now and here are a few things we have learned. Trespa Pura sidings work exceptionally well on any project where the warm look of real wood is desired and low maintenance is a long term goal.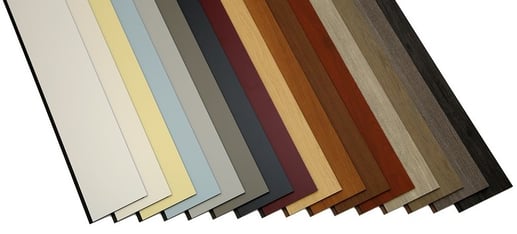 Want to take a closer look at the decors? Request a Sample Today
12 Key Benefits of Trespa Pura NFC Sidings:
1.) Adds value to your home - Whether you're selling your home, or staying put, Trespa Pura siding adds value to your building.
2.) Instant curb appeal - put a fresh face on your home or building and immediately improve its look.
3.) Warm look of real wood siding - but without the usual maintenance requirements of real wood.
4.) Easy to clean - a simple soap and water cleanup, as needed, is all it takes.
5.) Never needs painting or refinishing - period.
6.) Fade resistant - the patented electron beam curing process resists color fading and has been tested to exceed the UV requirements of Florida sunshine for over 10 years.
7.) Impact resistant - Trespa can withstand the punishment of hailstorms and lots more.
8.) Low life-cycle costs - because Trespa Pura lasts so long, and performs so well, with little maintenance, the up-front cost is low and the long term costs are minimal.
9.) Long term siding value - In addition to low life-cycle costs, Trespa Pura siding provides a great return on your siding investment .
10.) Flush siding profile for a modern look - works for an entire facade or use it as an eye-catching accent with other claddings.
11.) Choose your color - Trespa Pura is available in eight wood decors, several uni-colors, and a whole palette of custom color options.
12.) 10 Year Performance Warranty - not prorated, no fine print.
There are additional benefits with Trespa. Trespa Pura is an HPL (high pressure laminate) premium siding option to consider. Pura is engineered for top performance and look beautiful. Consider Pura siding for your next project or design.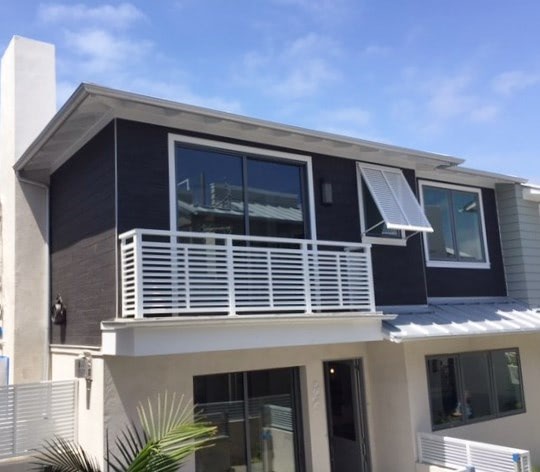 Use Trespa Pura as an accent with other siding materials
Ready for a price? Request a Pura quote for your project here.
Want to see your decor choices in person? Click here to request a Pura sample.
---
Find more information and inspiration in these downloadable portfolios: