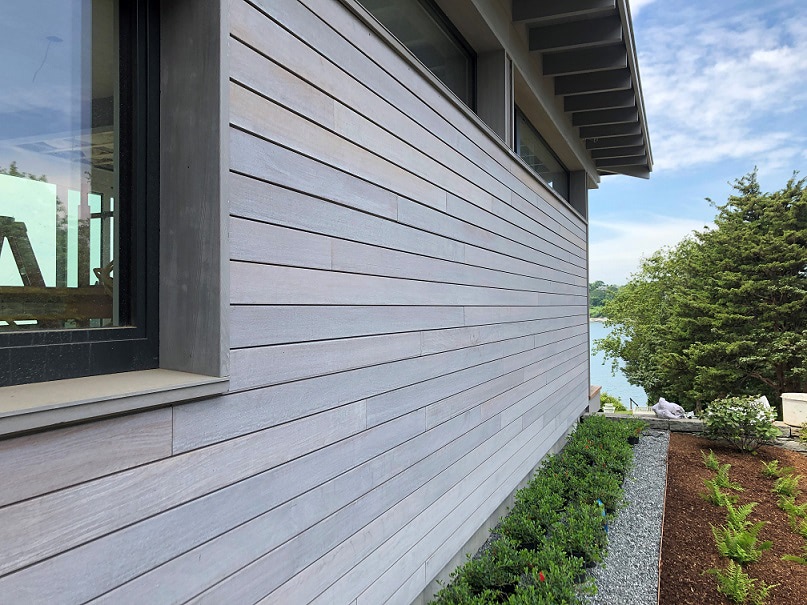 Why it Makes Sense to Spend More on Siding
Written by
Chris Nolan
on
Most of us are afraid to spend too much money on lots of things. But what if we spend too little? Will we be happy? Or will we feel like we wasted our money? Buying siding is like a buying new coat for your home. It's the first thing everyone sees. What message do you want to send?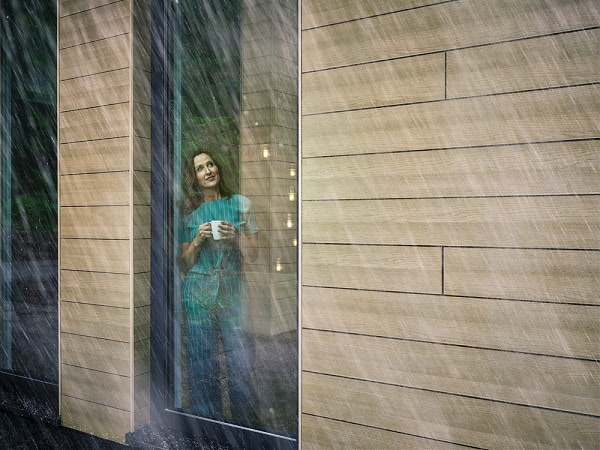 There's lots of different siding types to choose from. Low end or high end? Long lasting or not so durable? Beautiful siding or just OK looking? The upfront siding price is only one factor to consider. But what about the value that higher quality siding adds to your home?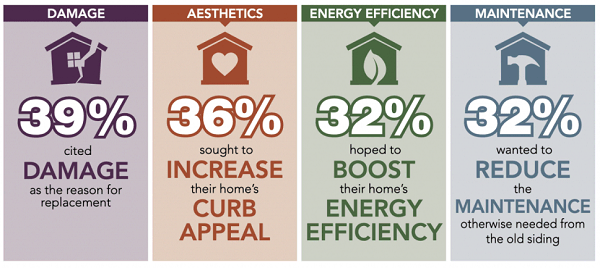 Graphic courtesy of @TheQualified Remodeler
According to a recent survey, the number one reason people choose to replace their siding is due to damage. So, it makes sense to choose a siding that is resistant to damage.
The number two reason was to improve curb appeal. In other words, their siding was too ugly, worn out, or too faded. It had to go.
Energy efficiency came in tied for third place. A great way to increase your passive energy efficiency is to install your siding in a rainscreen method.
Also tied for third place was reducing the maintenance. So, low maintenance sidings are a big consideration.
In addition to these factors, you may have other concerns and expectations for your siding. The cost upfront is one consideration. The maintenance costs are another. Will the siding you select add value to your home? Will it help you sell your home when that time comes?
Finally, how will your siding make you feel? Will it have a "Wow" factor that entices people to your home? Or is more like a wallflower that you don't even notice.
Siding pricing
Regarding pricing, here's a trick you need to be aware of. Many siding manufacturers reduce the cost of the siding itself to make it look less expensive. Then they whack you hard on the cost of the accessories and trim pieces, hoping you won't notice. For that reason, we are showing you the typical prices you would pay – including all the standard accessories you will need. The pricing is also in Square Feet. This makes it easier for you to make a fair comparison. Prices vary from area to area and time to time. These prices were based on a survey in March 2023. It is always best to check price and material availability in your vicinity before deciding.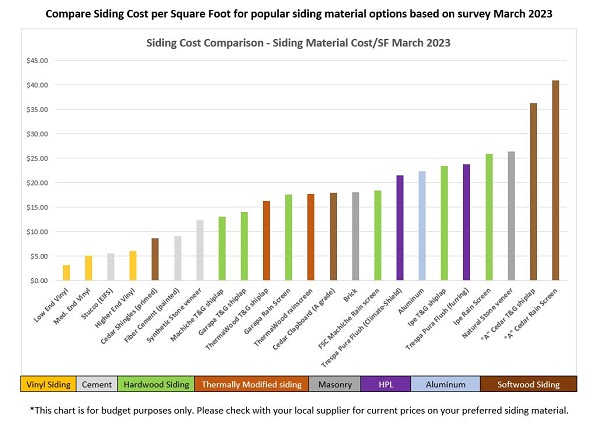 RELATED: Additional information on siding prices
Comparison and breakdown of many popular siding options and a rating based on key criteria
Vinyl siding is the lowest price cladding material up front. It's available in so many colors. That's why it is so popular. It seems like such an easy decision, but is it really? There's a lot to consider. Vinyl is susceptible to damage and fading. Will it require repairs or replacement? How will it look in a few years?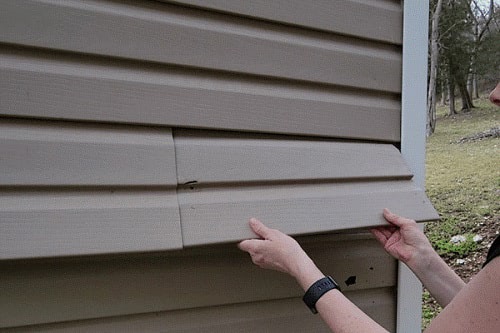 Vinyl siding is low cost, but will it provide a return on investment when you sell your home? Vinyl siding is also low maintenance, but it doesn't do very much to improve curb appeal. Here's something you'll probably never hear, "Wow, your vinyl siding looks amazing!"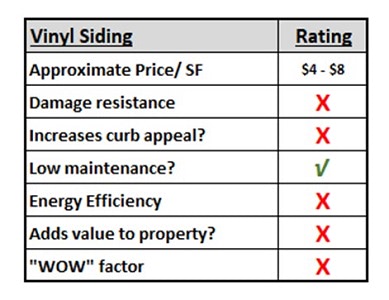 ---
Fiber cement siding is another popular, lower cost siding option. It is available in many painted colors, so you can match your color scheme. It requires regular maintenance and repainting whenever it loses its luster. Some fiber cement manufacturers void their warranty when you repaint it.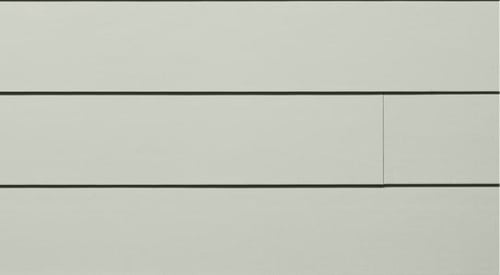 Other concerns are the potential for rot if the wood fibers get wet. This makes the siding even more susceptible to further damage. If the siding is in rough shape when you go to sell your home, you lose.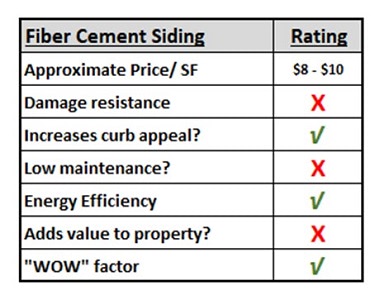 ---
Cedar shingles, shakes and clapboards are other popular siding options. They have the natural warmth of real wood. The lower grades of cedar are a mid-priced siding option that may fit your budget. Aye grade and higher grades of cedar are hard to find, shorter lengths and exceptionally high priced. Cedar siding requires periodic repainting or re-staining as needed.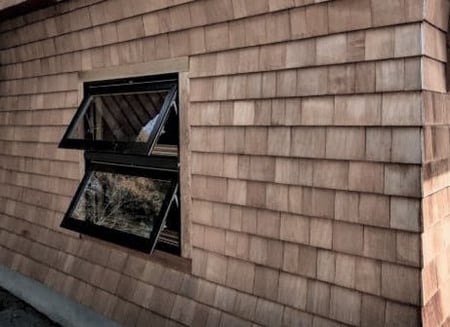 Cedar siding is beautiful. But the higher grades of western red cedar siding are getting more difficult to find. When you can find cedar siding, the current prices are astronomical.

---
Thermally modified Hemlock siding is an up-and-coming hidden gem. Because of the thermal modification process, the siding is very resistant to rot and insects. The colors and grain look very similar to cedar, and at a fraction of the price. Thermawood hemlock siding is available in high grades and long lengths.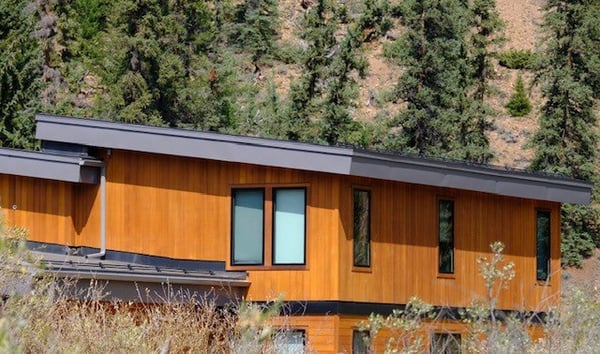 Thermally modified hemlock siding installed vertically
You can install hemlock siding in a rainscreen design for even better results. Thermally modified hemlock siding may be painted or stained with oil-based finishes. Or you can allow it to weather to a silvery gray patina for a low maintenance option.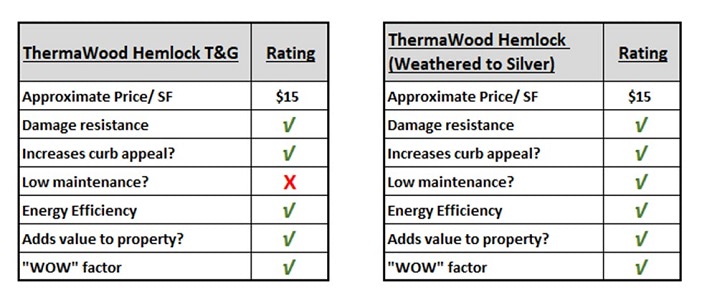 ---
High density hardwood sidings are exceptionally durable and long-lasting cladding options. They are typically installed in a rainscreen design. This makes for a healthier home and helps improve energy efficiency. There are many real wood species to choose from, ranging from Garapa to Brazilian Cherry to Ipe hardwood siding and more. Check out hardwood rainscreen picture galleries here.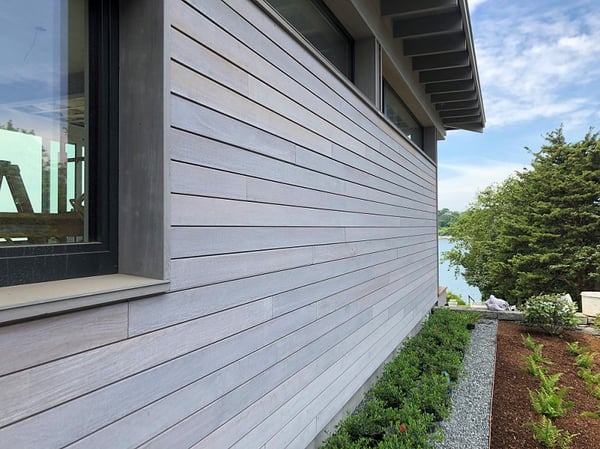 Ipe hardwood rainscreen siding weathering to a low maintenance silver gray patina
High density hardwoods can be finished with natural oils and then maintained periodically. Or you can allow them to weather to a silvery patina without affecting the durability. It's your choice.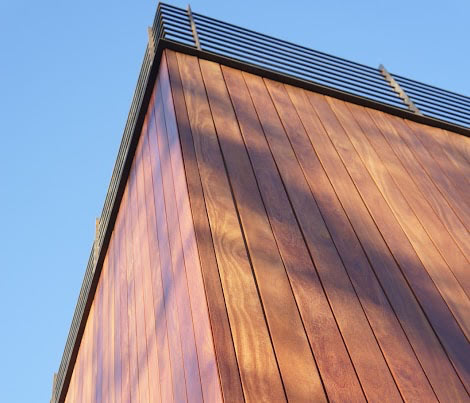 Hardwood rainscreen siding may be installed vertically or horizontally
Rainscreen siding designs and installations make your home or building healthier and years and years of lifetime to your wall assembly.. When long lasting hardwood siding is used for the cladding, you can expect even better durability and beauty.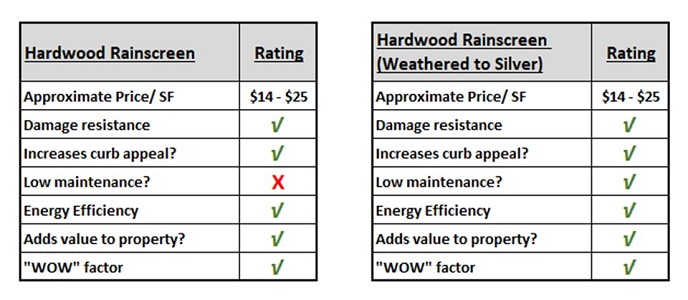 ---
Download Wood Rainscreen Residential Project Portfolio today
---
Brick or Natural Stone siding are both very beautiful cladding options. They add value to your home. They add curb appeal. They are damage resistant. They don't add much in terms of energy savings. The pricing is high end.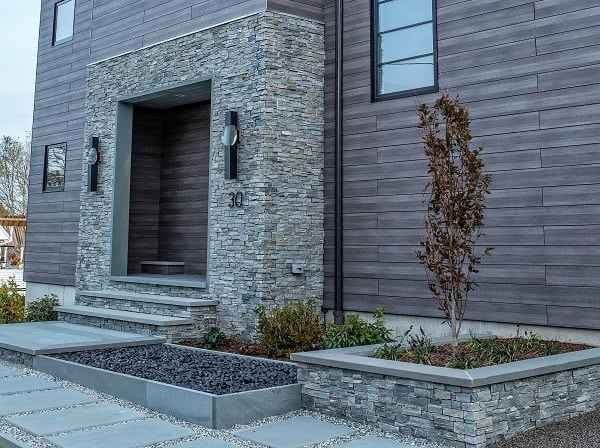 Natural stone cladding used as an accent with Trespa Pura NFC siding
If you don't want to splurge on brick or stone for an entire façade, you can pick and choose where you can use either of them for an accent.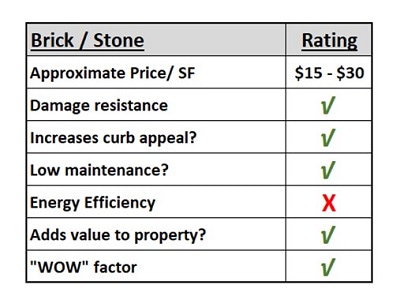 ---
Pura NFC Siding by Trespa is a real up-and-comer. Pura is a high-pressure laminate siding, which is very resistant to damage and fading. Pura is available in wood decors that actually look like real wood. It adds immediate curb appeal and value to your home or property.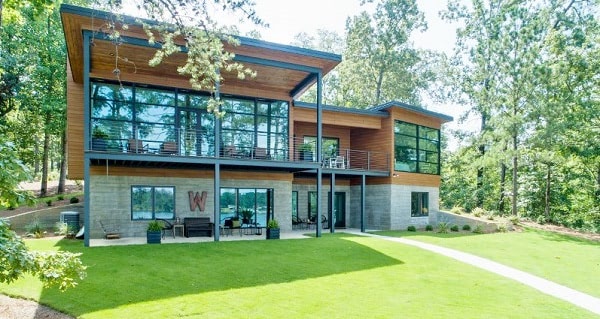 Pura siding is very low maintenance. Pura installs in a rainscreen assembly, so you get the passive energy savings and health benefits as well. Pura NFC Siding literally checks off all the boxes.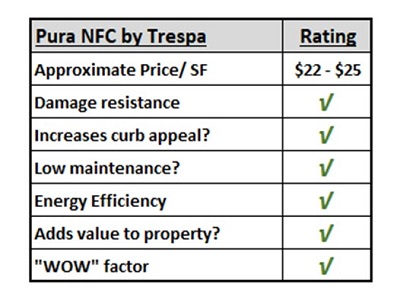 ---
For some great siding design ideas, download the Pura NFC Residential Projects Portfolio today.
---
The bottom line is that many of the higher priced siding options not only look better but add value to your home. If you can fit a higher quality siding into your upfront siding budget, you should see a good return on your investment. We hope this article was helpful. For additional information please see below.
Related Posts