Trespa Pura siding is a premium cladding option for homes. And because Pura is an HPL (high pressure laminate), it makes an exceptionally high-performance siding material. In addition to its high durability and low life-cycle costs, Trespa Pura siding looks great. How you choose to use Trespa Pura siding on your home is entirely up to you. Here's some ideas.
Use Trespa for your entire home
For the look of real wood siding, without the usual maintenance, you can choose from eight low maintenance wood decors. Or choose mono-chromatic tones from their Uni-color decors collection. Trespa siding can protect and beautify your entire home.
Trespa Pura siding, one wood decor, on all exterior walls
There are lots of ways to use Trespa Pura on your entire home. here's one: choose one color for your whole house. Another option is to use different siding colors on different walls. You can use a single décor or multiple decors. Embrace your entire home with the warm look of Trespa Pura siding.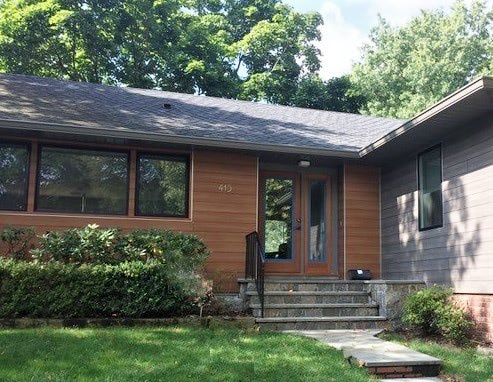 Trespa Pura wood decors - Romantic Walnut and Aged Ash
Others may want to mix different decors on the same exterior wall façade. You can create some exciting looks.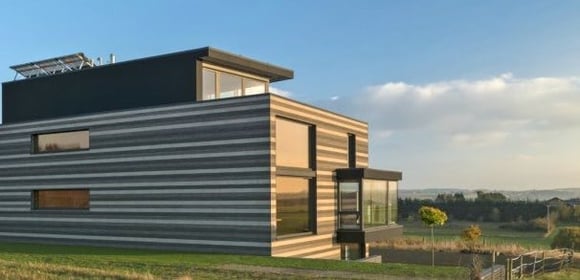 Multiple Trespa Pura wood decors used on all exterior walls
Use Pura for your Front Facade
Nothing says, 'Welcome home' or, 'Welcome to our home" quite like a beautiful front façade. The front of your home is the part that every walker-by, driver-by or neighbor can see. Why not show them your best face with Trespa Pura siding on the front face of your home. Pura siding is as inviting as a smile. Add beauty and value with Trespa Pura on the front.

Trespa Pura siding on front facade of home
Use Pura Siding as an Accent
Trespa Pura siding looks great with other cladding materials. If you want to use a lower cost siding on portions of your home, you can add a splash of warm color with Pura. Many homeowners and designers will spice up a dull (but low cost) stucco wall with a burst of Pura wood décor siding. This can give you the appearance you crave and keep your project on budget.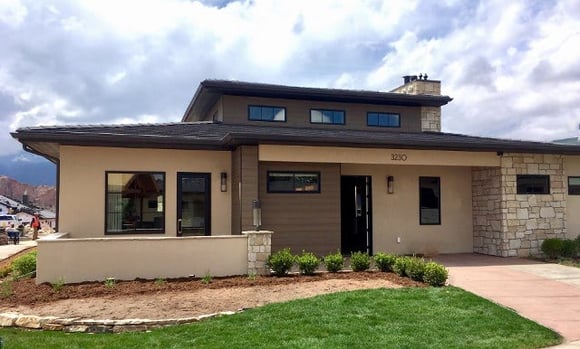 Trespa Pura siding works beautifully with both stucco and stone cladding
Or, if you're using a more expensive cladding, like stone or brick, Trespa can add warmth and organic beauty. And help reduce your overall siding budget. Stone and brick are expensive and have a cooler appearance. Adding the warm look of Trespa Pura, with masonry, creates balance to your design – and can save you money.
Need some inspiration? Download Trespa Residential Project Portfolio:
Use Pura siding for Soffits
Trespa Pura works fantastic as a siding material. But did you know it can be used a soffit, too? Well it can, and it looks great and functions very well. You can use Trespa to help ventilate your soffits and protect your home better. Use Pura siding on the ceiling of your 3-season room, covered deck, screen porch or enclosed porch.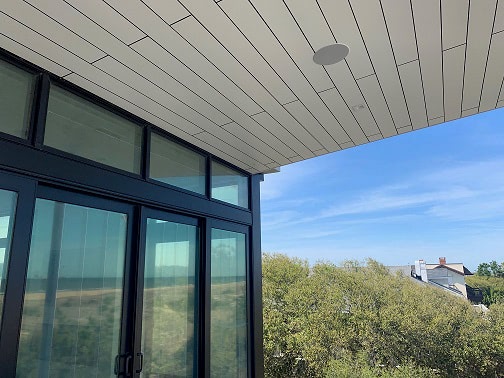 Trespa Pura works great for soffits and ceilings
We hope you enjoyed this article. Learn more about Trespa Pura here.
---
Would you like to see if Trespa Pura siding meets your project budget? Request a Quote Today:
---
Need to see an actual Pura siding sample?
Request a Trespa Pura siding sample today: