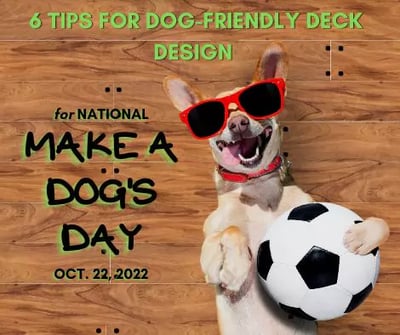 6 Tips for Dog-Friendly Deck Design
Written by
Liza Sivek
on
Making an outdoor living space more dog-friendly doesn't have to be expensive or complicated. In honor of National Make A Dog's Day, here are 6 deck design tips to make it safe and durable for furry family, and low maintenance for the humans.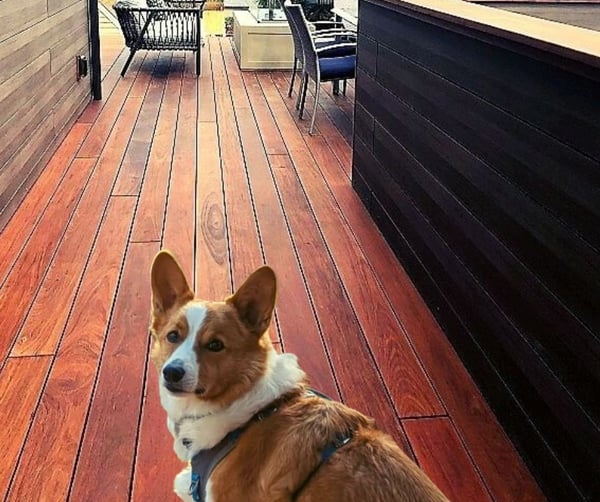 Designing a deck and have a dog? They have opinions on it! Make it safe, make it strong, make it fun.
Designing a Wood Deck That's Dog Friendly
By taking some simple steps such as choosing the right wood decking, installing a barrier, and avoiding hazards, you can provide your furry friend with a comfortable outdoor space and make your dog's day!
If you're like most dog owners, your pup is part of the family — and that means they deserve a spot where they can relax in the sun and take in the fresh air with you, year 'round.
Fortunately, designing a deck that's both pup-friendly, attractive and long lasting is easier than you might think. With a bit of planning, you can create a space that's safe and enjoyable for your furry friend while extending your home's living space.
The 6 important tips to start designing a dog friendly wooden decking:
Choose the right location for your deck.

Opt for sturdy wooden decking that has a high resistance to scratching, makes for easy clean up, and is comfortable on paws (and feet).

Select wood decking materials that will complement your home's existing exterior.

Built in seating or wooden planters can separate living areas, or use as a barrier along the deck edge.

Add some overhead structures for shade so you and Fido can enjoy the view together!

Decide if you will need to enclose your deck and how, for pup safety.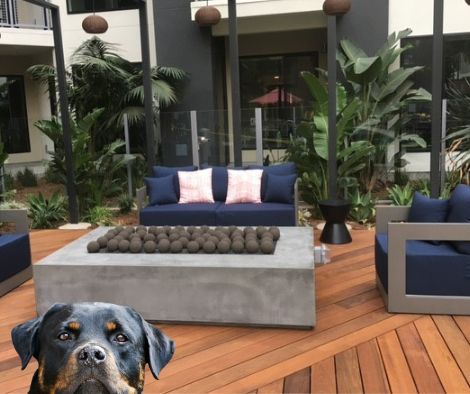 Decks can be designed in spaces small and large, ground level or above ground, like this diagonal layout small rooftop deck
---
There's even more deck design knowledge for free in the
150+ Deck Design Ideas eBook.
---
Designing a Wood Deck for Your Location
Where on your home you will build your wood deck is a mix of what your property will allow and how you will use the deck. The questions you should ask yourself are:
How will you (and your dog) use your deck?
Will it be ground level, raised, or a rooftop deck?

Will your deck location need to abide by any HOA or zoning regulations?

What kind of weather will it be exposed to?



A backyard deck gives your family a gathering place for dining and relaxing together. I wonder who knocked that ottoman cushion crooked?
Designing a Wood Deck That Lasts and Stays Attractive
For any deck design, foot (and paw) traffic, furniture, toys, and weather can take a toll on wood decking. Choosing the strongest wood decking planks from the start will save you time and money over the lifetime of your deck. You don't want to end up with splintering, checking, or rotting wood decking. It's a safety hazard for you and your pets.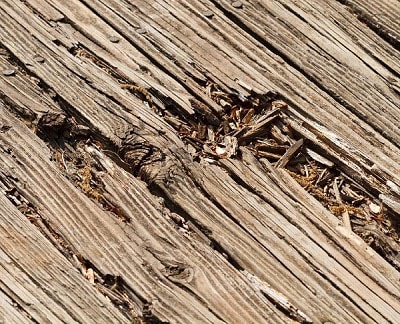 Softwood decking, like this cedar, needs regular refinishing and upkeep to avoid insect, UV, and moisture damage. Rotting decking is dangerous.
Because of their natural high fiber density, hardwood decking is the highest rated wooden decking for scratch resistance. You can choose from several premium hardwoods that will not show marks from doggie claws, furniture, or even flying storm debris. Hardwoods also require little to no maintenance or refinishing. Basic cleaning and a natural oil finish reapplied as needed keeps it looking new.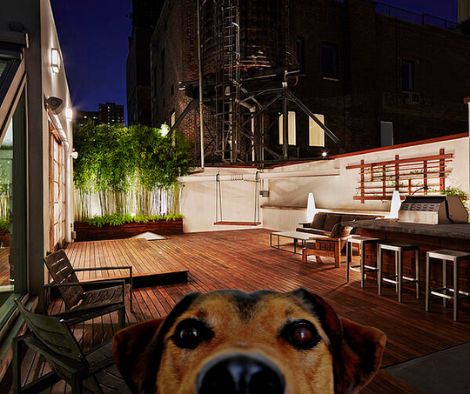 Outdoor dining on a deck is always popular with your pup.
Other benefits of high-density woods: they won't easily absorb moisture and have naturally high resistance to mold, mildew, and rot. "Accidents" easily clean up on a hardwood deck and the usual water bowl spills won't create problems later.
See a direct comparison of popular hardwood and softwood decking materials here to help you choose: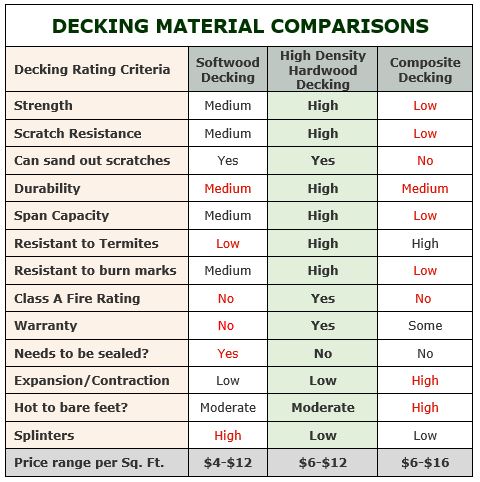 *Please note, decking material costs can change rapidly in the current market, the costs on this chart are for illustrative purposes only. Feel free to Contact us for current hardwood pricing.*
Designing a Wood Deck That Is Strong
Good news! You won't give up good looks when choosing a dog-friendly wooden decking material. Hardwood decking comes in a range of gorgeous colors and interesting grain patterns that match and even outshine the softwoods like cedar and redwood. Hardwood's exotic good looks are also way more eye-catching than composite decking or pavers.
(Plus wood is much cooler and comfortable for bare feet and paws!)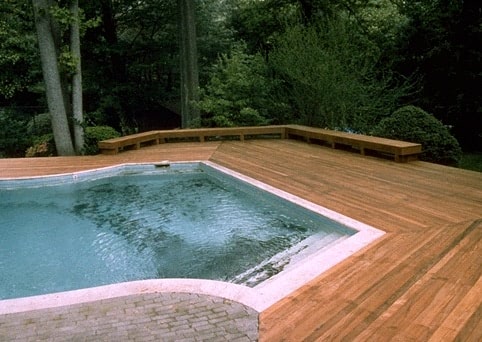 Decks can get hot under the sun, especially above ground decks. Composites can become too hot for paws and people feet. Hardwood stays cooler and lasts much longer under UV exposure.
RELATED: Wood Deck Photo Gallery
From beautiful deep brown mid-tones, rich chocolate brown tones, and even golden blonde shades, you can have a wooden decking material that adds curb appeal, stands up to heavy use, and complements your house exterior. See all the hardwood decking options and colors here.

RELATED: The free Ultimate Guide to Selecting The Right Decking
Hardwood decking lumber's strength translates to a longer lasting, lower maintenance deck that requires no painting or staining. The high resistance to moisture equals very high resistance to mold and rot, and insect damage.
Hardwoods won't check or split from sun and storm exposure. They clean easily and a UV protectant oil finish as needed prevents the sun's rays from weathering the deck to gray and keeps it looking like new.
Or, if you prefer, let your hardwood deck weather to a natural, satiny, silver-gray patina, without losing the beautiful figuring and patterns, or the strength and durability. Something require extra maintenance when it is aged to gray, but your pup can run and play like always on weathered hardwood. Bonus: Weathered hardwood requires less maintenance for you, just cleaning as needed.
RELATED: How Does Exterior Wood Weather?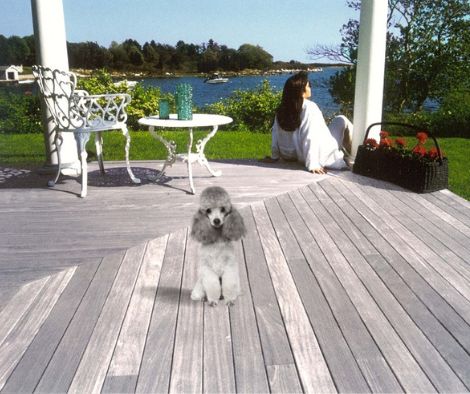 Satiny silver is a gorgeous look. And the weathered deck looks beautiful, too.
---
Ready for more? Grab your free pdf of the ultimate 150+ Deck Design Ideas eBook with 60 pages of inspiration.
---
Designing a Wood Deck with Built-In Seating and Shade
Once you have selected a location and decking material, it's time to think about built in seating and overhead structures: Yay or Nay?
The advantages to built-in seating and structures like pergolas or overhangs are:
Build these items from the same wood decking material for the same major durability and minimal maintenance. More time to spend with your best dog bud!
Matching wood-built in seating and structures will give your deck a custom designer look (and spurs deck envy among the neighbors).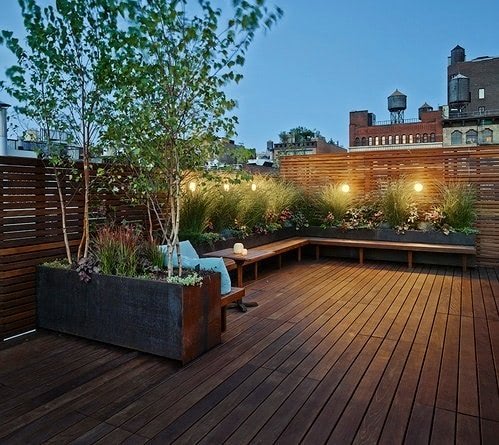 For a rooftop patio, shown here, or a backyard deck, built in hardwood seating saves time and maintenance.
Keep your built-in seating as bare hardwood for easy clean up and natural good looks. Or, add plush outdoor cushions for you and your best furry friend to relax on. Either way you can hang out and enjoy the view together.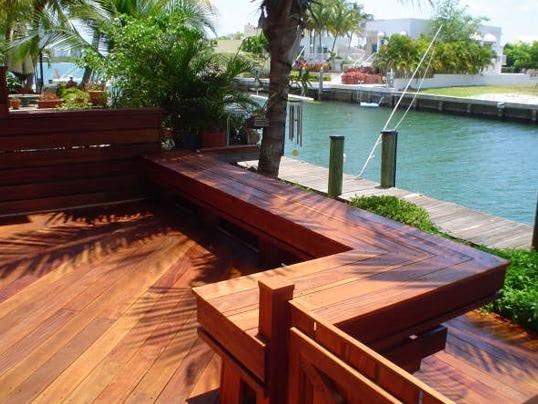 Who wouldn't want to hang out on waterview benches under the palm trees? Cumaru deck in Florida can handle strong UV and the occasional storm, too.
A wood pergola or wood overhang will shade for resting after playtime, and a great spot for outdoor water bowls. Pergolas and built-in benches also define dining or conversation areas for the humans.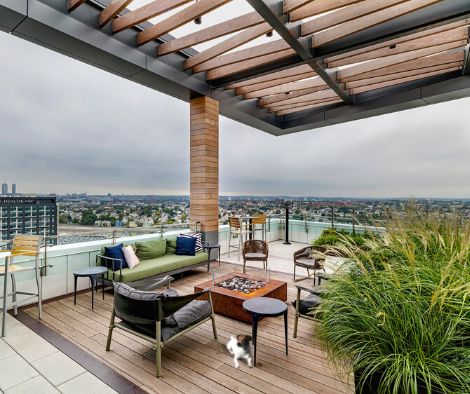 A rooftop hardwood deck with matching wood pergola makes for a great gathering place
Include built in wooden planters for added greenery and as attractive area dividers, or even for privacy.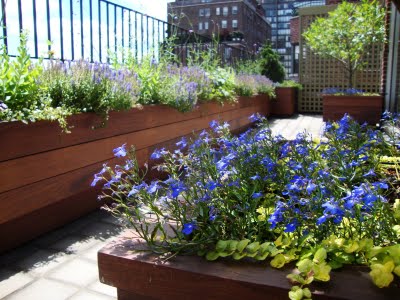 And, most importantly, doesn't your dog deserve it?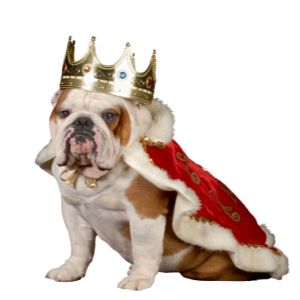 Your Mutt Majesty needs deck safety and security, too. Read on for more tips.
---
Want to see photos of real hardwood deck projects for yourself? The free Deck Design Ideas eBook features over 150 real-world deck projects using a wide range of wood decking materials. Download now.
---
Designing a Wood Deck for Safety and Privacy
Another way to make your home more dog-friendly is to install a deck railing or a fence. A fenced in space in your yard will give your dog a designated area to play in and protect them from traffic and other dangers.
But if you can't install a fence in your yard, need an all-weather pet area, or want an above ground deck, an enclosed deck is essential for pet safety.
There are lots of options for deck railings on the market, including glass, metal, wire, vinyl, and wood. We suggest using the safest and most appropriate material for your dog and deck design.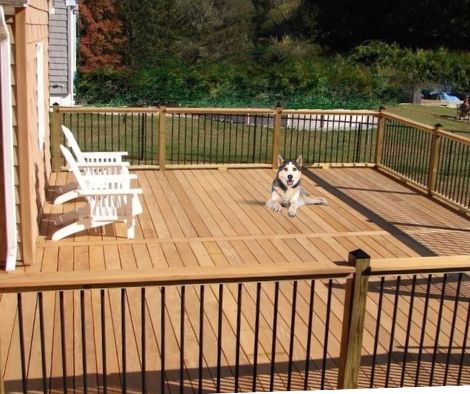 Hardwood railings are a safety item that also give a designer touch to your deck.
Will the deck railing material show teeth marks? Deck balusters are conveniently all-dog height and easily accessible. If you have ever had a puppy or adopted a nervous dog you know any object they can sink their teeth into is fair game.
Vinyl, wire, and soft woods like pine and cedar are able to be chewed and scratched easily, and also toxic or cause a choke hazard. Metal railings are sturdy, but will show scratches and wear from chewing and jumping dogs.
Hardwoods, on the other hand, are so naturally fiber dense that they easily stand up to chewing attempts. Rover will most likely give up and move on to their chew toys instead. Or your shoes.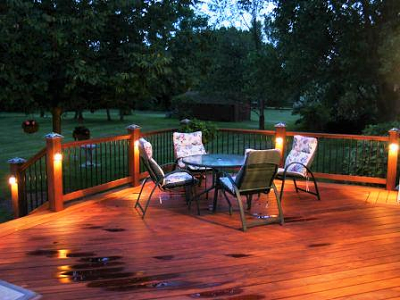 Ipe and Garapa hardwood deck include two-tone wood balustrades and railing with built in lighting.
Will your deck be above ground? Raised and rooftop decks require a solid barrier or building-code-approved spaces between your balusters. Hardwood is again an excellent choice for these types of railings, or a combination of hardwood railing and glass panels if you are taking advantage of a view.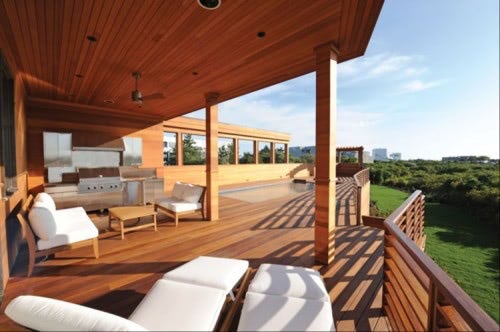 Hardwood railings and overhead soffits make this above ground deck safe and custom
Is privacy on your deck a concern? A hardwood privacy wall stand up to wear and tear from dogs (and people), be a designer match to your decking, and stand up to wear and tear from dogs. (And people.)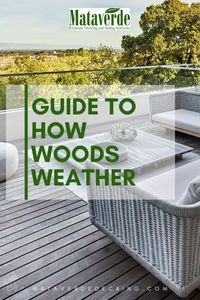 A privacy wall is sometimes non-negotiable because of neighbors or building codes. Make sure it lasts by choosing the right material.
---
See lots more examples of deck railings to match your home style in the free 150+ Deck Design Ideas eBook
---
A few bonus tips to make sure your dog friendly wood deck design is pet safe in other ways, too.
Eliminate Poisonous Plants
Many common household and garden plants are poisonous to dogs if ingested. Even the pollen of some plants can be fatal if your dog is licking it off their paws.
Check to see if any of your wooden planter or container garden hold plants or shrubs that are dangerous to dogs. Are there any shrubs or plants that can be reached from your deck that could be poisonous to pets. To be on the safe side, it's best to either remove these plants completely or keep them out of reach of your dog.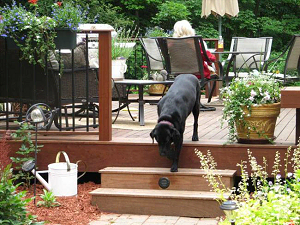 Check your garden and planters for plants dangerous to pets.
Consult Vet Reviews for Products
If you're in the market for some new outdoor gear or toys for your pet to use on your new deck, it's essential to do your research before making a purchase. Customer ratings can be a helpful way to get an idea of what other pet owners think of a particular product, but reviews from experienced veterinarians will give you the peace of mind that you're keeping your furry friend safe and healthy.
If you found these tips helpful in designing a pet friendly wood deck, let us know. We can help with free wood decking samples and first steps to get you your best friend started.
Comments
Related Posts