Cumaru wood is a high density exotic hardwood decking material that is very similar in appearance and physical properties to Ipe wood decking. Ipe decking and Cumaru decking each have beautiful grain variations and rich brown coloration. Both Cumaru and Ipe high density hardwood are off the charts decking material options in terms of hardness, density, durability and bending strength. Ipe and Cumaru both come mainly from Northern Brazil which is one of the best climates for growing trees that are harvested into high quality decking materials. There are no North American wood species that come close to Ipe and Cumaru wood decking from a strength and hardness standpoint.
| | |
| --- | --- |
| CUMARU DECKING | IPE DECKING |
| | |
Cumaru hardwood decking varies in color from yellowish brown to reddish brown often within the same piece of decking material.The coarser graining and striping of Cumaru explain why it has been nicknamed "Brazilian Teak". Ipe wood decking varies in coloration from lighter browns to darker olive brown and chocolaty browns. The finer graining and color of Ipe decking are why it is sometimes referred to as "Brazilian Walnut". Each species (Ipe and Cumaru) shows the rich exotic graining found in tropical hardwood decking species.
Other than the color differences and graining variation, Ipe wood decking and Cumaru wood decking are remarkably similar. Each species has a Class A fire rating making either decking species a safer option for a deck with a firepit or fireplace. The incredible hardness of Ipe decking and Cumaru decking make either decking material a great option for a scratch resistant deck where pets or active children are frolicking. The high durability of either Ipe decking and Cumaru decking ensure that your high density hardwood deck will last and last for years and years.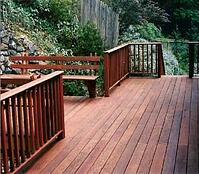 From a price standpoint, Cumaru has a lower initial cost than Ipe decking. If you are concerned about the long term overall return on your decking investment, either Cumaru decking or Ipe decking each are considered the lowest cost of all decking material options in "life cycle cost" comparisons.
For additional information about Cumaru and Ipe wood species, click on any of the links belows:
Learn more about Cumaru decking and Cumaru lumber
Learn more about Ipe decking and Ipe lumber
For a fact filled study of all decking material options, download "The Ultimate Guide to Selecting the Right Decking Material" by clicking the link below. This informative research guide gives the lowdown on Ipe decking, Cumaru decking and other wood decking materials as well as synthetic plastic and composite decking materials.
Cumaru decking and lumber carry a 25-year limited warranty. Find out more.
Download the free PDF here.