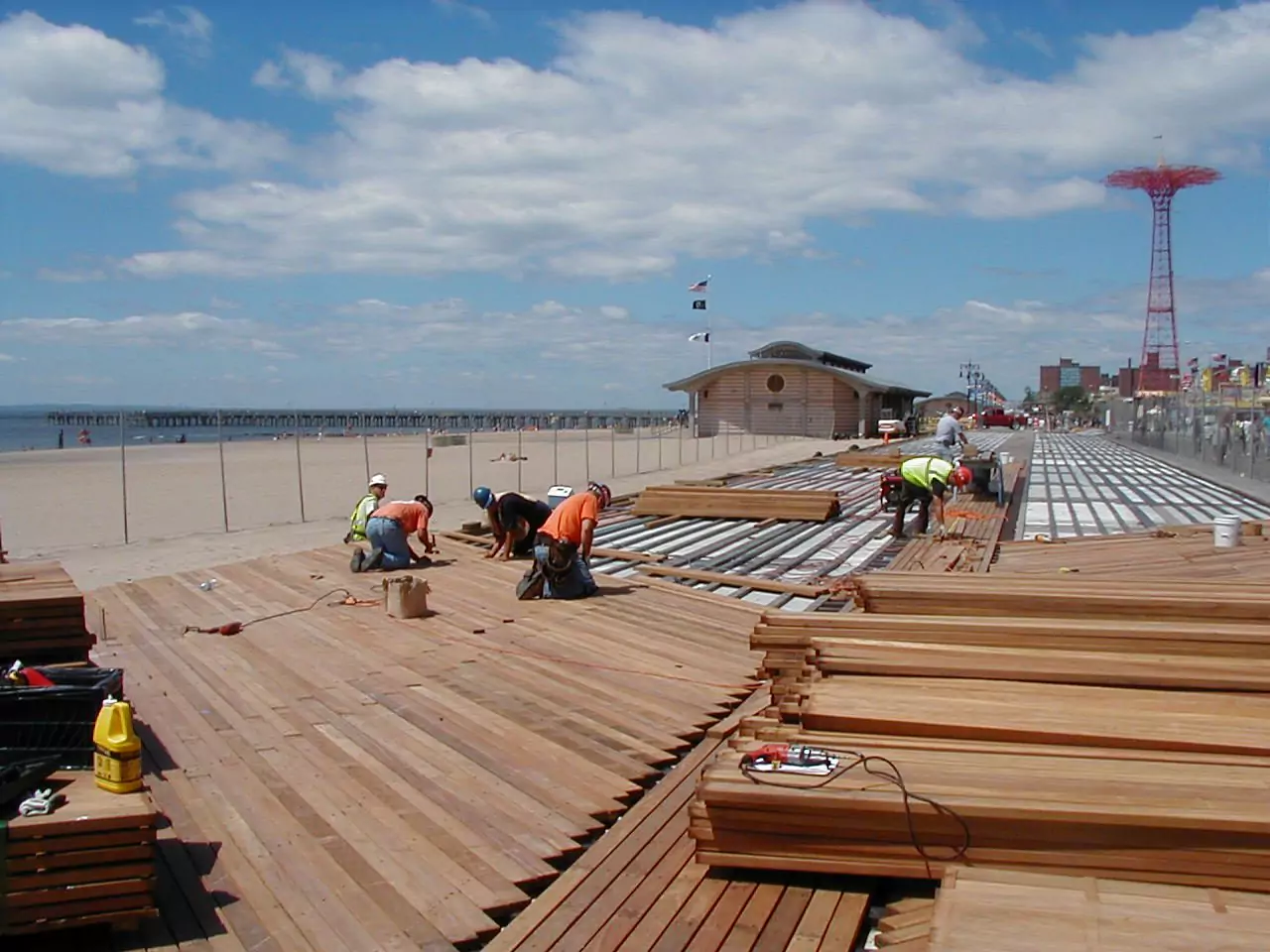 Deck Installation Tips: Installing Decking Over Sleepers
Written by
Chris Nolan
on
Architects, designers and builders often ask us about our thoughts on installing Ipe and other hardwood decking on sleepers over concrete and other areas with minimal ventilation.
There are many variables that will affect the successful long term installation of decking including proper fastening, proper ventilation, proper material specification and more. While this is by no means a comprehensive list of all the factors involved in a successful deck installation over sleepers, we hope you will find these deck installation tips helpful.

Before attempting to design and build a deck or install decking on sleepers (e.g., deck over concrete or in a rooftop deck application) it is important to understand that there are several essential conditions that need to be met for long term success of the decking project.
Essential Conditions for

Proper Deck Installation:
Adequate and properly designed deck drainage

Proper material specification for deck sleepers

Proper fastening of the sleeper

Adequate ventilation for the deck

Proper wood acclimation prior to installation

Proper fastening of decking material to the sleeper

Proper material specification for decking material
Adequate and properly designed drainage
Properly designed drainage means that the concrete slab (or roof structure) is designed to shed water in the direction the water needs to flow. The pitch of the concrete will determine the speed and rate of flow of the drainage.
Once you determine your slab is properly designed and built, check it with a level or transit to ensure its effectiveness. It is imperative to make sure that the sleepers run parallel to the direction of water flow. Work with nature. Don't fight it.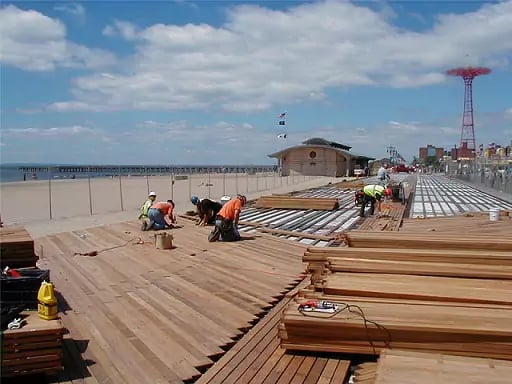 If the sleepers are installed perpendicular to the flow of the drainage, stop!
This will impede or stop the water from draining. Some designers will argue that sleepers can be installed perpendicular to the water flow as long as weep holes are installed. We have found this to be a high-maintenance design decision and should be avoided at all costs. Why fight nature? Go with the flow, baby.
All it takes is a small amount of debris or dirt to clog a weep hole to render it useless. If a design using weep holes for drainage must be used, then provisions for cleaning out this area should be considered prior to installation.
Proper material specification for sleepers:
The most important considerations when selecting materials for sleepers are:
1) Can the sleeper be effectively fastened to the substructure?
2) Can the decking be securely fastened to the sleeper?
3) How durable is the sleeper?
Recycled plastic lumber is often used for sleepers because it is rot resistant and should last as long as the decking material and the rest of the deck structure. Durable hardwood lumber sleepers work well, too. If pressure treated lumber is used for sleepers, the grade and durability of the material should be considered prior to construction.
Proper fastening of the sleeper:
Careful consideration should be given to how the sleeper will be fastened to the substructure. It is important to select a fastener that is strong enough and will last as long as the entire structure. In a rooftop application, limiting or (preferably) eliminating all perforations in the roof membrane are important design considerations.
Adequate deck ventilation:
Proper ventilation is a critical success factor in the long term design, construction and life cycle of a deck. Proper ventilation helps the wood decking to acclimate properly and move with changes in the EMC (Equilibrium Moisture Content) of the particular job site environs.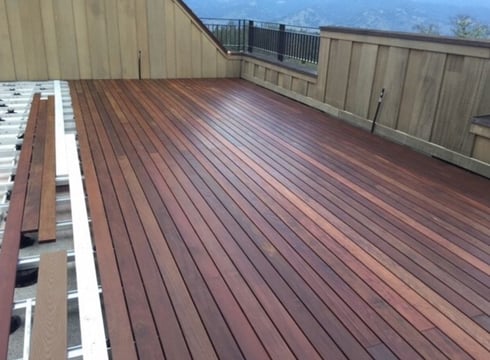 Failure to properly ventilate a deck can result in deck boards that do not dry out and is an open invitation to mold, mildew, algae and fungi. Mold, mildew and fungi are not only unsightly; they can create rot and decay problems on and around the deck structure.
Low clearance decks need special planning and consideration:
Since ventilation options are minimal on a deck being built so close to the ground or substructure, great care should be taken to maximize the air flow in the design stage and also during construction. Using narrower deck boards, widening the gaps between the deck boards, and leaving "open ends" of the under structure of the deck are the three most effective ways to achieve adequate ventilation.
---
RELATED: Tips on low-clearance deck design and construction
---
While it is true that concealed fasteners can be used effectively in deck design, we believe that the best design and construction practice for a sleeper deck should use screw fasteners. Screw fasteners will provide stronger lateral bracing for the entire deck structure. Equally important in a deck design being built on sleepers is making sure that the deck boards are securely fastened at the edges.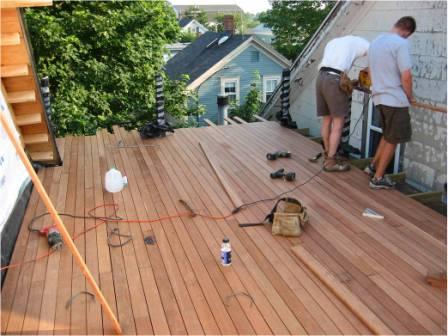 Despite the best design and construction practices, excess moisture is bound to occur at some point in the life cycle of this structure. Using deck screws to fasten the deck boards to the sleepers helps to minimize the effect of nature trying to make the deck boards "cup" upwards.
Skilled and experienced craftsmen will often install the deck screws slightly closer to the edge of the deck boards (3/4"± from the edge of the deck boards is often used) to further reduce the potential effects of deck boards cupping.)
---
Looking for help selecting the right decking material?
Download the "Ultimate Guide to Selecting the Right Decking" today:

---
Proper selection and specification of deck boards for a deck being built on sleepers is another critical success factor

.
Considering the deck project as a whole, and realizing the most potentially damaging effects are trapped moisture and improper ventilation, care should be taken in selecting deck materials that will perform the best in these conditions.
High density hardwood decking materials such as Ipe, Cumaru, Garapa and Machiche are often specified on projects such as these due to their natural beauty, amazing strength, rot resistance and exceptional durability.
Selecting deck boards that are thick enough to minimize the potential cupping effects is a good decision. That's why many architects and designers select 5/4" nominal decking boards (actually measure a full 1" thickness). Using narrower deck boards in an application where decking is being installed on sleepers is another excellent design decision for several reasons.
First, the narrower width allows for more deck fastening per square foot of surface area. For example 5/4 x 4 decking provides more than 25% more fastening than 5/4 x 6 decking would provide in the same space. Secondly, narrower deck boards provide considerably more ventilation area than narrower deck boards. For example, 5/4x4 deck boards will afford more than 50% more ventilation than 5/4x6 deck boards. Over the years we have had extremely successful results with 5/4x4 Ipe decking, 5/4x4 Cumaru decking and 5/4x4 Machiche hardwood decking.
In summary, always work with the forces of nature when installing decking over sleepers:
1. Design your substructure to properly drain, and planning the layout of sleepers to work with the force of gravity.
2. Select the right sleepers and fasten them properly.
3. Ventilate, ventilate, ventilate.
4. Select deck materials that will help you and your clients achieve long-term success and satisfaction with their deck.
If you have additional thoughts, ideas or first-hand experiences about sleepers for decking, or just questions we would love to hear from you. Thank you.
Looking for deck design ideas for your project?
Download the "Deck Design Ideas Portfolio" book, featuring 60 pages and over 150 photos and deck ideas:
---
What if building a deck with sleepers is not a good fit for my project design or deck installation?
There is a new product innovation available which can be used instead of sleepers - the Eurotec Deck System. Find out more about the Eurotec Rooftop Deck System here.
---
RELATED:
Related Posts