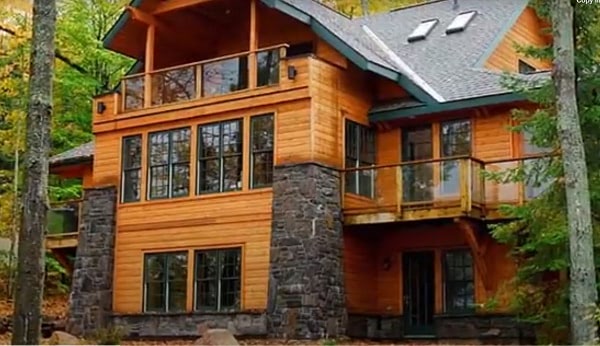 Is ThermaWood FR Redefining Fire Treated Wood Siding?
Written by
Liza Sivek
on
In the face of increasing wildfires and the need to protect buildings from their devastating effects, fire retardant treated wood siding has become essential. The demand for siding material that meets stringent fire codes and is attractive, sustainable, durable, and non toxic is growing. ThermaWood FR wood siding was created to meet these needs. Can it meet project needs better than what's already out there?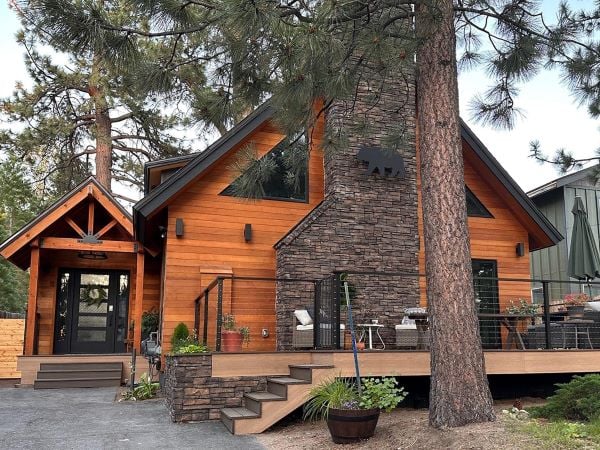 ThermaWood FR thermally modified fire treated siding on a gorgeous lodge style façade in Tahoe. (Photo courtesy of the homeowner.)
In This Article:
We sat down with our own Perry Alibrio, Western Regional Manager, to talk about ThermaWood FR with Thermex-FR fire retardant wood treatment, Mataverde's new thermally modified wood siding.
We discuss why fire treated lumber is so important throughout the U.S. and Canada, what makes a safer fire treatment, sustainability, and aesthetics, among other topics:
M: Interviewer Liza Sivek, Marketing, Mataverde Sustainable Decking and Siding Solutions
PA: Perry Alibrio, Western Regional Manager for Mataverde Sustainable Decking and Siding Solutions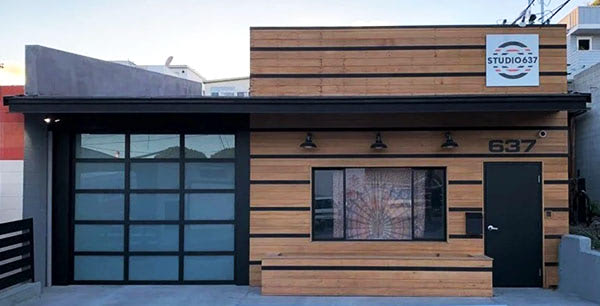 ThermaWood Hem-Fir with Climate-Shield Rainscreen installation on a commercial studio space
---
M: Perry, as someone who has years of lumber industry experience on the West Coast, you are certainly the right person to discuss the current demand for fire-treated lumber amidst increasing fire codes. Thanks for being here.
PA: Thanks for having me!
Why Is Your Choice of Fire-Treated Wood Siding So Important?
M: Let's jump right in: What has changed in the home building industry that makes choosing the right fire-treated wood siding so important?
PA: There's a large swath of the country that has been affected by wildfires. New building fire codes are intended to stem the damage done by future wildfires to residential and commercial buildings in their path.
The current state of fire codes is that they are increasing throughout the western part of the U.S. We see it also in Canada. This is creating a bigger demand for fire-retardant-treated exterior lumber than ever and a demand for better fire-treatment.
The highest standard right now is the International Wildland Urban Interface Code (IWUI). IWUI certification requires the siding material to meet the "ignition-resistant material" status. Mataverde ThermaWood FR with Thermex-FR wood fire treatment is IWUI certified.
RELATED: Mataverde Siding Resources Page - Flame Resistance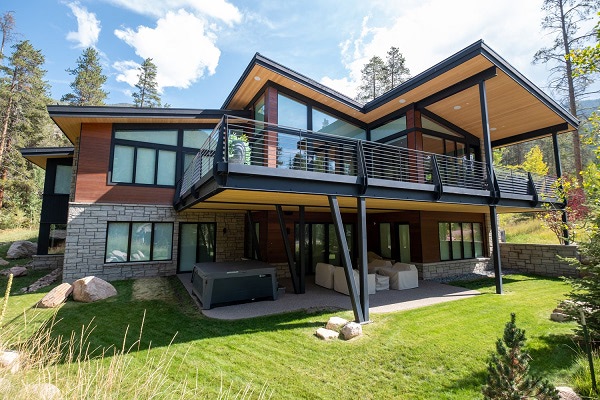 ThermaWood Hemlock rainscreen siding on the façade, soffits, and porch overhangs contrasted with natural stone and dark trim for a distinctly contemporary custom exterior design.
M: And what does "ignition resistant" mean exactly, as part of the IWUI standard?
PA: It means when the wood is exposed to flame, it activates the fire treatment in that wood. The fire treatment limits the flame spread for 30 minutes. The purpose of this is to give occupants inside time to evacuate and first responders time to get there and save the structure.
ThermaWood FR has a warranty issued by the manufacturer that the property owner can apply for when the wood siding is installed, then presented to their county or state fire marshal in a wildfire-prone area. This identifies the home as one that can be defended. So, it's a pretty important distinction!
RELATED: ThermaWood FR Limited Lifetime Warranty
---
Want to see Thermawood Hem Fir siding projects?
CHECK OUT THERMAWOOD HEM FIR SIDING PROJECT PHOTO GALLERY HERE
Would you like to see an actual piece of Thermawood FR Hem Fir?
Order a sample today.
---
How Is Thermex-FR Different From Other Fire Retardant Wood Treatments?
M: Mataverde ThermaWood FR is treated with the proprietary Thermex-FR fire retardant wood treatment by our partner, Chemco. Why is the Thermex-FR fire retardant wood treatment-FR fire retardant wood treatment better than other fire treatment options available?
PA: You know, this treatment is pretty unique. The marriage between thermal modification of the Hemlock and the Thermex-FR is a fantastic one.
The fire treatment is more effective in the levels of penetration in thermally modified wood than on non thermally modified wood. The penetration of the fire retardant is increased in wood that has been thermally modified first.
Another important feature of Thermex-FR is that the fire retardant treatment is 'baked in' to the wood. That allows the fire treatment to last long term outdoors. Most other treatments will wash off after the first few years.
Non-Toxic, Safe to Work With and Live With
M: Is this fire treatment safe to work with as a contractor? How about the homeowners, their families and pets?
PA: Yes, ThermaWood with Thermex-FR fire retardant wood treatment is non-toxic and embedded inside the wood instead of applied just to the surface. It's made with phosphorus and other non-toxic ingredients that are safe to work with, and live around, including children and pets.
Most other fire treatments are boride-based, which can "shed" and become airborne during cutting, handling, and while in use after installation. That's why those options are made to be painted over and encapsulated after installation, and why other fire treatment options need to be reapplied when it wears off the surface.
---
See for yourself how the best fire retardant-treated lumber process works. Watch on YouTube now: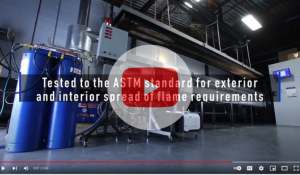 Chemco Thermex-FR Fire Treated Lumber Video
---
The Benefits for Architects and Home Builders
M: What have you heard from the architects and siding contractors who have chosen ThermaWood FR for their project so far?
PA: Architects are very much aware of it. The modification process creates an aesthetically beautiful piece of wood siding that is extremely stable, and the fire treatment means it meets or exceeds most of the existing fire codes in the U.S.
With contractors, it's been extremely positive. The fire treatment means there's a cost reduction because it doesn't need additional assemblies behind it.
It can be put in a soffit or on exterior walls, in some cases, without the use of firebreak materials in the wall assemblies. Traditionally, that firebreak would be exterior gypsum. By eliminating the gypsum, you reduce both labor and material costs, which is pretty significant.
Plus, it does not shed toxic, surface only Boride-based fire retardant like most other fire treated lumber, making it safer to work with.
All of these things combined make a very good product. It's a product that is really relevant in today's building industry.
RELATED: View the ThermaWood Siding Design Project Photo Gallery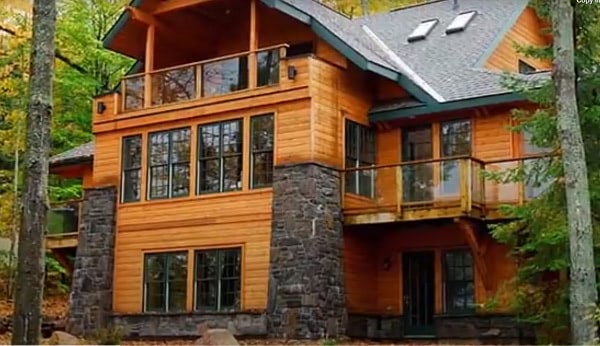 How Does It Compare In Looks To Cedar and Other Wood Sidings?
M: You mentioned the aesthetics of ThermaWood FR. Tell me about that, and how it lends itself to traditional siding or rainscreen siding designs.
PA: ThermaWood FR Hemlock is a clear, high-grade, straight, vertical grain product. Aesthetically, it's kind of at the top of the heap. It compares very favorably to the highest-end wood siding products that you can find in cedar or redwood – or should I say what you used to be able to get in those products. There's a limited amount of clear, high-grade lumber left in those species.
ThermaWood FR fits in the same category and meets the demand for those types of siding species. I think it's very relevant in the market.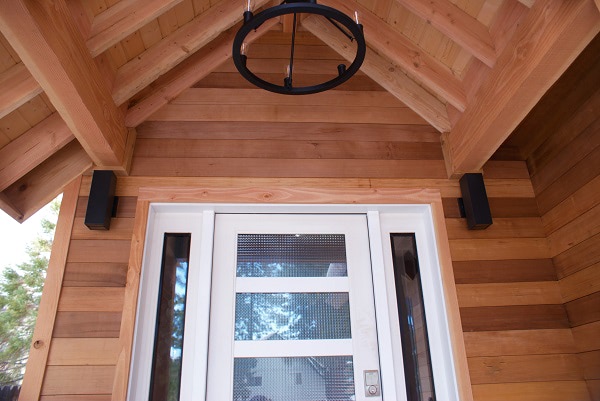 When designing your siding project, you can count on Mataverde ThermaWood Hem-Fir (Hemlock) Siding to have a beautiful range of colors deepened by the patented thermal modification process. An oil-based protectant finish is all that's needed to protect the color.
---
Want to see Thermawood Hem Fir siding projects?
CHECK OUT THERMAWOOD HEM FIR SIDING PROJECT PHOTO GALLERY HERE
Would you like to see an actual piece of Thermawood FR Hem Fir?
Order a sample today.
---
Is ThermaWood FR Wood Siding Sustainable?
M: What about sustainability? That's an important criteria for exterior wood siding designs.
PA: I think one of the biggest plusses of ThermaWood FR is that it's a sustainable product. It's produced here in North America and it's also available as a PEFC Certified Canadian timber.
The carbon footprint is low. It's a pretty tight loop between Western Canada, where the Hemlock is from; Montana, where it's thermally modified and milled' and Washington State, where it is fire-treated.
RELATED: How to Build Green With Wood Rainscreen Siding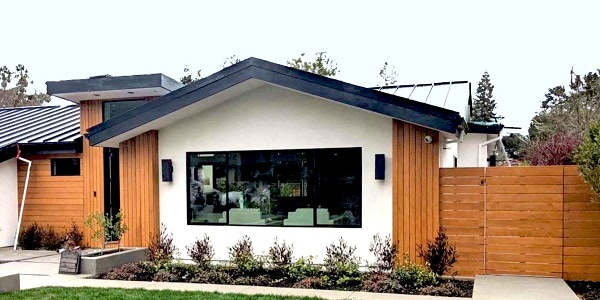 This exterior design contrasts the beautiful ThermaWood Hemlock siding and fencing with the white stucco façade for a modern and classic look.
How Long Will Thermally Modified Hem-Fir Siding Last?
M: ThermaWood FR is made from Hemlock (or Hem-Fir). How long will it last on the exterior of a home?
PA: Because of the thermal modification process used, you can expect the same lifespan from ThermaWood FR Hemlock as you would Cedar or Redwood, with minimal care.
And this brings us back to the thermal modification process. Wood species like Hemlock, Ash, Poplar, Red Oak that were never rated for exterior use can be now, if they are thermally modified. Thermal modification makes these wood species stronger and more stable in general. But there are different types of thermal modification.
RELATED: What Is Thermally Modified Wood?
M: Right, for instance Mataverde ThermaWood FR goes through a patented wood modification process that combines heat, steam, and a special pressurized kiln. We know this creates a much more stable, durable siding material. Because the process heats the natural sugars out, it is very insect resistant. Because it uses steam, the resulting siding boards are much less brittle than kiln-dried alone.
PA: Exactly, and our main species for the ThermaWood FR is a Western Hemlock, that, after modification, has a durability equal to or greater than Western Red Cedar. ThermaWood FR Hemlock is harder and denser than a lot of the other softwoods it can be compared to, and you get increased durability from the fire-treatment process, too.
So, to answer your question about how long ThermaWood FR will last on an exterior: Depending on the climate and with basic care, you can expect the same lifespan from ThermaWood FR Hemlock as you would Cedar or Redwood, as traditionally used for hundreds of years.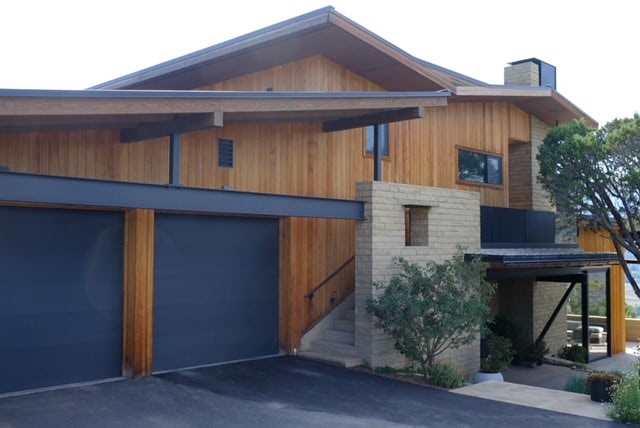 This custom home project chose a vertical installation of the ThermaWood Hemlock as part of the design, using Rainscreen installation.
M: Thanks, Perry, for your expertise. Undoubtedly, improved fire treated wood siding materials play a pivotal role in protecting structures from destruction in wildfires. Since ThermaWood FR meets the higher fire code standards and is also attractive, long lasting, and sustainable, I think our readers will be very happy to know about it.
PA: Thank you, I was happy to share the facts about ThermaWood FR. Our readers should feel free to reach out to me and the rest of the sales team to find out if ThermaWood FR can help with their upcoming siding projects. We'd be happy to answer questions and get them more details.
ThermaWood FR wood siding, treated with the proprietary Thermex-FR fire retardant wood treatment:
Has IWUI certification.

Unlike other fire treatment options, the Thermex-FR treatment penetrates deeply into the thermally modified wood, making it more effective and reducing the need for additional firebreak materials.

Is non-toxic, safe to work with, and does not shed harmful substances.

Its aesthetic appeal, comparable to high-end cedar or redwood siding, makes it a desirable choice for architects and contractors.

The sustainability and low carbon footprint (stored carbon) adds to its many benefits.

With its long lifespan and durability, equivalent to traditional cedar or redwood, ThermaWood FR proves to be a reliable and effective solution for fire-treated wood siding.
We hope this article gave you valuable knowledge to help with your next exterior siding design or siding installation project. Let us know if you have any feedback, comments, or questions!
Related Posts