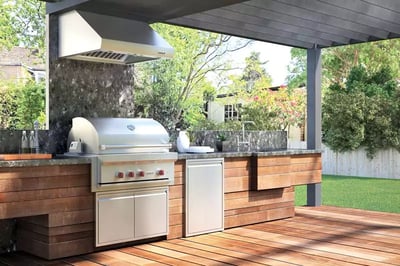 How to Plan A Deck: Backyard Deck Tips and Ideas
Written by
Liza Sivek
on
Thinking about adding a backyard deck? Need to know how to plan a deck? We can help. Take your decking project from a basic idea to 'ready for action' with these pro tips from our decking team.
What will you use your deck for?
Building a deck can add an outdoor living space to your home. It's a home improvement project that has immediate benefits when it's done. But first you need a plan to get you there.
Start with asking yourself "what will I use the deck for?" That will help determine a lot of your plan including the look, size, and materials of your deck.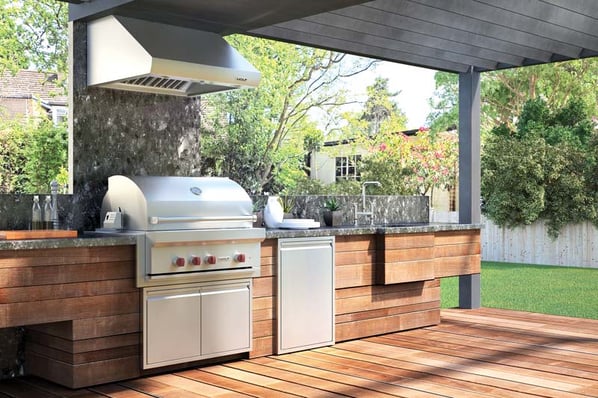 An Ipe hardwood deck with outdoor kitchen and pergola extends your living space outdoors.
Using the deck as an area to relax and enjoy the fresh air? Your deck can be a simple flat surface. Clean, simple lines are easy to build, too. And a simple deck lends itself to a small backyard design.
Want separate areas for activities? Planning to cook and dine, practice yoga, entertain? Built in seating or a wood pergola to defines your spaces. To entertain, plan levels with gathering places and include "beverage-friendly" countertops along railings. The possibilities are limited only by your lifestyle.
---
Looking for deck idea inspiration? We have you covered. Download the free eBook now for over 150 photos of deck designs and uses.
---
Do It Yourself or Hire a Decking Contractor?
Who will build your deck? Before deciding if you will build your deck or hire a professional deck contractor consider these three questions: Are you a serious and experienced DIY-er? Are you familiar with the local building code requirements? Have you worked with hardwoods before?
If you decide to build the deck yourself, carefully consider the deck design and materials you choose. Both should have features that include strength, durability, and proper footings and support.
Choosing an experienced contractor can ease your pain. If you decide to choose a contractor, be sure they are experienced in the building decks, pulling permits in your locale, licensed, and insured. For additional information, here's a good article about choosing the right decking contractor.
Whether you DIY or hire a contractor, another factor to think about is how much upkeep you are willing to do each year to keep the deck in its best condition. The materials you choose play a big part in maintenance needs.
Decking Materials and How to Choose
Now that you have decided how you will use your deck and who will build it, let's discuss what you will use to build it. There are so many decking materials out there to choose from, composite decking to natural wood. It can make your head spin! Let's narrow it down to the most popular choices.
We talked about how you will use your deck and that use affects your materials choice. Kids, pets, or frequent entertaining require decking materials that can handle heavy foot traffic, spills, and the wear and tear of furniture. It also requires decking that is safe and comfortable for bare feet and paws. And then there's a comparison of the lifetime cost. With those points in mind, let's cover the pros and cons of these materials.
---
A free, handy guide when selecting from all the decking options covered here, download the PDF now.
---
Composite Decking
Composite decking gives you the look of painted or stained wood without as much upkeep. Quality composite decking holds color better than paint or stains through all weather. It won't crack or split like softwoods and lower quality hardwoods. It will of course require regular cleaning, basic maintenance, and replacement of damaged planks over time. But you can choose from a several color options without the need to stain or paint again. And if you prefer the look of a consistent, uniform color and grain pattern, composites can provide that. The lifetime of a composite deck is roughly 25 years with proper care.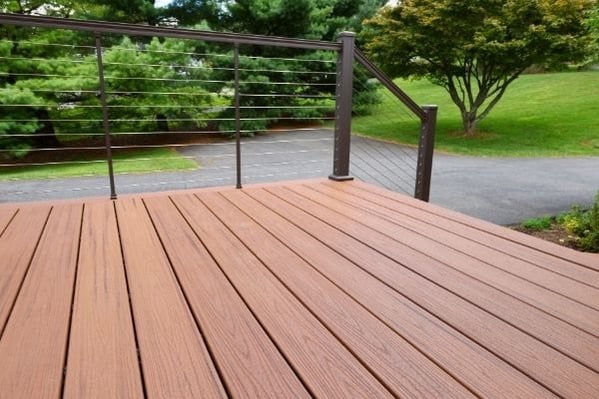 A composite deck with metal railings.
Composites still have downsides. For one, composites are plastic based. Plastics and bright sunlight combine to make heat. Bare feet on a composite deck in the summer is like walking across hot sand at the beach – you'll be hopping over it to find a cool spot.
In all seasons, composites tends to hold water puddled on the surface which is a concern in freezing temps. And while it won't split like softwoods, plastic can warp in the sun and will stay warped. Compared to wood that naturally expands and contracts along the grain, composite can't return to its original form.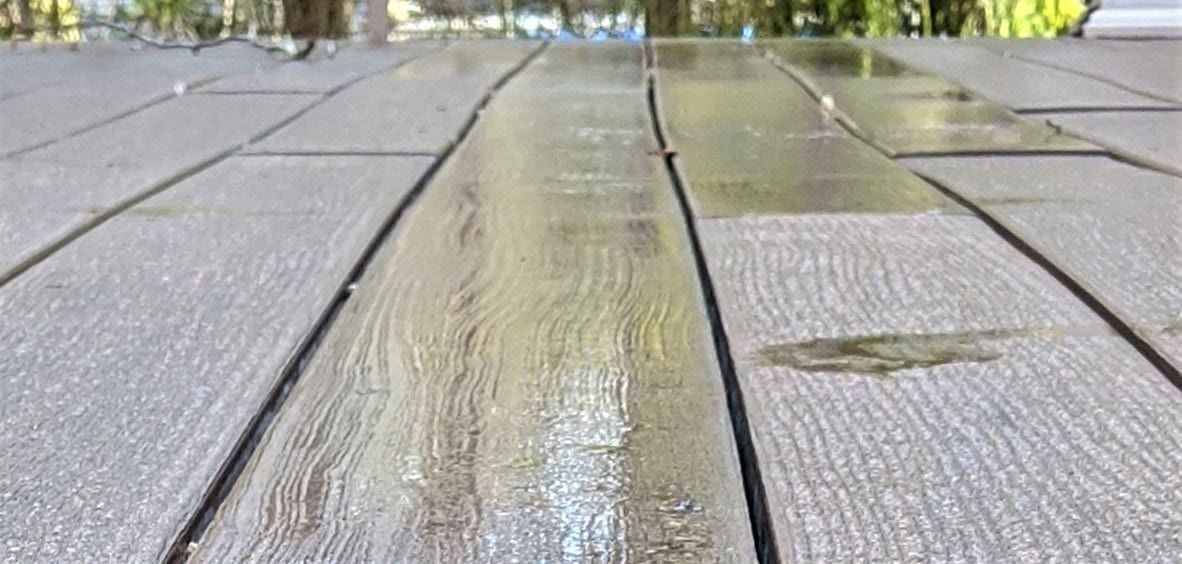 The composite deck shown here is 8 years old. Composite decks have stable, consistent color and embossed grain but heat can warp it over time.
Softwood Decking
Cedar and pressure treated pine wood decking are top softwood choices. You can paint or stain them in colors or allow to weather to gray it out naturally. Cedar does not require chemical treatment. Softwoods are known for their low fiber density so they are easy to cut and build with. Cedar has lovely red graining that is a classic look for decking. Pine has the rustic look, (often knotty), that appeals to many homeowners.
| | |
| --- | --- |
| A prettily decorated new, small cedar deck | Close-up view of weathered cedar decking |
The downside is that cedar and even pre-treated pine are more prone to insect damage, rot, and water damage than hardwoods. Weather takes its toll and softwoods show wear and tear more easily: gouges from patio chairs, Uncle Al's cigar burn, and daily foot traffic. These will all show up and stay visible on softwoods. If you are ok with the distressed look on your deck, this might not be a big deal to you. If it is a big deal, sanding and repainting or replacing boards will be the best way to repair damage.
| | |
| --- | --- |
| A pine deck painted a country red. | A detail of weathered pine decking |
Regular upkeep for softwoods includes cleaning, sanding, sealing, and re-staining or re-painting to maintain its looks. The average lifetime of a consistently maintained cedar deck is about 25 years, or 10-15 if left untreated. The average lifespan of a treated pine deck is 15-20 years with consistent maintenance, and just a few short years without.
Hardwood Decking
Quality tropical hardwoods are very popular choices for residential and commercial decks since they are naturally damage resistant, need little maintenance, and require no chemical treatment. Scratches sand out, they weather to a natural silvery patina with little upkeep required, or the "like new" look can be kept with minimum work.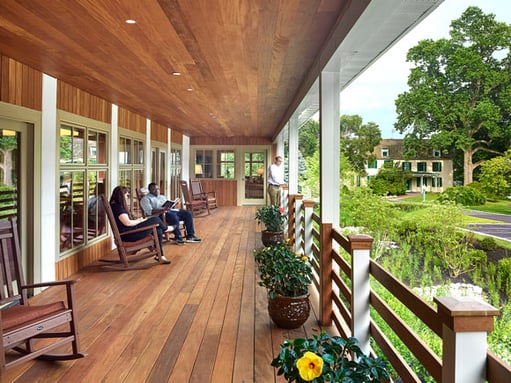 A Garapa hardwood porch and soffit surround this entrance with a warm, relaxing vibe.
The downsides of tropical hardwoods are the flip side of the high fiber density. They are harder cut than softwoods, but the right saw blades and tools solve that concern. Much less maintenance is required but it's harder to stain since it won't absorb most stains. An oil based UV sealer is a great option. (We have tested and frequently use Penofin Hardwood Formula Penetrating Oil Finish). You can pre-finish your hardwood decking with tinted finish stains or, hardwoods come in so many gorgeous natural colors and patterns you may prefer a natural finish!
The hardwood decking upfront investment is higher. But, especially if your decking is left to weather naturally, the lower maintenance costs and labor savings over the lifetime of a hardwood deck is significantly lower than softwoods This gives you an equally significant higher return on investment in the long run.
Here are the 3 most popular hardwood decking choices.
---
Download your free copy of the Ultimate Guide to Selecting
The Right Decking now.
---
Why Ipe Decking?
Sustainable Ipe hardwood is so resistant to fugal decay and termites that it is the material that all other decking wood is compared to. Ipe has a full spectrum of beautiful colors ranging from tans to olive browns and to reddish to dark browns. The natural graining variations found in Ipe are like the variations you would find in a hardwood floor. Left untreated, it will mellow to a soft, silvery patina that requires very little maintenance. Imagine walking outside on to your deck with that kind of good looks without all the extra work!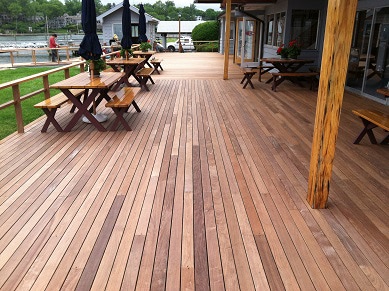 Why Machiche Decking?
Mataverde FSC® Certified Machiche is sustainably harvested and affordably priced. It is slightly less dense than Ipe. It still has many beautiful and durable hardwood characteristics in common with Ipe hardwood including insect and rot resistance, strength, and longevity.
All heartwood, Machiche ranges in color from light brown to reddish brown and medium chocolate brown colors and the graining is stunning. Add a coat of UV protectant oil penetrating sealer, (we like

Penofin Hardwood Formula Penetrating Oil Finish

), and Machiche decking develops a rich chocolate coloration.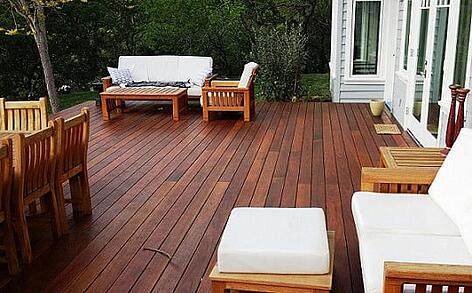 Why Garapa Decking?
Garapa decking is a tough, dense wood with a soft looking, satiny grain. Garapa has a lower density than Ipe and Machiche but is still considerably stronger, harder, and heavier than oak. It is also more affordable while still keeping similar characteristics to Ipe and Machiche like strength, durability, and looks. Garapa also has natural resistance to insects, rot, and other causes of deck decay.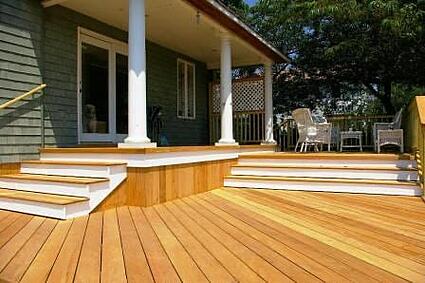 Mataverde Garapa decking exhibits lots of character striping and color variation. Combined with the affordability, this makes Garapa a top choice for decking. It will turn a soft, silver patina if left natural and is very low maintenance. Compared to typical decking woods like pine and cedar, Garapa decking is extraordinarily resistant to shrinking, splintering, cupping, twisting, checking, and warping.
Armed with this knowledge, are you ready to take your first step in your deck project plan? If you need any help, we're here, just contact us. Our team can start you off with pricing or answer any questions you might have.
Comments
Related Posts