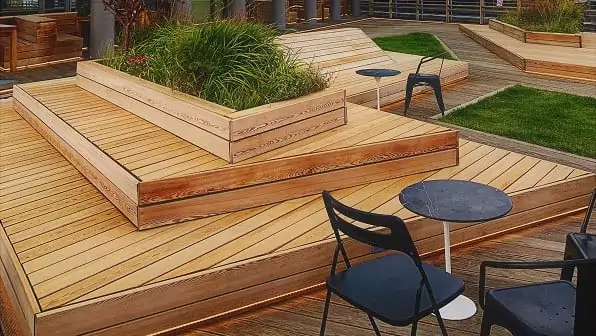 Rooftop Deck Design Tips That Add Value To Your Business
Written by
Liza Sivek
on
Rooftop decks provide the outdoor space in demand at offices. They aren't just for breaks. Wood rooftop decks are co-working areas, meeting rooms, a place to entertain clients, or all of the above. The right decking is sustainable, low maintenance, and stunning. This article will give you tips designing an impressive rooftop deck that will enhance your workplace.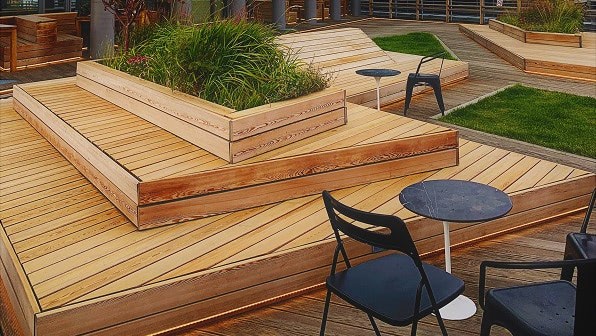 Employees and job seekers at all levels want a good reason to come back on site after years of pandemic remote work.
The office workforce is demanding an escape from the cubicle and recirculated air.
Open floor plans are losing favor because they are noisy and still inside four walls.
How can you, as a business owner, build a better environment to attract and retain the best employees? Outdoor spaces.
Outdoor spaces are high on the list of motivating factors for the corporate workforce. They create a huge employee wellness benefit, and are enticing remote employees back to the office.
Big business has already embraced this concept because it works. PepsiCo, KPMG, L.L. Bean, Amazon and Apple are just a few, because it works for them.
And if you can't build out around your building, you can build up, as many other office buildings and property owners have.
---
"Employers …have embraced the outdoor office concept and have provided outdoor living rooms, courtyards, and recreational space for employees. "
- BenefitNews.com, Outdoor Workspaces Impact Employee Well Being
---
Download the "Rooftop Deck Design Idea Portfolio" here,
a free resource full of spectacular ideas and information.

---
R
ooftop Deck Design Requires Planning
A quick caution before you start designing that dream rooftop deck. Be sure that:
your building can handle the weight of a rooftop deck

your local building codes allow one

you check if your business complex has restrictions.
Here's a more detailed article about these questions that can help, "Building A Rooftop Deck: 6 Steps to Success"
---
Get inspired! Download your free PDF, "Rooftop Deck Design Ideas Portfolio"
---
Why Design a Rooftop Deck with Hardwood Decking?
Short answer: Natural, high-density hardwood will save you time, money, and labor, and still give you a high lifetime return on investment.
A rooftop deck can create both functional and leisure spaces for your team, right on site, and foster teamwork. Using natural hardwood decking material makes it a more comfortable and welcoming space without adding maintenance or long term costs.
Natural exotic hardwoods are sustainable, require extraordinarily little maintenance in comparison to other decking materials. No painting or staining required.

High density hardwoods have the highest resistance to rot, moisture damage, insect damage, foot traffic and wear and tear – naturally.

Hardwoods do not fade or bend in heat like composites can. Composites, made from PVC plastics, are not suggested for high UV areas like rooftops for these reasons.

These hardwoods also have the highest bending strength so can handle crowds and heavy load items like pergolas and planters.

Natural hardwoods last decades over pressure treated lumber and composites, and keep their good looks just as long.
There's a comprehensive, free resource for you right here about selecting the right decking material for your deck. Check it out: The Ultimate Guide to Selecting the Right Decking.


Rooftop deck with stairs brings your office outdoors with a view. Add tables and chairs for co-working, meeting with clients, working lunches, or breaks and your team won't have to leave the building to be outdoors.
RELATED: Maintaining a Hardwood Deck, What's Really Required?
Wood Rooftop Deck Design as an Employee Wellness Benefit
When designing a wood rooftop deck, think about what the vibe should be.
How will best it best benefit your employees? What vibe serves them best to motivate and reenergize?
And how can your rooftop deck design create the right focus and mindset for your team?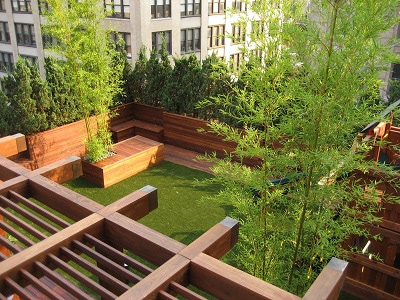 Turf, built in seating, and planters make for a park-like atmosphere a step outside from the office.
---
"This trend of outdoor workspaces is another way employers are shifting their focus to an employee's well-being and happiness. When employees feel good, businesses do well."
– BenefitNews.com, "Outdoor Spaces Impact Employee Well Being"
---
This rooftop deck made with Garapa includes built in seating that will last as long as the deck, and a stone faced fireplace. Perfect for fall meetings and evening networking events.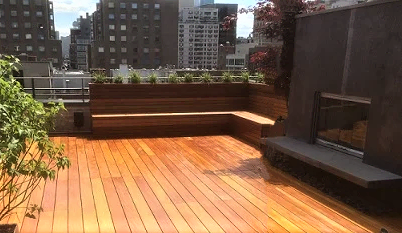 Design a Wood Rooftop Deck That Is a Fit With Your Brand
Show your clients you don't just talk the talk but walk the walk.
Company with a focus on sports? A rooftop pool or basketball court next to co-working space may be most intriguing to your workforce. It also shows clients you mean business about fitness.
Durable hardwood decking such as Garapa, a golden blonde tone wood, are perfect for this kind of rooftop deck design. Ipe wood is the strongest hardwood available and is the standard all others are compared to.
These sustainable exotic hardwoods won't show wear from heavy foot traffic, are rot and moisture resistant, and require minimum care.
A Garapa hardwood deck includes a custom basketball court. Garapa was chosen since it won't show scratches and wear from feet and sports equipment.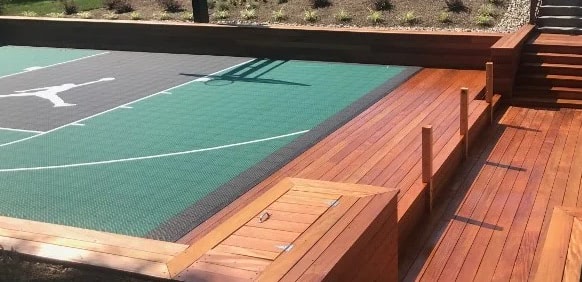 Ipe wood is strong enough and moisture resistant enough to be used around a company pool. It is also naturally low-slippage.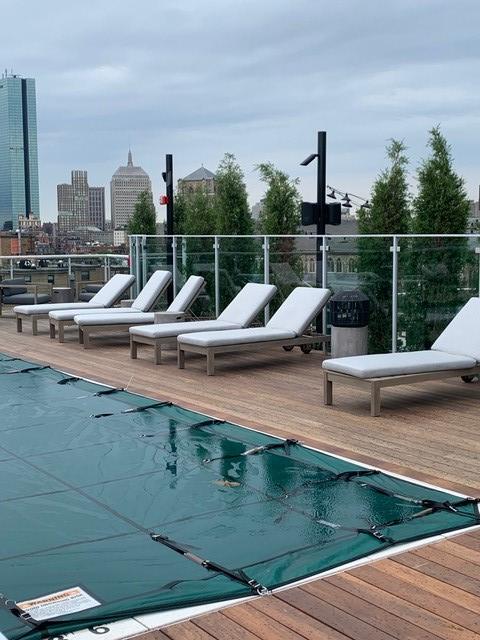 RELATED: View Pictures of Rooftop Deck Design Ideas
A beauty or wellness company may want to design a relaxing spa-like space.
Built in planters and seating under the sky give your space a calm vibe that lets employees and clients alike take a deep breath or a walking meeting.
RELATED: Dream Big With These Rooftop Deck Design Ideas
Exotic, medium to dark brown-grained Ipe feels softer and much cooler underfoot than composite during Yoga hour, and shows off beautiful patterns.
Composites are not a good choice for rooftop decks since there is heavy UV and weather exposure. it can fade and warp over time. Composites, made with plastic, have high resistantance to insect damage and mold, and have very easy upkeep.
RELATED: Compare Ipe Wood vs Composite Decking
RELATED: Compare Ipe Wood vs Other Wood Decking Materials
---
Have questions? Our team can help. We are here to answer question and
guide you on first steps, no obligation.
---
Professionals in tech might prefer that steel, wood, and cement look for their building.
Adding a balcony meeting area is a terrific way to encourage people to get outside for that strategy meeting.
Natural wood softens the hard edges and cold feeling of glass and metal in a "startup vibe" way, even if you aren't a startup anymore. It also adds natural sustainable material.
All exotic hardwoods like Machiche will age to a silvery-gray patina with a soft, satiny finish that requires no sealing and no extra maintenance. This glass and cement balcony overlooks the Bay Area of San Francisco, California. It was allowed to weather over time, including the Machiche table.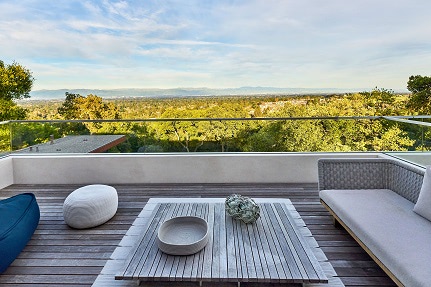 Green company? Environmentally conscious? Use FSC Certified Sustainable hardwood decking and in your overhead design. Include raised garden beds, maybe natural stone pavers for contrast, and spots to work together or solo, and lots of tech stations. Even the custom wood pergola here, below, is FSC Certified Machiche.
RELATED: What is Forest Stewardship Council (FSC) Certification?
RELATED: What Is FSC Certified Machiche Decking?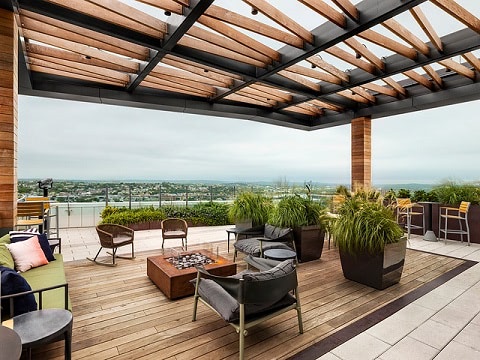 Think FSC Certified Machiche for beautiful graining patterns and medium to dark chocolate brown colors. It requires just oil-based sealant for UV protection, like all low maintenance hardwoods mentioned here, and cleaning as needed - and that's it!
Hardwood decking requires NO staining, painting, or chemical treatment for insect and rot protection.
These hardwood decking materials are remarkably high fiber density and so are naturally resistant to several environmental threats. That saves you time and money. Oil based UV protectant keeps it looking new, or allow to weather naturally to silver gray with no sealant needed again (unlike soft woods.)
RELATED: Guide to How Exterior Decking Woods Weather
Another sustainable hardwood is Ipe wood. Below, this rooftop deck in New York City has multiple entertainment and seating areas, designed and built by Organic Gardeners. The built in benches, greenery planters, and privacy walls are all Ipe wood, which last decades with minimal care.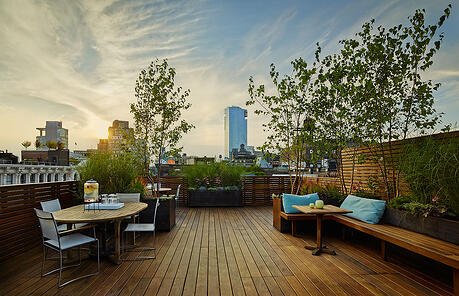 All exotic hardwoods, like Machiche and Ipe, will age to a silvery-gray patina with a soft, satiny finish that requires no sealing and no extra maintenance.
RELATED: Weathered Decking Picture Gallery
---
"This trend of outdoor workspaces is another way employers are shifting their focus to an employee's well-being and happiness. When employees feel good, businesses do well."
https://www.benefitnews.com/news/outdoor-workspaces-impact-employee-well-being
---
Wood Rooftop Deck Design Outdoor Meeting Space
There are several approaches to designing a rooftop deck meeting area.
Small rooftop area? One option is to build a small conversation area that allows people to sit comfortably while enjoying the view.
Ipe wood rooftop deck with diagonal decking plank placement creates interest in a small rooftop conversation space. Use your small "dead space" on the top of your building and turn it into luxury space.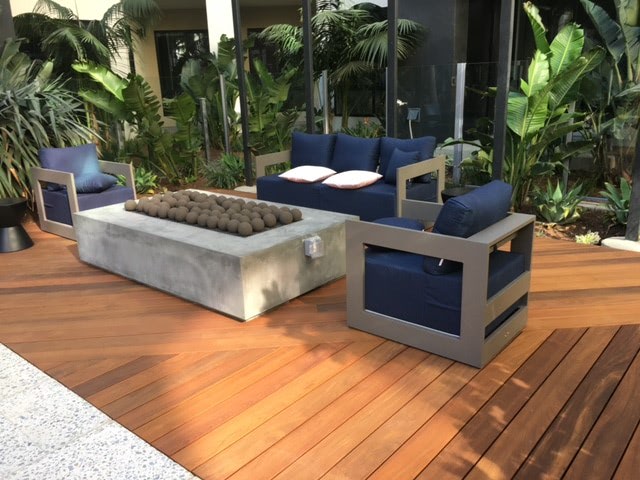 Prefer to be more traditional? Put a conference table and chairs on a wood deck surrounded by greenery. This creates a nicer meeting area, without walls. Here's a great example in Boston, MA, using Ipe wood.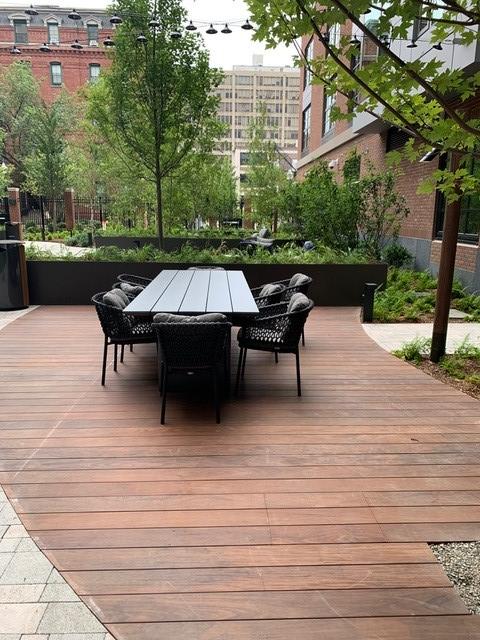 ---
Grab your free copy of the "Rooftop Deck Design Ideas Portfolio" here for more ideas to consider.
---
This area is one quiet corner of a larger wood rooftop deck. Have a wide area to work with? Build a large deck that extends across the entire roof with distinct areas for working, meeting, and leisure.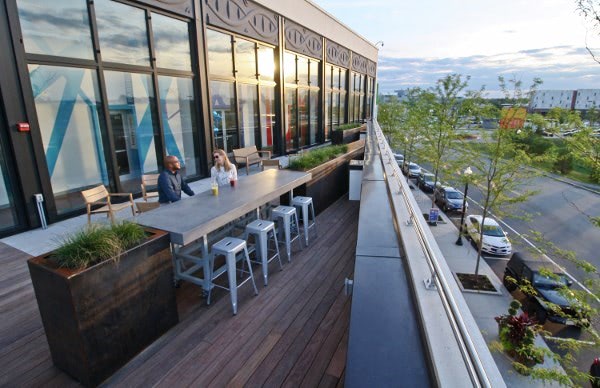 Wood Rooftop Deck Design with Garden Areas
Consider adding a garden space in your rooftop deck design. A park-like atmosphere is a fantastic way to add healthy, invigorating space to your rooftop deck design. If you have a city based building, putting that space above can be a great option.
Maybe a garden is more on brand for you, or you have a business that deals with healing and recovery. Urban based hospitals often use rooftop garden decks as peaceful escapes for medical staff, patients, and families.
No matter your business, these green areas provide a place where any employee can relax and enjoy the fresh air and natural elements. Yoga classes welcome!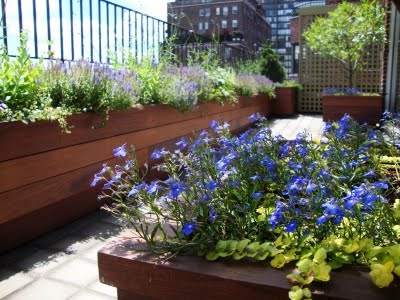 RELATED: Stunning Rooftop Wood Deck Design with 9 Separate Gardens
Adding greenery and wood garden planters along paths is a good way to bring nature to your rooftop deck design. Built in planters can also make a great way to separate areas with architectural flair. These custom Ipe wood planters designed to be different, and can easily sustain the weight and moisture levels required for a deck planter.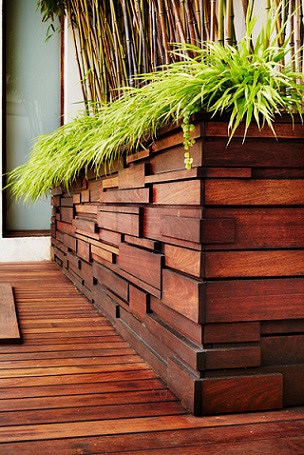 Bonus: Rooftop Decks Entice Clients
If your team meets with clients, having a rooftop meeting space is not only impressive, but it can also set the bar exceedingly high for your competition. Your team will appreciate the option, too.
Who looks more successful, cutting edge, and cares about their team? The building with the same old stuffy, wood veneer, conference room, or the one that invites them outside to fresh air, greenery, real wood decking, and a view?
---
More wood rooftop decking information and pictures to inspire design ideas
in the "Rooftop Deck Project Portfolio" here, free
---
Lastly, we will pass on L.L. Bean's suggestions on how to get your employees co-working outside, as listed at Forbes.com:
"Since office employees everywhere can benefit from more time outside, here are a few practical tips from L.L. Bean on ways to get your employees outside during the workday:
H

ave a patio area with tables, chairs, and umbrellas

Equip your company's outdoor area with Wi-Fi, power outlets, and anti-glare screens

Let employees reserve the patio area for meetings just like any conference room

Try

team-building exercises in the park

Schedule walking meetings

Conduct interviews outdoors

Have managers hold weekly 1-on-1 alfresco check-ins"
As you can see, the right rooftop deck design can bring value long term to your business. Ready to see more? Grab these free downloads for more information on deck design and selecting the right decking material.
---
---
---
Want to get the first rooftop deck design steps started? Curious about pricing? Our team can help. Contact us here.
Related Posts