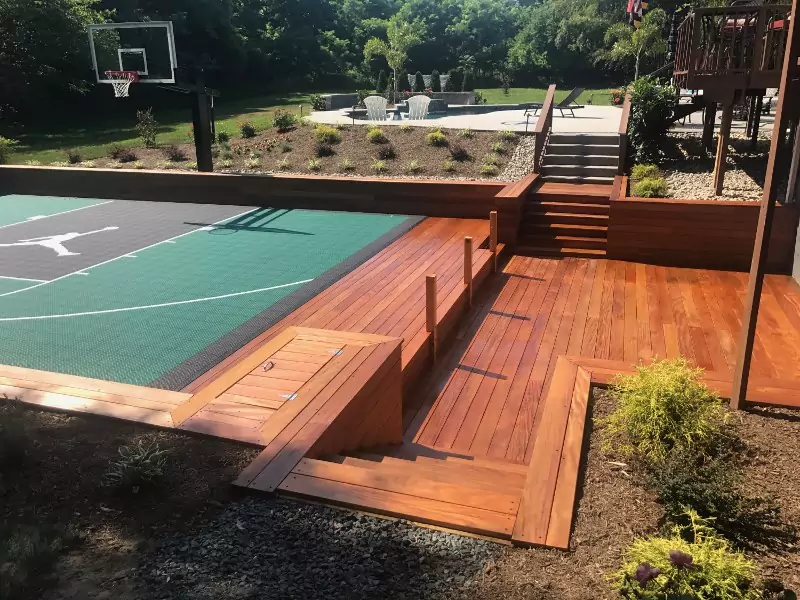 19 Brilliant Ways to Design with Hardwood Decking
Written by
Liza Sivek
on
Natural hardwood decking is second-to-none in beauty, longevity, and low maintenance. There are many, many styles and uses to spark your imagination. We have collected 19 ideas for you here so you can start not just dreaming, but planning.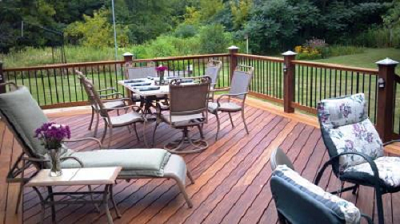 Hardwood decking is preferred by designers for its range of natural graining, colors, and an overall look and feel that can't be duplicated with synthetic decking. Builders prefer it for its strength, stability, and long lasting durability. Homeowners and property owners choose hardwood decking for its beauty and low investment over the lifetime of the deck.
Premium hardwood decking species such as Ipe, Machiche, Cumaru, and Garapa elevate your project into a stand-out feature of your home. So, if professionals choose it over other materials the next question is, "How can I use it to make my home amazing?" Let's get the inspiration started.
---
We put together a Free Download of 150+ Photos of Deck Design portfolio for you
---
1. Backyard Deck
This one is obvious, right? But here's why it matters when choosing hardwoods like Ipe, Machiche, Cumaru, and Garapa over softwoods like Cedar and Pine, for this or any of the projects listed here. The dense hardwood fibers won't absorb water the way softwoods will, meaning no rotting and less splitting.
Hardwood decking can beautifully handle family time, pets, deck furniture and toys since it is highly resistant to scratches and abrasions. A simple oil finish with a UV protectant, like Penofin Hardwood Oil Finish, can retain the beauty and color of the wood like new. Or, let your deck weather to a natural silver-gray patina; you won't lose the natural patterns and you gain even less needed maintenance. Can't beat that!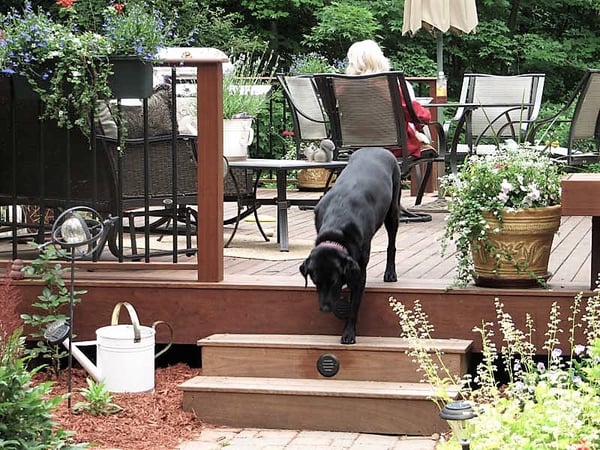 Hardwood decking makes any backyard your own custom retreat from a busy day.
---
Free download, learn how to choose the best decking material for your project
---
2. Pool Surround
Elevate your pool deck from blah to spa! Mataverde hardwood decking materials are rot and insect-resistant so make natural choices for a pool deck. Besides beauty, choose Ipe or other hardwood decking decking options over softwoods or pavers around pools for its naturally low-slippage and low-splintering qualities. Hardwoods will not absorb excessive heat the way pavers and artificial laminates will, making your deck way more comfortable on bare feet.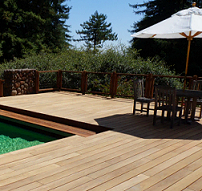 A Mataverde Ipe pool surround extends even into the first step into the water, a high-quality, low maintenance perk you don't get with softwoods and pre-treated lumber.
---
Over 60 pages of deck design ideas and inspiration, all for you, for free.
---
3. Outdoor Shower
While on the subject of water, Ipe, Machiche, Cumaru, and Garapa are a good choice for outdoor showers by pools, hot tubs, beaches, or the waterfront. Resistant to rot, insect, warping and checking, Ipe makes your wood outdoor shower a low-maintenance, and an excellent long-term investment. Whether jumping in the lake or your lap pool, an outdoor shower made of a natural hardwood requires little upkeep and feels like pampering each time you step into it.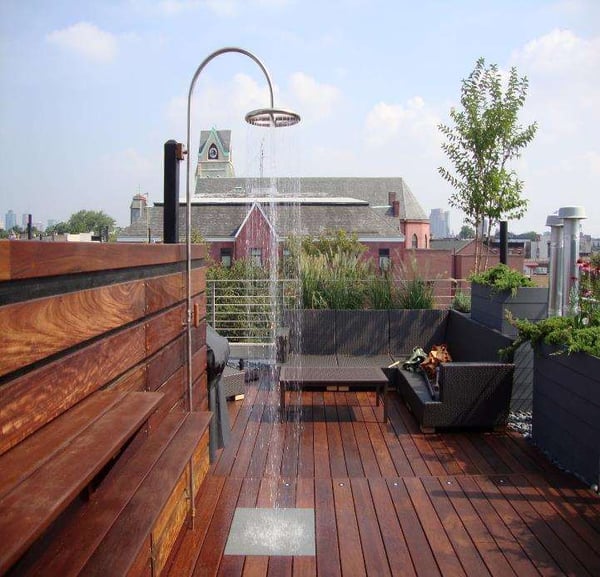 Enjoy a spa-like experience right on your own deck, by the pool or the beach.
---
Find the best material for your dream deck design, download our free guide.
---
4. Walkway
If your property is rocky, wet, steep, or even sandy, you may want to add a path. It is a gorgeous design element that lends itself naturally to your landscape. Hardwood decking provides its inherent strength and durability needed for this type of feature. If you have wetlands, think Ipe and Machiche. For sandy or rocky areas, why not choose Garapa or Cumaru decking?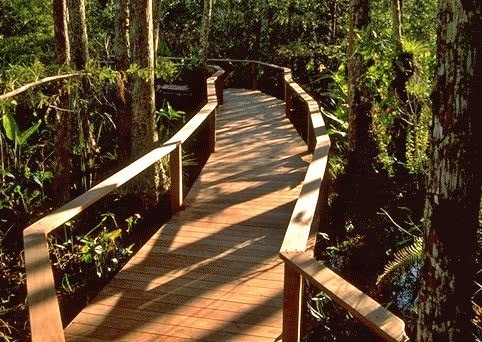 Ipe decking and walkway in a nature preserve: a serene and lovely project you can recreate at home.
---
Want even more inspiration? Download for Free:

---
5. Built In Benches and Deck Seating
Hardwood decking species like Ipe decking, Machiche, Cumaru, and Garapa are essential for strong decks. So, why not extend that quality to your deck seating? Built in hardwood seating can be added along the edges of your deck to create a little separation and privacy. Use them for dining, entertaining, and relaxing.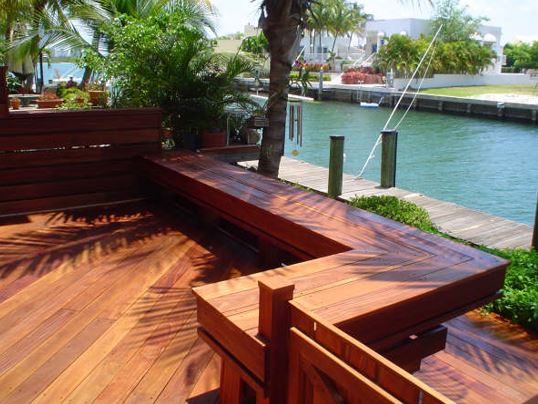 The beautifully varied tones of Mataverde Garapa adds another layer of design interest to this Florida deck, surrounded by built in benches and a water view.
---
---
6. Sports and Recreation
"Hello, ESPN? We're ready for you." Athletic families can get the home court advantage with decking that gives you all the benefits of hardwood, right at courtside. Perfect for pre-game stretches, spectator seating, and post-game interviews with Mom or the home team.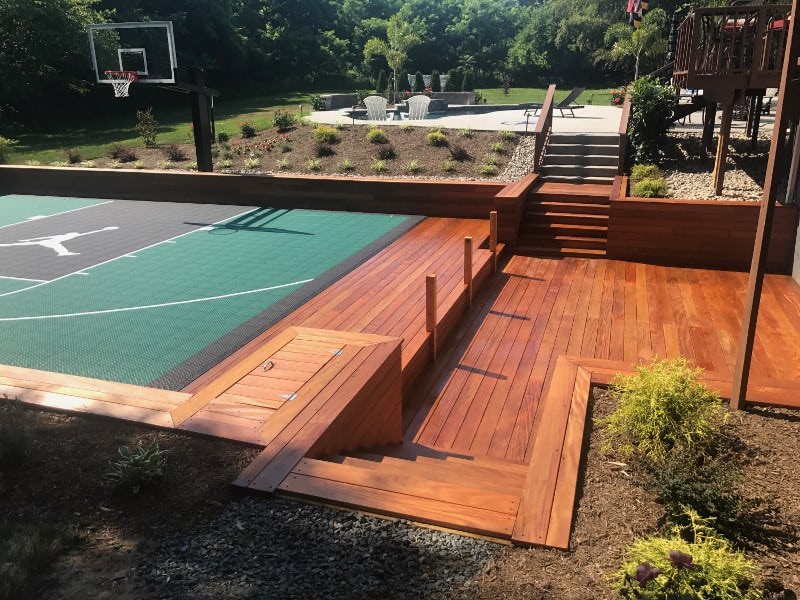 Choosing Mataverde hardwood for their courtside deck and stairs, this family knows it take the wear and tear of courtside action so they can concentrate on practice.
---
7. Rooftop decks
Elevate your living space with a rooftop deck in country, suburban or urban settings. While more extensive planning is needed for a deck on an upper level, a hardwood rooftop deck can be enjoyed in all seasons and in all the ways a backyard deck or outdoor room can be used, while taking advantage of the view.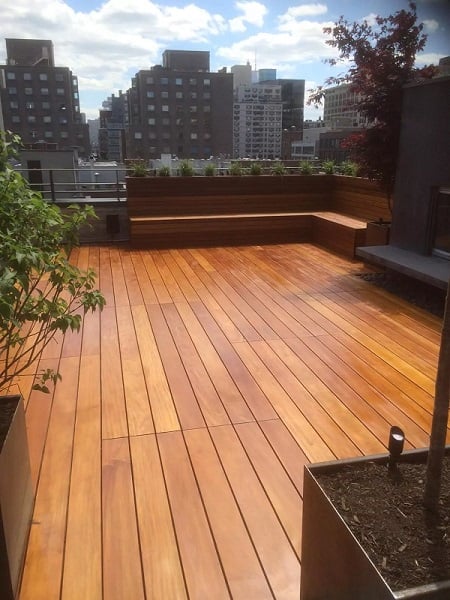 Mataverde Garapa rooftop deck in New York City is ready and waiting for and family time or yoga class.
---
---
8. Pergolas
Added to an existing deck, planned into a new one, or as a stand-alone a hardwood pergola can increase the use of your yard by adding an area for dining, relaxing or exercising. A pergola can be constructed with Ipe, Machiche, Cumaru, and Garapa. It's a naturally beautiful and practical way to add a little shade, a place to have morning coffee, or to bring your laptop and that video meeting outside in the fresh air.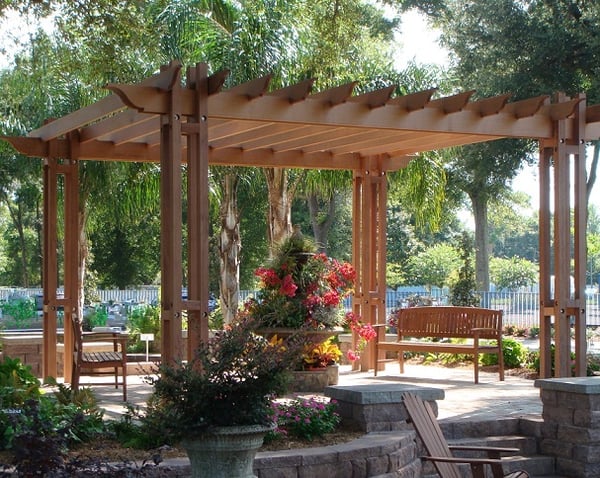 A hardwood pergola and benches add an outdoor "room" to your yard and can create a separate space for everything from a movie night to working from home.
---
Find More Pergola Inspiration, Download the 60 page Deck Ideas E-Book Now
---
9. Arbor or Trellis
The pergola's smaller, showier cousin, hardwood arbors, can be used for gardening, privacy, decoration, or all of the above. Arbors and trellises are a lovely way to add color and vertical gardening to a deck, dotted along the sides or tucked between you and a less-than optimal view.
And when you build your arbor or trellis with exterior hardwoods, they will not need regular repairs or replacement due to water damage, checking, splitting, cupping or bending. High density hardwoods will naturally weather to gray, or can be protected with Penofin Hardwood Oil Finish as needed to keep the like-new wood look.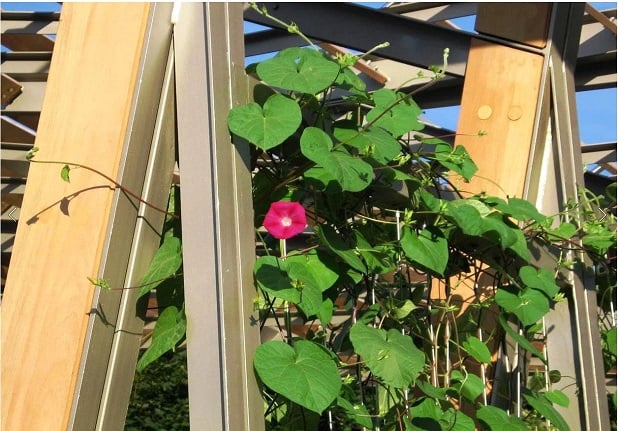 A hardwood arbor offers color, privacy and vertical gardening all in one sturdy and attractive feature.
---
10. Tiny Retreat
Whether a tiny house, artist studio, she-shed, man-cave or workshop, every tiny house and outbuilding can benefit from a hardwood deck. It brings you up to the level of the doorway, gives the building a finished look, and a ready place to sit outside off the ground. Considering how low maintenance a weathered hardwood deck is, it really does create a serene hide-away (when you know there won't be extra work).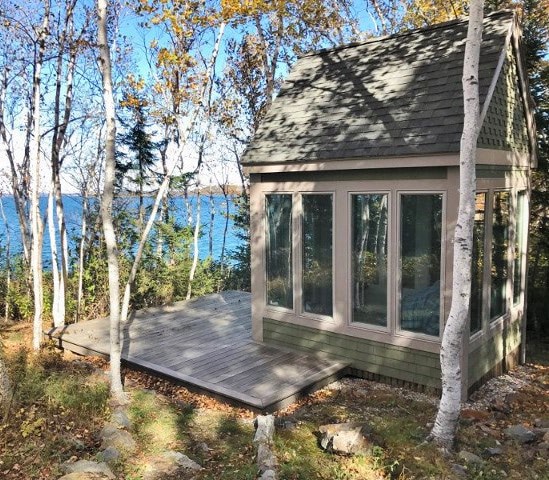 An artist studio in Maine creates a level area on a rocky coastline, perfect for painting or relaxing, and the Mataverde Garapa weathered to a coveted silvery gray.
---
Download your Free Guide to How Woods Weather here
---
11. Multi-level Decks
Your property, architecture or preference may call for a multi-level deck to suit the terrain or design of your project. Hardwood decking lends itself to the visual flow of steps and levels. It can be custom fit to the exterior of your home while giving you that warmth and texture that makes it a showstopper.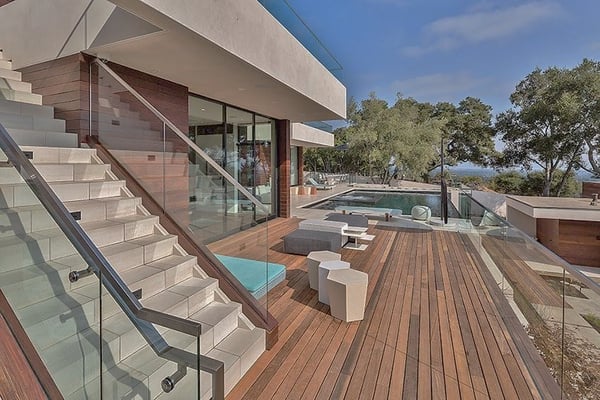 This modern multi-level pool deck combines large expanses of hardwood with cement, so that the warm, natural element visually softens the design edges.
---

---
12. Covered Porches
A porch is just a deck that listens to country music. (OK, maybe that's just me?) The same reasons hardwood decking is the best choice for a deck apply to a porch. Porches tend to be enclosed underneath, meaning potentially trapped moisture, and have an overhang or roof.
Hardwood decking performs wonderfully under these circumstances. With proper installation, Ipe, Machiche, Cumaru, and Garapa can "breathe" between boards, allowing moisture to escape from under the porch. hardwood decking is naturally resistant to decay, rot and insects.
You choose hardwood for your soffits and siding, too. Low maintenance and gorgeous to look at, all in one step. Rocking chairs and guitars welcome!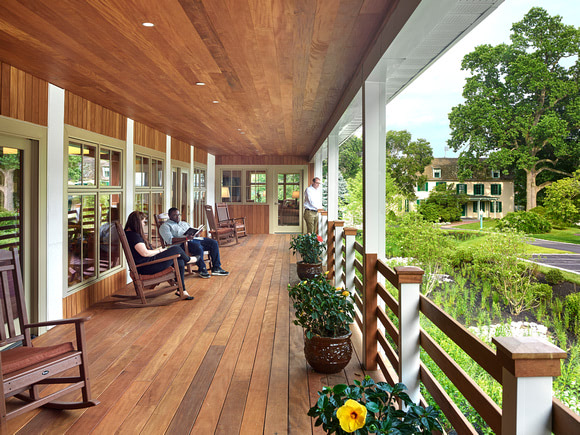 Relax and entertain on a hardwood covered porch with stunning looks and low maintenance needs, the best of both worlds.
---

---
13. Docks and Piers
Fisherman and boaters take notice! Ipe, Machiche and Garapa are three hardwood decking choices ideal for marine construction. So if you live on the water and want to fish from your own dock, tie up your boat, hop in your kayaks, or just watch the sunset, you can't go wrong.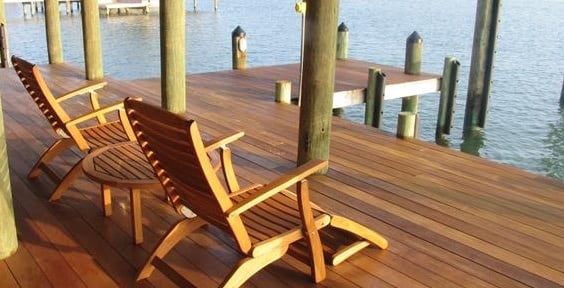 Ipe dock and furniture creates living and recreation space where there was none, a step outside the door onto your waterfront.
---
More Waterfront Deck Design Ideas in our Marine Construction Photo Gallery Here
---
14. Built-in Deck Furniture
Built in seating is amazing, but sometimes you want it to change it up. For outdoor furniture, the same strength and hard-wearing qualities translate from the decking to custom outdoor furniture. Dining tables, benches and coffee tables have all been built out of Ipe, Machiche, Cumaru, and Garapa to match or coordinate with the deck.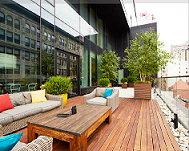 This urban escape includes a custom Ipe coffee table to match the decking in the conversation area, sure to last and look good no matter the weather.
---
---
15. Container Gardening
Planters and container gardens have seen a rise in popularity for many years now, both in urban and suburban locales. Having an herb garden, tomato plants, or even raised beds of veggies outside your kitchen is fun and a big convenience.
Hardwoods like Ipe, Machiche, Cumaru, and Garapa are preferable over softwoods when it comes to holding up to the abuse of soil and water. Hardwood planters are preferred over softwoods like cedar and pine since their high fiber density makes them naturally water, insect, and rot-resistant.
Yes, you should always use a liner, but no chemical treatments of the wood are needed! When designing your deck, keep in mind that built in planters, meant to be filled with dirt, are a heavy-load item that needs extra support.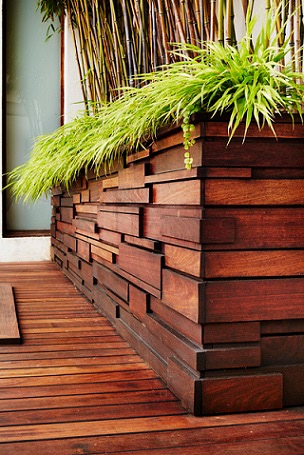 Bring your kitchen garden right outside your door and in reach without bending, using a built in hardwood raised bed container garden.
---
16. Wooden Playscapes
Long gone are the days of the steel frame swing set that came up out of the ground while you were swinging. Sturdy wood playscapes are now the top safe choice of parents. They can be added into beachfronts, urban rooftops or backyard lawns.
A hardwood playscape allows you to design forts and climbers that outlast your child's energy and requires little upkeep from you. Options like Ipe, (with naturally low splintering), Machiche, Cumaru, and Garapa give you a range of budget options for planning.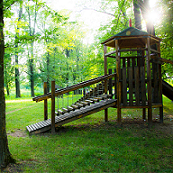 Wooden playscapes made of hardwood will withstand outdoor elements in any climate for years to come.
---
17. Privacy Screens
Some of us have decks very close to a neighbor's prying eyes. Whether for personal preference or required by local zoning, (such as for rooftop decks), hardwood privacy screens are a popular design choice over flimsy plastic fencing.
Place a privacy screen between houses, to hide a street view, around a hot tub, or on a rooftop deck. Privacy screens can be simple or a design accent. They can be designed to work as arbors or solid screens. With low chipping or checking and high strength, Ipe, Machiche, Cumaru, and Garapa screens and fences stay looking good as new for years, with no complaints from the neighbors.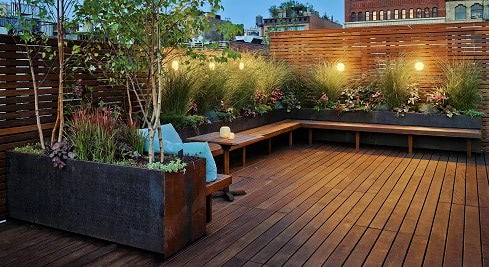 A rooftop deck with hardwood decking, planters and privacy screen in New York City
---

---
18. Architectural Elements
When thinking of architectural design elements, many of us picture steel and glass or old fashioned, heavy painted trim. But there is a trend to combine or replace those hard, cold features and antique pieces with the warmth and colors of natural wood.
And with hardwoods like Ipe, Machiche, or Cumaru, you get the same Class A fire rating. So there is no compromise in safety and strength. When adding flair to your deck, consider a hardwood pergola in a multi-toned pattern, or contrasting hardwoods for a deck.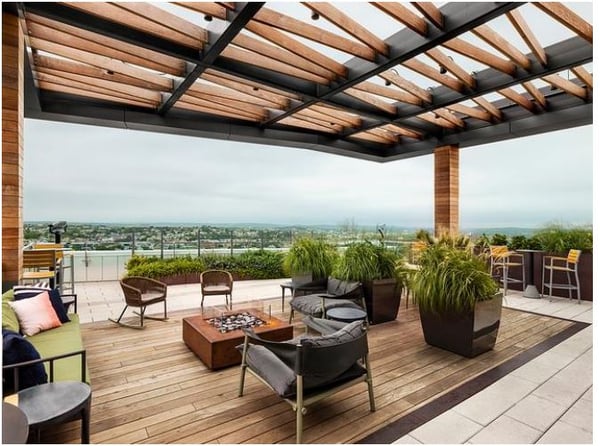 A contemporary pergola in two-tone hardwoods sets the scene for a comfortable deck with an edgy look and a sweeping view.
---

19. Pirate Ship
Ahrrrgh, this one speaks for itself, matey. Dream big and set sail!
This dream playscape, designed by her dad for his pirate princess, is built from Mataverde Ipe hardwood decking material, and a little pixie dust.
---
These 19 ideas for ways to build with hardwood decking is just the start. There are so many more design ideas to create your own custom features. Check out these resources we put together for you, then contact us to talk about your project and how Mataverde can help.
---
---
---
Check Out Decking Project Photo Galleries Here
---
---
Related Posts