Is A Rooftop Deck Worth the Investment?
Written by Liza Sivek on
There is a lot to consider when planning a rooftop deck, but is it worth it? The answer is a definite YES. Rooftop decks provide a return on your investment when done right and with the right materials.
New and add-on construction of rooftop decks has been accelerating since 2014. They are in demand for urban dwellers with no yard, and suburban clusters of units without a view. Home buyers and commercial clients have rooftop decks on their lists of "must-haves".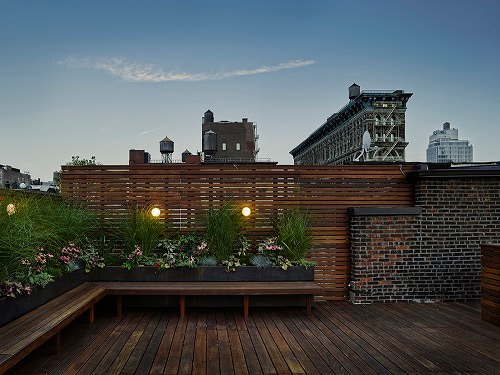 Hardwood combines with existing brick to make a rare gem of a rooftop room.
As you can see, rooftop decks are not only an on-trend home feature but a staple in high-end housing. Owners and developers know that rooftop decks can add a view for interior units and extend useful living space on all homes, therefore increasing resale value and rental income.
Commercial properties are incorporating rooftop spaces into residential and office buildings, for the benefit of residents and workers, to attract more and better tenants.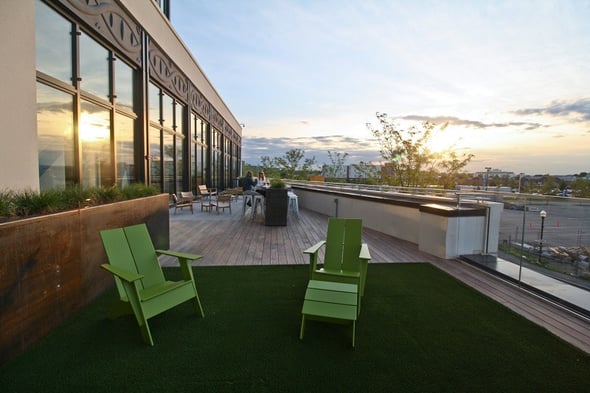 Hardwood decking and artificial turf make for a comfortable view of the city
What you need to know before planning a rooftop deck
The return on investment is good, but there is the investment in to be made first. To keep costs down think of the adage, "Proper Prior Planning Prevents Poor Performance". When adding to an existing roof an evaluation by an engineer or master builder is a must.
There is so much more to a rooftop deck than stepping out onto your roof from an open window. Roofs are not built for the additional weight of a deck, people, and furniture. You will need an experienced architect or rooftop deck designer for this kind of work.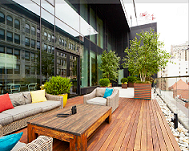 Long lasting Ipe hardwood is used for the decking and furniture on this funky and casual rooftop
Top 10 Things to Discuss with Your Architect, Engineer, Contractor or Building Inspector Before Starting a Rooftop Deck Project
The age and condition of the existing roof – make sure it gets a thorough inspection before you start. Issues found after the deck is built will be much more difficult, and expensive, to address.

The weather in your area. Will it be a 3-season space or 4 season space?

Is there a view you want to take advantage of?

How do you plan to use the deck?

Zoning restrictions. (A common rule is the rooftop deck cannot be seen from the street.)

Is there a Homeowners Association or Historic District that needs to be consulted? They may have additional rules.

Access and egress for construction materials and crane, and later for daily use and potential emergencies. Will there be a doorway from inside the home, a hatch, or an exterior stairwell?

Will you be needing electricity, natural gas, cable, plumbing?

Other logistical considerations are chimneys, AC units and other building features that may have to be moved or designed around.

Keep in mind that a rooftop deck gets full and heavier exposure to sun, wind, and weather. Use the best possible decking material your budget allows for longevity and low maintenance.



---
Looking for some deck design ideas?
Download the "Deck Design Ideas E-book" today.
61 pages featuring over 150 photos of real decks to inspire you.
---
Obviously a rooftop deck is well above ground, so that full exposure results in different criteria than a ground level deck when it comes to maintenance and durability. The very best way to take full advantage of a rooftop deck for years to come is to use decking materials that are proven to withstand heavy use and high exposure to weather, heat, and moisture.
Let's start with rooftop deck framing assembly. The Mataverde® Euro-Tec® Decking System has been used successfully in rooftop decks from a New England restaurant to a Seattle public space. The Euro-Tec® pedestal adjustability allows for airflow and building over uneven surfaces.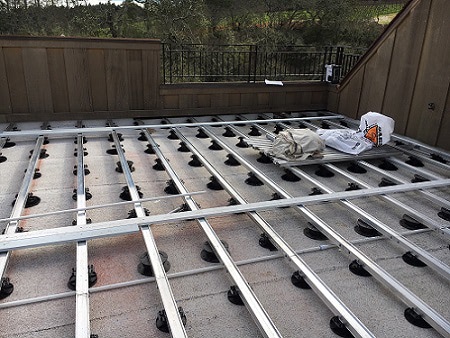 The best foundation for a rooftop deck is Euro-Tec pedestals and framing.
The Eurotec Aluminum System Profile is a significant upgrade over conventional framing lumber. These aluminum joists can create a lower profile for your rooftop deck. They are also non-combustible, lightweight and sturdy. They will not warp, split, twist or crack.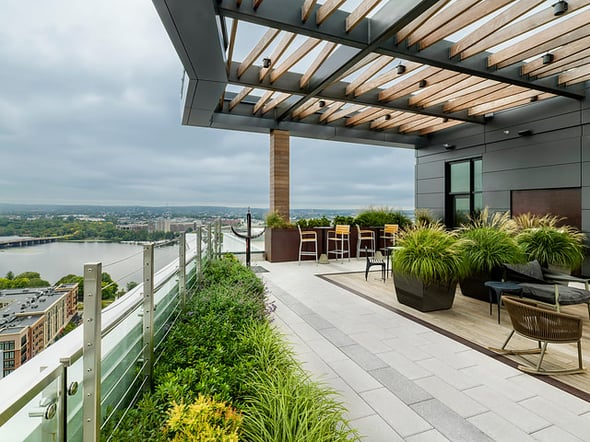 Ipe hardwood rooftop with contemporary two color pergola
Choosing the Right Decking Material for Your Rooftop Deck
There are so many options for decking material, it can be a little confusing. The unparalleled choice in beauty and durability are natural hardwood decking species like Ipe, Machiche, Garapa, ThermoWood and Cumaru.
Ipe hardwood decking is the standard that all other decking materials are compared to. Ipe hardwood can withstand the harsh heat and heavy moisture that rooftop decks are inevitably exposed to, and it has the highest strength of the exotic hardwood species. Ipe requires little annual maintenance. But all of these hardwoods have beautiful graining and natural color variations that can be kept "like-new" or allowed to weather to a coveted gray patina for low maintenance natural beauty.
---
Need a little help selecting the right decking for your project?
Download the "Ultimate Guide to Selecting the Right Decking" now.
---
Decking materials that are risky to use on rooftop deck installations include soft woods like pine, that tend to degrade quickly over time and require time-consuming maintenance. Pine, cedar, and other soft woods will need repair and replacement much sooner that hardwood decking species.
Vinyl, plastic and composite artificial woods are often considered the least desirable rooftop decking option since they retain all that heat, can burn bare feet and are prone to warping, bending, and significantly expanding and contracting.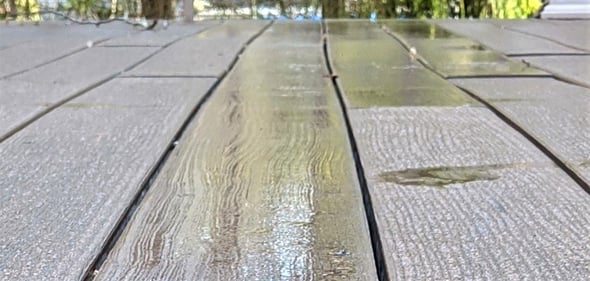 Composite decking material, like this 5 year old Trex decking, can warp and move with weather exposure making it a poor choice for rooftop decks.
Ten Benefits of a Rooftop Deck
That may seem like a lot to consider but the experts can help. Here are some of the many advantages and useful space that can be created with a rooftop deck:
Rooftop decks, especially those with a view, can add 5-8% resale value depending on your market, and can also increase rental income.

Environmentally friendly options like an Ipe or Machiche rooftop terrace and planter gardens are beautiful and sustainable ways to build.

Since they are higher up, rooftop decks enjoy more breezes and less (or no) flying bugs.

In a housing community or condo grouping, create an amazing view where before there were only walls.

Include lounging, dining, entertaining or gardening to the space. Whatever makes it yours.

Extended living space for sunrise yoga or sunset cocktails.

Extend the Wi-Fi for working outdoors.

Gain a bird's eye view of your neighborhood, skyline, or cityscape.

In closely built communities, it can even create "over the fence" neighborhoods - but rooftop to rooftop. (Be a good neighbor by trying not to block their view when you build.)

No yard? Add an oasis of vegetable plants, greenery and flower pots just a step outside your home.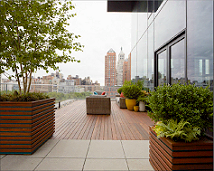 Natural graining and color variations make hardwood decking a perfect choice for a natural vibe in your rooftop oasis.
Seven Design Ideas for Your Rooftop Deck
Now that you see how worthwhile a rooftop deck can be for the cost and effort, here are a few design ideas to help you get started:
Outdoor kitchen and dining area for family or friends to gather.

A pergola or overhang for shade to add to your an outdoor room.

Built in wet bar for those sunset cocktails.

Built in seating for lounging or working.

A fireplace for chilly nights and ambience.

A hot tub or pool is an amazing place to relax under the night sky, whether city or suburb.

Distinct living areas, for example dining and lounging, add to the usefulness of the space.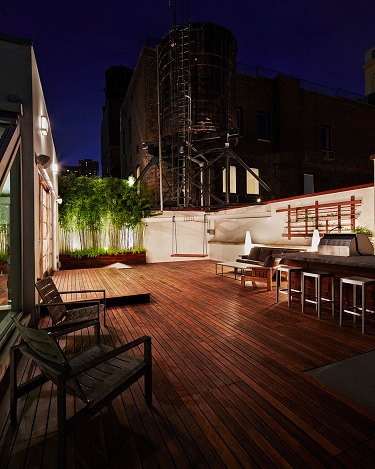 A glamorous urban hardwood rooftop deck at night
Ready to make your rooftop deck a reality? Let us help with design inspiration with the Rooftop Deck Portfolio Download Now. To start, Request A Rooftop Decking Quote and we will start working on your project right away.
---
Ready to see if a rooftop deck meets your budget?
Comments
Related Posts