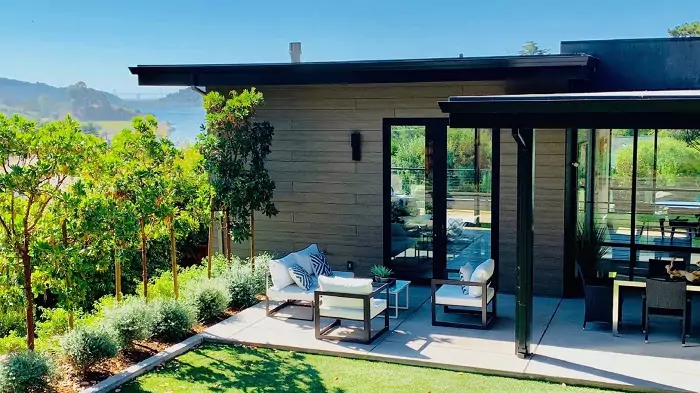 Pura NFC Siding vs Vinyl or Fiber Cement in Exterior Design
Written by
Liza Sivek
on
Pura NFC siding has been gaining popularity in recent years because it provides so many advantages over other types of siding. Pura NFC siding is engineered to be incredibly strong and resistant to damage. It's tested in the lab and proven in the field for consistently high performance.
Pura NFC Siding, shown here in Slate Ebony décor, is appropriate for many exterior designs in both looks and strength.
Why are Pura NFC planks and panel sidings so frequently specified in projects by architects and home designers? Because:
Pura siding is an HPL Laminate siding, manufactured by the well-known and reputable Trespa International.
Pura siding wood decors come in a range of colors from light to dark, all with the warm look of real wood siding without the natural variations. This gives it a consistent overall color in your design.
Pura siding is also available in Lumen decors - light diffusing, matte, dark gray and black siding planks for modern and on-trend designs.
Pura NFC sidings are resilient and and long lasting in looks and durability.
Pura siding requires NO finishing, refinishing, painting, or staining over the lifetime of the siding.
Pura siding is one of the lowest maintenance exterior claddings you can choose. Just clean with soap and water as needed.
Pura siding can be installed as traditional siding or as a rainscreen siding. Both styles have easier siding installation options with systems made for use with Pura.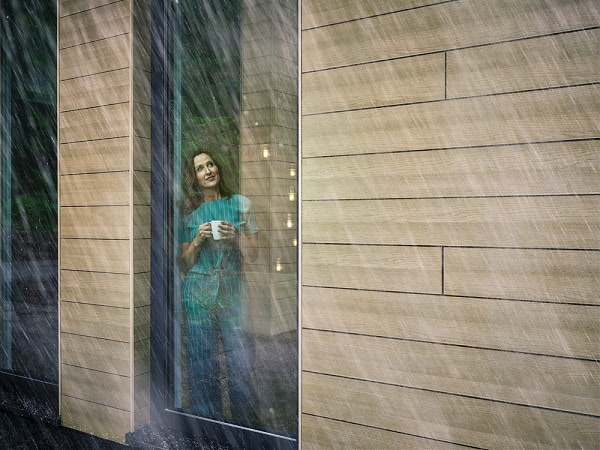 Trespa Pura wood décor siding can handle any weather and handle it beautifully, with no worries.
RELATED: Trespa Pura Siding Project Case Studies
---
Want a free design resource for residential exterior design professionals? Check out the Trespa Pura NFC Residential Projects Portfolio.

---
Pura NFC Is More Durable than Vinyl and Fiber Cement Siding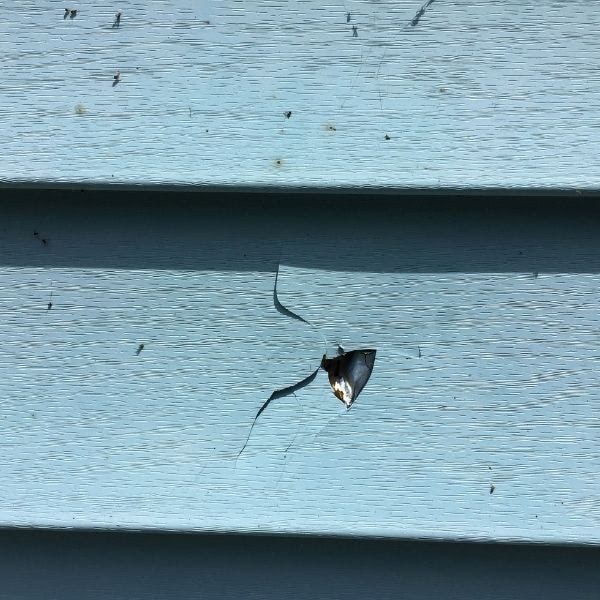 Vinyl siding has low impact resistance versus Pura HPL Laminate siding, leaving it vulnerable to bugs and mold.
Pura NFC siding will not scratch, crack, peel, rot, or warp under normal conditions. It also handles extreme weather conditions, flying storm debris, rubbing tree limbs, and UV rays like a champion. Here are resources to help you compare for yourself.
RELATED: View the Trespa Pura Resistance to Impact Video:
VIEW MORE TRESPA QUALITY TESTING VIDEOS FOR UV, SCRATCH RESISTANCE, ETC. HERE
---
Compare Pura NFC Siding to Fiber Cement and Vinyl Siding below and see the clear difference.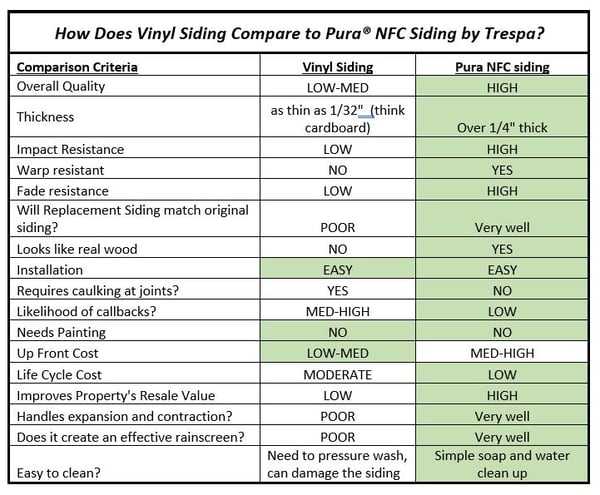 RELATED: Pros and Cons of Vinyl Siding vs Pura NFC Siding
---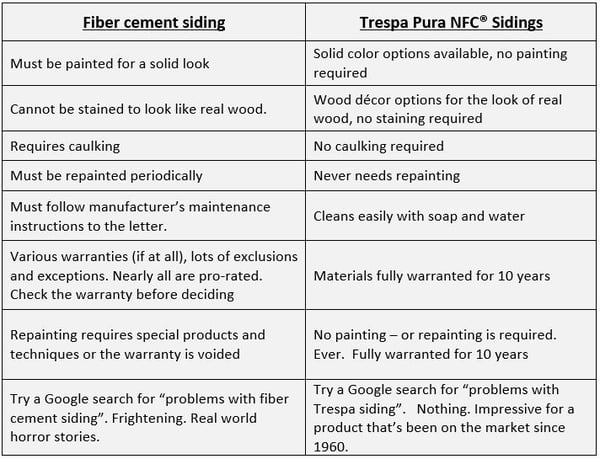 RELATED: Pros and Cons of Fiber Cement Siding vs Pura NFC Siding
---
Pura NFC Is Easier to Install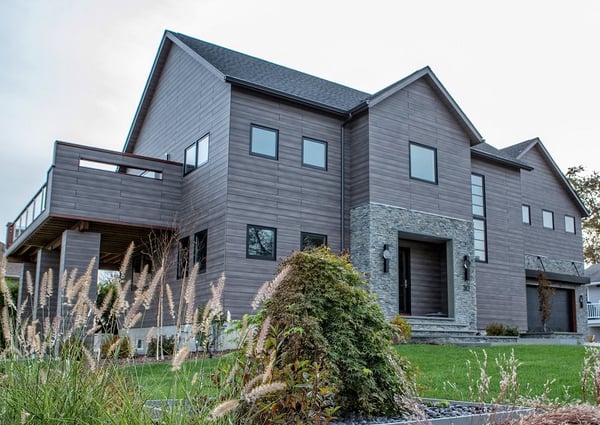 A custom exterior design on the Northeast shoreline uses Pura NFC in Mystic Gray wood décor. It's a perfectly weathered gray look that will stand up to salt air and sand in the wind for decades.
Pura NFC Siding can be installed with a more traditional method but with an easier Trespa installation system.
Or you can install with the Climate-Shield Rainscreen System, with no furring strips needed. The Climate-Shield installation creates an open joint rainscreen with the patented CST1 clip designed for Pura installation.
Exterior Design Bonus: With the CST1 rainscreen installation, Pura NFC can be installed horizontally or vertically.

Multi-unit property using Trespa Pura rainscreen siding for vertical, two-tone exterior design interest.
RELATED: Trespa Pura Installation Information
---
See pictures and case studies of Pura NFC siding in commercial design applications.
Download the free Trespa Commercial Projects Portfolio.
---
Pura NFC Siding Creates Less Waste, Less Cost Long Term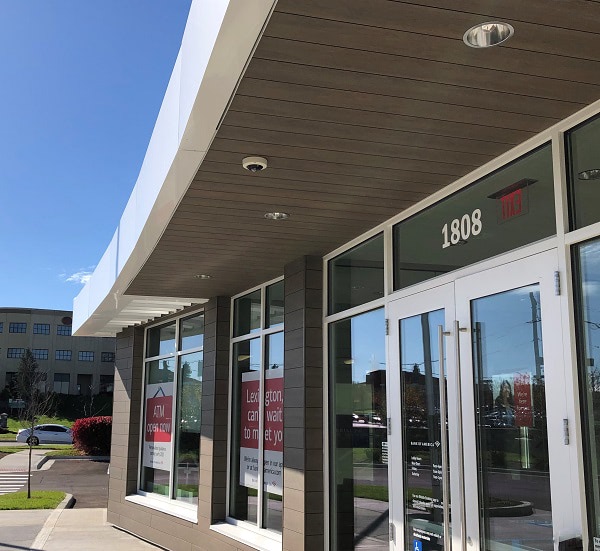 Aged Ash wood décor on a retail property is easy care, handles heavy wear and tear, and welcoming.
If you want the durability of a manufactured siding, but not the waste or expense of frequently replacing and tossing damaged siding planks, you will definitely want to consider Pura NFC. The longer, stronger, and more attractive lifecycle of Pura NFC exteriors avoids damaged and faded siding material ending up in the landfill from frequent repairs.
RELATED: Design with Trespa Pura NFC Siding using the Climate-Shield CST1 System
With a Climate-Shield Rainscreen siding installation, a big plus is that only the damaged plank must be removed and replaced. Not a whole section or wall. The two reasons for this are the patented Climate-Shield CST1 rainscreen clip and the fact that the original Pura will not have faded so a replacement plank can fit right in. This saves waste and expense long-term, making property owners happier.
(Of course, that's an if Pura NFC ever was damaged by extreme conditions, not a when!)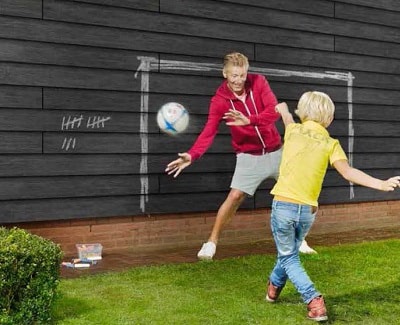 Trespa Pura can take on active families. Don't try this at home with fiber cement or vinyl siding.
One of the best features of Pura NFC is that it will not "ugly out" before the useful lifetime is up like vinyl and fiber cement sidings can. The exceptional fade and scratch resistance of Pura NFC assures the exterior will not discolor unevenly or dull from exposure.
The bending strength of Pura siding is also tested and proven to be very high, helping avoid wind damage at the ends and at the fasteners.
This is NOT the official Trespa Pura flexibility test, but it illustrates the incredible bending strength well!
For just cosmetic reasons, replacement siding can wait for many, many more years than most vinyl or fiber cement.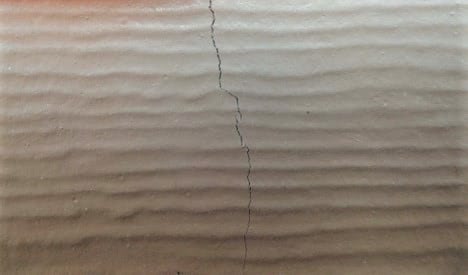 Fiber cement siding can crack and fade well before it's useful life is up, making the property look worn before its time.
---
---
Is Trespa Pura more expensive than fiber cement siding? If you are only looking at the purchase price, the answer is yes. Is Trespa Pura costlier than fiber cement siding in the long run? That truly depends on how well the fiber cement siding performs and the cost of re-painting, replacement and repairs where you live. As a wise person once said, "If price was all that mattered, we'd all be driving Yugos".
- MataverdeDecking.com, Trespa Pura NFC Sidings vs. Fiber Cement Siding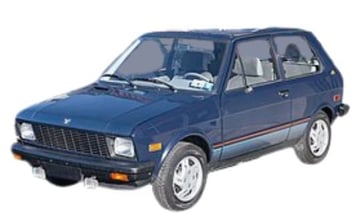 Image of 1988 Yugo courtesy of Wikipedia
---
RELATED: Trespa Pura NFC Sidings vs. Fiber Cement Siding
Pura NFC Siding Gives You More Color Choices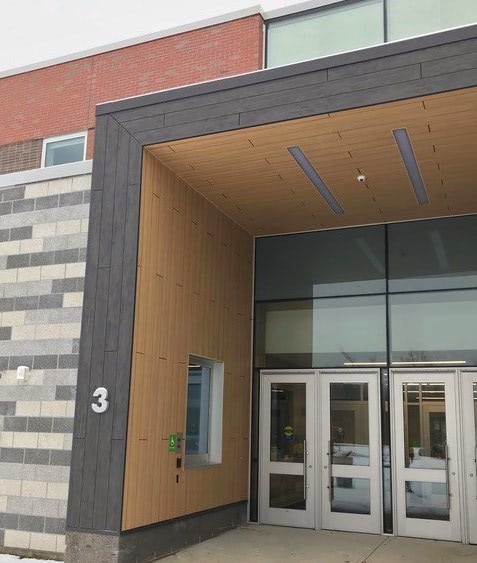 Go ahead, mix and match Pura colors to highlight details. It will look amazing.
Important for home design:
Pura Wood Décors rival real wood in looks and colors.
Lumen Décors allow you to design with fade-proof matte black and gray.
Trespa Pura NFC wood décors comes in a wide range of color choices, making it easy to match with any style of property. These decors contrast beautifully with stone, stucco, or other materials. Use two (or more) wood decors to create a custom look and highlight the architectural details.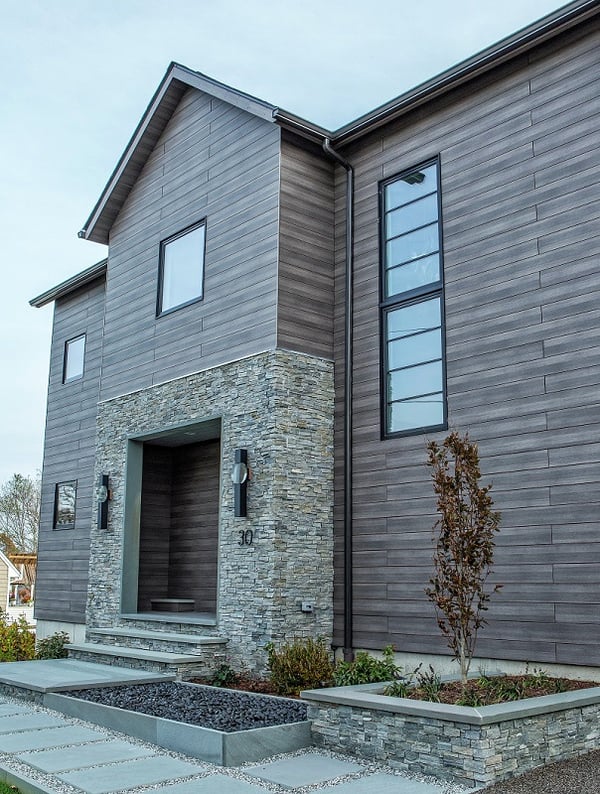 Mystic Cedar décor contrasts with natural stone and warms what would otherwise be a cold front entrance.
RELATED: 5 Reasons Why Pura NFC Was Chosen For This Exterior Design
Another huge design feature is the better wood grain pattern in Pura planks. It is more realistic than embossed vinyl and fiber cement siding, hands down. See for yourself:
| | |
| --- | --- |
| Vinyl, embossed siding | Pura NFC siding in Mystic Cedar (with corner trim) |
---
---
For instance, the Pura Tropical Ipe wood décor is a cost-effective replacement for real Ipe wood when you do not want the natural changes in grain and tones in your exterior design.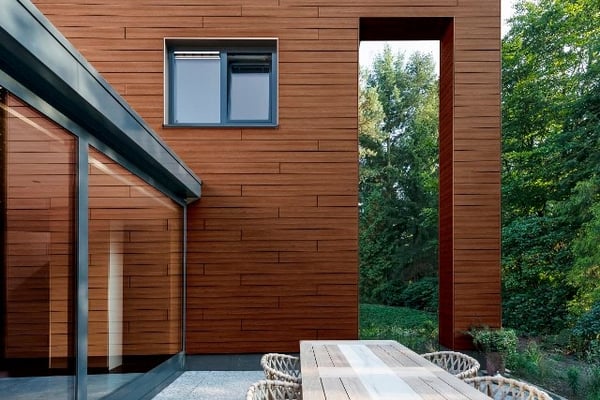 Tropical Ipe was chosen for this Pura NFC commercial exterior project
The Pura Western Red Cedar décor allows you to design with a consistent color and grain pattern throughout the project. This is a smart choice since real cedar availability is spotty at best. And, clear-cut cedar is nearly impossible to find in today's lumber market, compared to the past.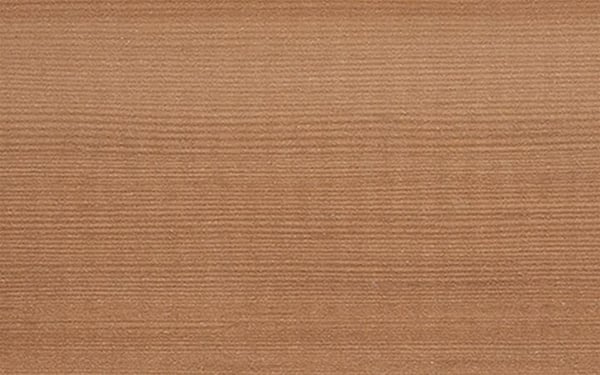 The new Pura Western Red Cedar wood décor is a great alternative to real wood for a clear-cut cedar look.
---
Find more examples of real world Pura residential projects
in the Trespa Pura Residential Projects Portfolio,
a free resource for architects and home designers.
---
Want a minimal maintenance weathered wood look? Pura Mystic Cedar or Aged Ash are good choices for an immediate "weathered" exterior that stays perfectly gray, without the extra upkeep of real aged cedar or ash.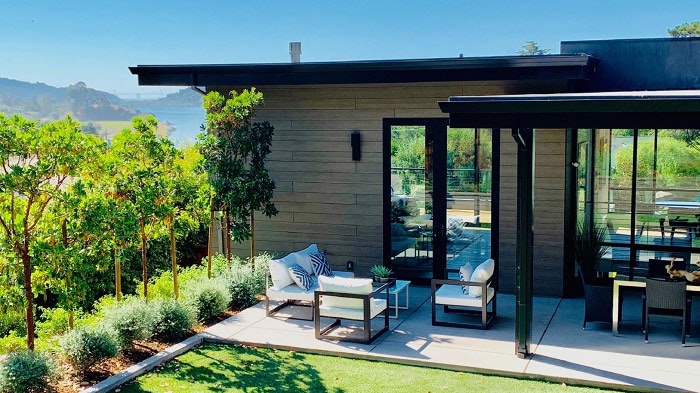 Pura Aged Ash wood décor is gorgeous and fitting for this residential design in a natural setting with a view.
These are just a few of the many Pura wood décor colors. For more wood look siding pictures, check out our Pura Siding Picture Gallery.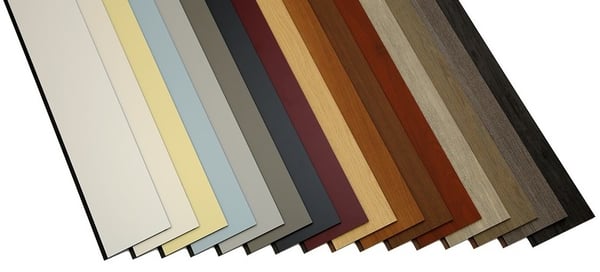 Click here to see all the Trespa Pura siding colors
Pura Lumen light diffusing décor colors are amazing for a modern, clean look in Metropolis Black siding or New York Grey siding. They stand tall and impressive on their own. Or contrast with stucco, cement, or the Pura Wood Décors for a stunning look.
The assurance of UV fade resistance allows you to design despite the sun exposure in your project location, not around it. And Trespa proves this fade resistance in the lab before they promise it to the public.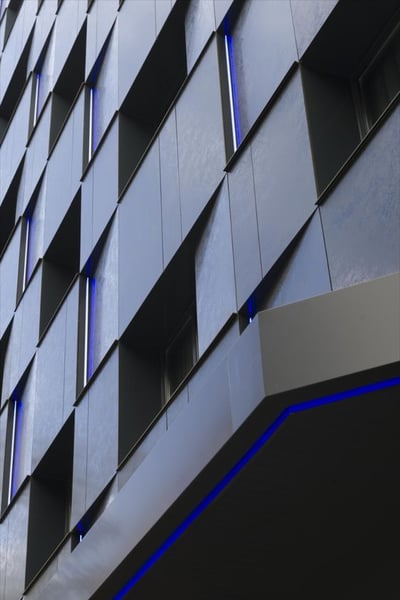 Pura Lumen New York Grey siding is designed as an an architectural element on a European hotel
RELATED: Pura Lumen Decors Add A Unique Design Element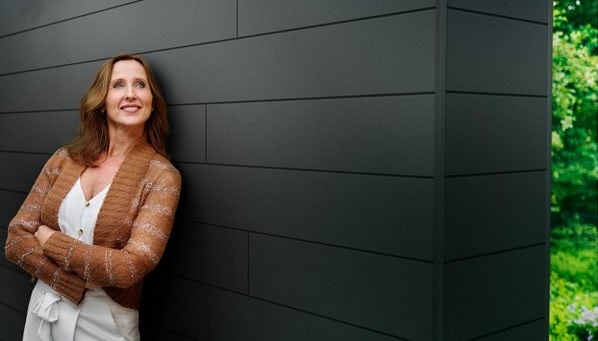 Lumen New York Grey siding is appropriate for modern and traditional exterior designs.
RELATED: View the Artificial Weather Test by Trespa here
Did this article help you? Will you be considering Pura NFC siding for your project over vinyl or fiber cement? Please let us know. If it left you with questions, let us know that, too! Contact us by phone or email and our team can answer any questions you may have, help with pricing, or send a free Trespa Pura NFC siding sample.
---
Remember to download your free Trespa Pura Project Portfolios
for commercial or residential design, free resources full of design ideas!
Related Posts