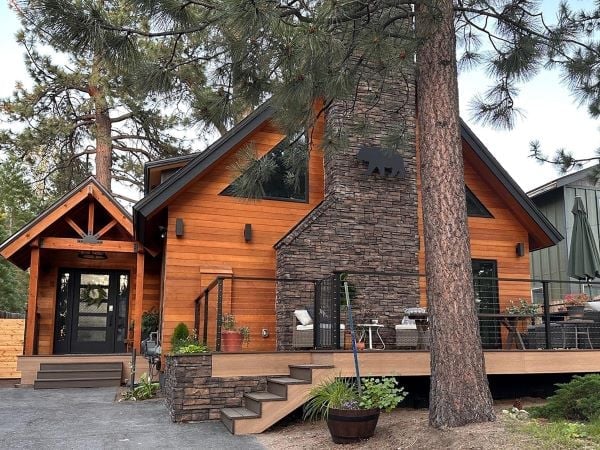 Remarkable Fire Retardant Wood Siding Transforms Exterior Design
Written by
Liza Sivek
on
Homeowners and architects in wildfire-prone areas know safety is paramount, but want to keep curb appeal or durability. The new ThermaWood FR siding is a Hemlock wood siding with an innovative fire treatment, meets IWUI fire codes, is sustainable and beautiful. It emerges as standout option for those who refuse to compromise on quality or safety. A Tahoe homeowner recently shared why ThermaWood FR was the best choice for his home exterior renovation project.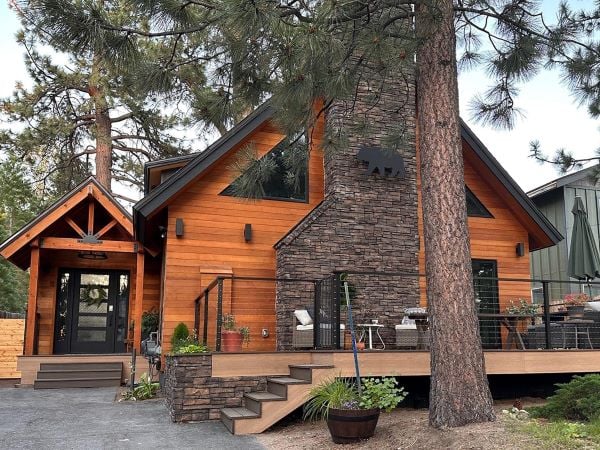 In this article:
From Vintage Chalet to Modern Lodge Aesthetic
Last year in Tahoe, California, a mountain home was still rocking it's circa 1980 pastel siding like 80's girls who just want to have fun. But, unlike Cyndi Lauper, this house was looking tired and dated.
New owners Andrew and Liz Byer could still see the potential: it could be transformed into their ideal lodge home. They were looking forward to living where they could hike, mountain bike, kayak, and hit the beach, all close by. Andrew joked that they "tolerate the snow to allow us to ski and snowboard", too. As an artist, Liz would have amazing views to work from.
But first, they had to decide on the siding design and on the materials. Andrew set about finding inspiration and experts to make the transformation happen. Now the house has a whole new look.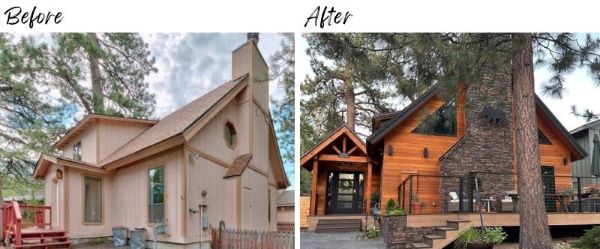 The Byer residence on the left, before, with its vintage pastel look, tiny windows, and painted plywood siding. And after, on the right, with the fire-treated natural wood siding, stone chimney face, black trim, and big new windows.
As you can see, the home's exterior still sported T1-11 plywood siding with a "peachy-pink paint color" and "small, octagonal windows that looked like portholes", as Andrew described it. Instead, he envisioned a contemporary lodge exterior with natural wood siding, a heavy timber entryway, and large windows to bring the outdoors in.
Andrew and his home designer found design inspiration in photos online, including the Mataverde Wood Siding Project Galleries. He eventually settled on a contrast of natural ThermaWood FR Hemlock Siding, contrasting with areas painted a contemporary gray, natural stone, and black trim.
RELATED: Trending Black Siding Ideas and How To Recreate Them
---
Get more ideas, info, and photos in the Residential Wood Rainscreen Siding Projects now.

---
Advantages of Designing with Thermally Modified Wood Siding
Why did he choose ThermaWood FR over other fire treated wood siding options? ThermaWood FR, said Andrew, "fit everything I wanted". That included the excellent fire treatment, the cost, the look and color, and its versatility.
He told us that he started out considering Garapa hardwood for stability, durability, lighter color, and low upkeep. But since the residence is located in a wildfire-prone area, fire treated lumber that met the updated California fire codes was a non-negotiable.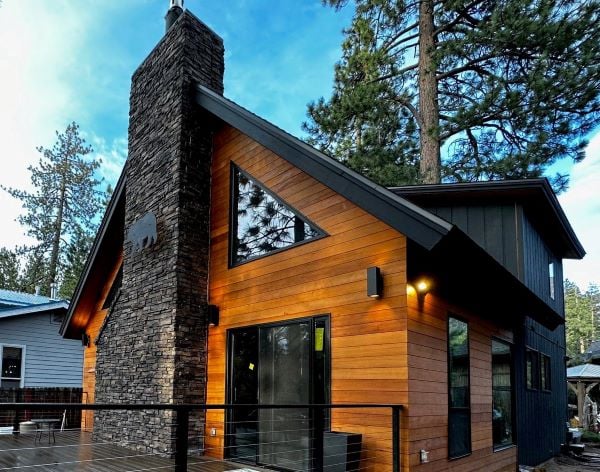 After installation, the ThermaWood FR siding was given an oil-based finish
Andrew learned about ThermaWood FR Hem Fir, a thermally modified, fire retardant treated hemlock, from his Mataverde sales rep, Glen Kiser. Beyond the better fire treatment process, Andrew thought the darker, natural colors of thermally modified hemlock was more suited to the exterior design than the light golden blonde tones of Garapa wood.
Andrew also liked the fact that thermally modified wood was comparable to hardwood durability and insect resistance. When asked, he said that lower maintenance wasn't originally a consideration but he was pleasantly surprised at the lower upkeep needs and costs. Including no re-application of the fire treatment, unlike most other surface-only treatments.
ThermaWood FR also has these benefits for exterior projects:
A Budget Friendly Wood Siding Option
Thermally modified lumber has a lower upfront material cost than most hardwoods and other softwoods, has lower upkeep costs than non-modified softwoods, and is easier to cut than hardwoods making it all around more budget friendly while meeting project criteria.
Check out this comparison of siding costs as of Match 2023 for yourself and see how siding options ThermaWood siding compares to other options you might be considering. Then check out this related article next, "Siding Cost Trends: Siding Price Alert 2023"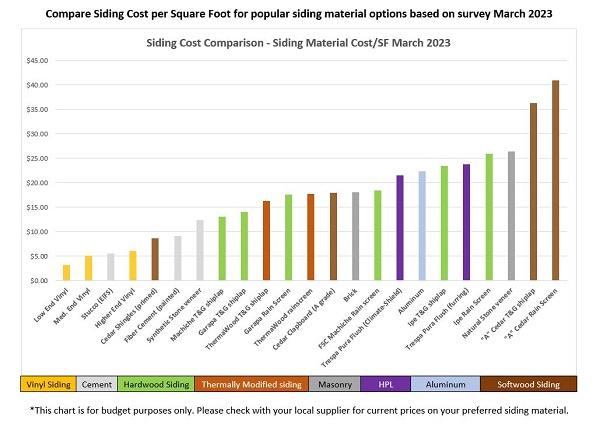 Vibrant Natural Color Palette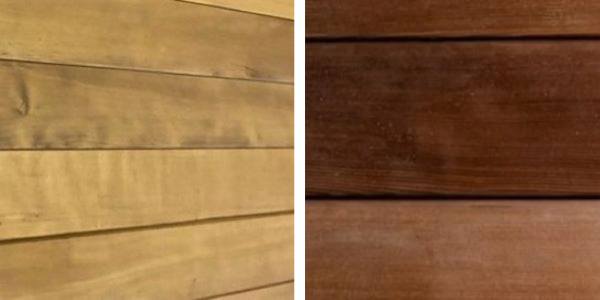 The naturally occurring range of the Hemlock colors after thermal modification, shown finished Penofin oil-based UV protectant.
The original wood colors of the Hemlock used in ThermaWood siding are made darker by the high heat in the modification process. Thermally modified Hemlock has a range of light to medium brown tones. To keep these tones like new, we recommend Penofin oil-based UV protectant finish.
These natural color characteristics enable homeowners and designers to effortlessly coordinate the siding with their desired aesthetic, ensuring that both safety and style are elegantly preserved.
Andrew noted that his siding came out a little darker than expected. He said, "it has a nice, deep, rich color that I like even better". He also said that, "it's clear" and "without a lot of knots", which was his preference so he's very satisfied with the result.
ThermaWood FR looks just as elegant lit in evening, adding warmth to the stone chimney and metal deck railings. (Photo courtesy of the homeowner)
RELATED: ThermaWood Hemlock Wood Siding Project Photo Gallery
---
Would you like to see an actual piece of ThermaWood FR Hem Fir?
Order a sample today.
---
A Sustainable Fire Treated Lumber
ThermaWood FR siding is sustainable sourced Hemlock wood from Canada. The carbon footprint of this siding is limited, from its source in Canada, the Hemlock makes a limited geographic circle to the thermal modification and fire treatment processes in the U.S.
The thermal modification process uses only heat, steam, and high pressure, no chemicals. And the Chemco Thermex-FR treatment is non-toxic so the wood can be recycled at the end of its long life-cycle as siding.
---
Chemco treats Mataverde ThermaWood FR with their innovative Thermex-FR(R) fire retardant.
Curious about this permanent fire treatment? Watch this overview on YouTube.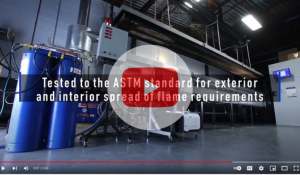 Chemco Fire Retardant Treated Wood Process
---
Minimal Maintenance Demands
Andrew appreciated that ThermaWood FR has very high insect and decay resistance. Because the modification process removes most of the wood sugars from the boards, insects aren't as interested.
ThermaWood FR also boasts comparable durability characteristics to hardwoods like Garapa and Ipe, and significantly higher durability than non-modified Hemlock.
This means gone are the days of constant siding upkeep. ThermaWood FR Siding needs minimal maintenance: just cleaning as needed and an oil-based finish to protect the exterior from UV damage, reapplied as needed.
Commonly, other wood fire treatments will wash off over time. It's then left to the homeowner to reapply as needed, or lose the fire resistance.
A huge benefit to the the patented fire treatment used on ThermaWood FR is that it bonds with the wood at a cellular level.
This frees homeowners from the burden of frequent refinishing of the siding. It allows them to enjoy the splendor of their home's curb appeal without the hassle of constant care and the associated costs.
Ease of Workmanship
Working with ThermaWood FR Siding is a pleasure for both the contractor and the homeowner. Thermally modified hemlock offers enhanced strength and stability compared to non-modified hemlock, and comparable to higher fiber density hardwoods.
Modified Hemlock is easier to cut than high density hardwoods, which Andrew appreciated for the custom architectural details. He and his home designer specified custom corners mitered at a 45-degree angle instead of siding trim, which was a slower process. Creating this detail on site would have taken longer and at a higher labor cost than hardwood siding, and allowed the project to stay within project budget.
RELATED: Want to see it for yourself? Request a sample of ThermaWood FR siding here.
---
Download more wood siding ideas and inspiration in the Residential Rainscreen Wood Siding Portfolio now

---
Why Choose ThermaWood FR over Other Fire-Treated Sidings?
ThermaWood FR's higher durability, low maintenance needs, permanent, non-toxic fire retardant treatment are big benefits. But can it meet your IWUI fire code project needs and also help with your costs?
---
It can be put in a soffit or on exterior walls, without the use of firebreak materials in the wall assemblies. Traditionally, that firebreak would be exterior gypsum.

By eliminating the gypsum, you reduce both labor and material costs, which is pretty significant."

- Perry Alibrio, Mataverde Western Regional Manager, "Is ThermaWood FR Redefining Fire Treated Wood Siding?"
---
IWUI Certified Building Material
With more and more U.S States and Canadian Provinces expanding their building fire codes, architects, home designers, and Mataverde ThermaWood FR is both IWUI and WUI certified, meeting and surpassing the requirements.
RELATED: Download Mataverde Fire Treated Wood Flame Resistance Certifications
Versatility on Exteriors
ThermaWood FR Siding is specifically engineered for exterior applications, making it a versatile solution for all your siding design criteria.
Plus, ThermaWood FR eliminates the need for gypsum firebreak assemblies in the wall assembly, saving time and expense.
Whether you're designing a contemporary masterpiece or preserving the charm of a classic home, ThermaWood FR's adaptability ensures seamless integration.
Superior Fire-Retardant Wood Treatment
Unlike conventional fire treatments that merely coat the surface, ThermaWood FR's treatment penetrates the wood at a cellular level. The fire-retardant treatment is then kiln dried, to "bake in" the fire treatment. This results in an inseparable bond that guarantees long-lasting fire resistance. With a treatment that doesn't wear off or wash away, homeowners can rest assured that their investment is built to withstand the test of time.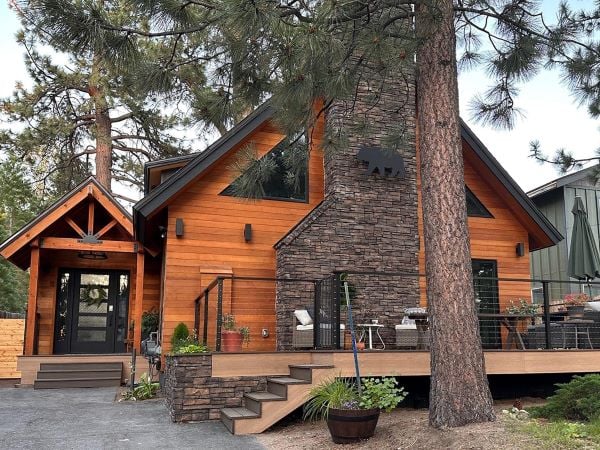 ThermaWood FR Hem Fir nickel gap siding was used on this exterior renovation.
Non-Toxic, Pet and Family Friendly
Safety is foremost, and ThermaWood FR Siding embraces this principle fully. And here are two important ways they do this.
First, the patented thermal modification process uses heat, steam, and a high-pressure kiln. No chemicals or other additives needed to create a more stable, cost effective siding board.
Most fire treated wood use Boride-based surface treatments. Boride can become airborne during installation and require higher safety precautions. ThermaWood's permanent treatment won't "shed" off when handled like surface treatments. So its safe for both professional siding installers and DIY enthusiasts.
Furthermore, its non-toxic nature extends to its interaction with people and and pets. It offers peace of mind for every family member. big or small, two legs or four.
---
---
We hope this demonstrated that ThermaWood FR Siding presents an impeccable blend of aesthetics, durability, and safety. With its stunning color range, low maintenance requirements, and user-friendly attributes, it caters to the discerning needs of homeowners and home designers alike. Unlock the potential of your exterior design in wildfire-prone areas with ThermaWood FR Siding and redefine the way you experience safety and beauty in one remarkable package.
Related Posts