COMPARE DECKING MATERIALS
Which Decking Material is Right for You?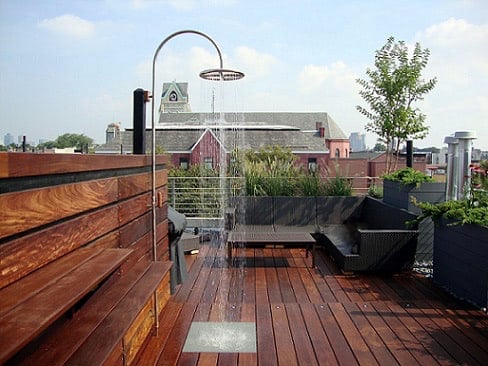 Making the right selection for your decking material is a decision you will live with for years to come. Learn more about decking material options and make the decision that is just right for you.
Whether your project is a backyard deck, walkway, bridge, pergola, gazebo, dock, rooftop recreation area or a world famous boardwalk, learn how Mataverde® Premium Hardwood Decking compares to other decking material options.
Mataverde high density hardwood decking is the reliable and sustainable decking material option that will last, beautifully, for many years to come. All of Mataverde Premium Hardwood Decking products are all natural, responsibly harvested and naturally resistant to insect damage and decay.
Take a closer look at some of the stunning variations and natural attributes of the woods themselves and you'll understand why with Mataverde Premium Hardwood Decking, you are one step closer to the deck of your dreams.
---
HARDWOOD DECKING MATERIAL OPTIONS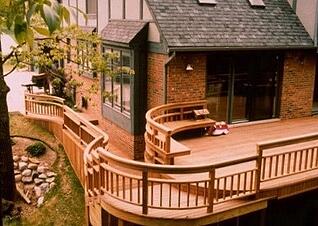 High density hardwood decking materials offer architects, designers, builders and owners an all-natural, sustainably-harvested, long-lasting decking option for outdoor projects of all types. The durability and natural beauty of Ipe, Cumaru, Garapa and other hardwood decking materials can be selected to bring your project dream to reality.
HARDWOOD DECKING MATERIALS:
Mataverde Ipe Decking
Mataverde® Premium Ipe Hardwood Decking is the ultimate decking solution for the discriminating user who wants a beautiful all-natural wood deck that will last for decades.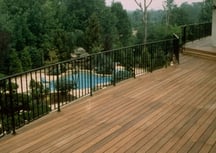 With Ipe decking there will be a full spectrum of color ranges from tan to olive brown to reddish to dark browns. The exotic graining and "striping" will differentiate every piece of Ipe decking. Like a hardwood floor, no two pieces of Ipe hardwood are exactly alike.
The character marks and naturally distinguishing coloration and graining variegation are inherent in all wood species. Some species exhibit more character than others. Mataverde® Premium Ipe Decking is one such spectacular species.

Photo Above: Mataverde Ipe Decking will naturally weather to a silvery gray over time (left), or if you prefer to maintain its warm tones, seal annually with a rosewood oil finish such as Penofin.
View Mataverde Ipe Photo Gallery
---
HARDWOOD DECKING MATERIALS:
Mataverde Cumaru Decking
Mataverde® Premium Cumaru Hardwood Decking is all heartwood and ranges in coloration from a yellowish brown to reddish browns to a nearly purplish cordovan color that is spectacular.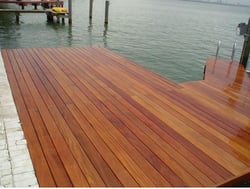 Although the coarser graining of Cumaru decking may appear similar to oak, the exotic color range and natural characteristics make it unique. Cumaru's distinctly dramatic and beautiful qualities are one of the reasons it is so popular as a long-lasting decking material.
Like a hardwood floor inside your home, no two pieces of Cumaru decking are alike. This rich variegation of Cumaru reflects the untamed beauty of this spectacular, responsibly harvested, all-natural wood decking species.
Learn More About Cumaru Decking
View the Cumaru Decking Photo Gallery

---
HARDWOOD DECKING MATERIALS:
Mataverde Garapa Decking
Mataverde® Garapa High Density Hardwood Decking is all heartwood and its colors range from sun-kissed yellow to golden-brown. Its soft ribbon-like graining is reminiscent of maple or mahogany, and it possesses a slightly more uniform color and graining than Ipe or Cumaru decking. Its colors will darken slightly with time, weathering to a lovely silvery gray. To preserve its warm hues, coat annually with a rose-oil sealant such as Penofin.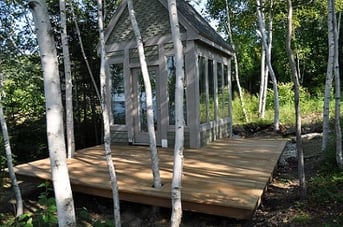 Garapa decking is extremely resistant to shrinking, splintering, twisting, cupping, fire and insect damage - much like Mataverde® Ipe decking and Cumaru decking. From a durability standpoint, Garapa decking is extremely hard and tough and will resist most types of punishment.
Like a hardwood floor inside your home, no two pieces of Garapa decking are alike. Each Garapa decking board showcases this species' diverse color range and graining patterns. Garapa's all-natural beauty is what differentiates is from factory-made decking materials and makes it a perennial favorite for residential and commercial decking projects alike.
Learn More About Garapa Decking
View the Garapa Decking Photo Gallery
---
Softwood Decking Material Options
HARDWOOD DECKING MATERIALS:
Mataverde® FSC® Machiche Decking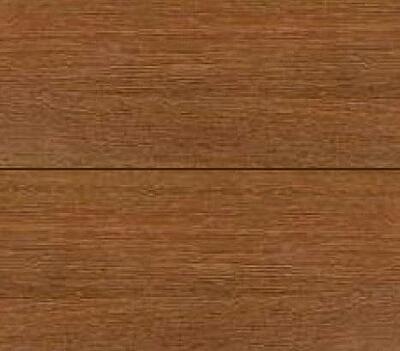 Mataverde FSC Machiche Decking is a high-density and durable decking material that is acknowledged by LEED as an FSC-approved green building material. Naturally resistant to shrinking, splintering and insect damage, Mataverde FSC Machiche decking is a beautiful and affordably priced decking material that adds sophistication and longevity to any design.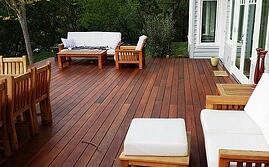 Mataverde FSC Machiche decking is all heartwood and exhibits medium graining with colors ranging from light brown to reddish brown and medium chocolate brown. Like Ipe decking, Machiche decking will age gracefully to a mellow silvery patina if left to weather naturally. With a coat of rosewood oil penetrating sealer, Machiche decking develops a rich chocolate coloration.
Affordably priced, tough as nails and environmentally friendly, Machiche offers an affordable decking material that is sophisticated and long-lasting.
Learn More About Machiche Decking
View the Machiche Decking Photo Gallery

---
SOFTWOOD DECKING MATERIAL OPTIONS:
"Pressure Treated" Southern Yellow Pine
In the 1970's, the "next big thing" to hit the market was "pressure" treated lumber. In this process, heavy metals and other toxins are injected into the grains of the wood under high pressure. This chemically enhanced product rapidly gained acceptance during the 1980's. It was readily available, fairly inexpensive to buy, easy to work with and with all the chemical additives many manufacturers initially boasted a "lifetime warranty".
It became immediately apparent that despite its excellent fiber strength, southern yellow pine had a number of bad habits. The species has a tendency to cup, warp, split, twist, crack and check - especially on pieces that were milled poorly. Splinters were also a common concern. Over the next few years it became evident that in addition to containing harmful toxins and carcinogens, the pressure-treated Southern Yellow Pine didn't actually "last a lifetime" as initially claimed.
Many "treaters" went out of business in the wake of this revelation. Most of the remaining manufacturers reduced their warranties and included scores of disclaimers in their revised "limited" warranties.
Learn More About Ipe Decking Vs. Pressure Treated Decking
---
SOFTWOOD DECKING MATERIAL OPTIONS:
California Redwood Decking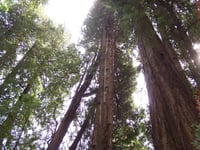 For years California Redwood was hailed as the best decking material available. In addition to being fairly long-lasting (for a softwood species), stable and easy to work with, it was plentiful and readily available - albeit a little pricey.
Over time, supply sources dwindled and the high-quality heartwood became less available. Prices rose dramatically, as a result.
With a coat of sealer or preservative applied yearly California Redwood lasted a fairly long time and remained attractive. Without routine maintenance, California Redwood is apt to turn black.


---
SOFTWOOD DECKING MATERIAL OPTIONS:
Western Red Cedar Decking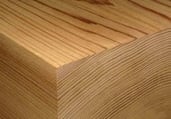 These market conditions increased the appeal of Western Red Cedar. Once considered the "poor man's redwood", Red Cedar continued to grow in popularity.
Like the Redwood scarcity before it, as product availability and quality concerns increased the prices followed. Many consumers who sought an affordable decking surface were forced to use lower grades of red cedar to meet their decking budgets.
For a softwood species, Red Cedar typically holds up fairly well providing consumers with at least a decade of usage, as long as you keep it finished with a proper stain or sealer. It is relatively stable and easy to work with. Maintenance includes an annual maintenance coat of a preservative or stain to prolong its lifespan.
---
SYNTHETIC DECKING MATERIAL OPTIONS:
"Composite Decking"
The poor performance of pressure-treated lumber decking and the high cost of the alternative wood decking products left a void for consumers. Enter "composite decking material" in the 1990's.
Since the early days, scores of manufacturers have jumped on the bandwagon to attempt to find a synthetic decking material that looks like real wood and behaves appropriately. "Composite" decking material - typically a mixture of finely ground sawdust and plastic designed to appear like real wood decking - seemed to fill the bill.
The first generation of "composite decking" was expensive and performed poorly; problems with the decking material's weakness, appearance, softness and rotting were abundant. The complaints led to multiple lawsuits and at least one class action suit was settled out of court with one manufacturer so the results were not revealed to the public.
Composite decking manufacturers quickly removed false claims from their advertising including "maintenance free" promises and "lifetime warranties". Once again, the elusive search resumes amongst the synthetic product manufacturers.

---
OTHER DECKING MATERIAL OPTIONS:
Philippine "Mahogany" Decking (Shorea spp.)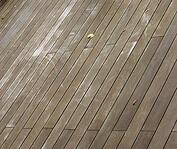 The so-called "mahogany" decking that has permeated the US market in the last two decades or so, is actually not a true mahogany at all. There are actually many different subspecies of the Shorea species.
These subspecies range wildly in color, graining, work-ability, stability and marginal durability. The soft surface scratches and dents easily. The open grain is susceptible to mold and mildew. Worm holes are a common defect and the species show little resistance to decay and termite resistance.
Download the Ultimate Guide to Decking
---
Learn More About Composite Decking
Find out the breadth and scope of problems associated with composite decking products. Search the internet on the following topics and you will be astonished at what you discover:
COMPOSITE DECKING COMPLAINTS

COMPOSITE DECKING RECALLS

COMPOSITE DECKING INJURIES

COMPOSITE DECKING FAILURE

COMPOSITE DECKING PROBLEMS

COMPOSITE DECKING LAWSUITS